Te Anau to Milford Sound scenic drive through Fiordland National Park
Visiting Milford Sound is at the top of any self respecting travellers bucket list. But did you know that the drive through Fiordland National Park to Milford Sound is just as beautiful as the destination itself?
The road slowly winds through lush forests that open up to reveal snow capped mountains in all directions while you make your way past glacial streams and lakes. Chances are you will want to stop and take in the views at every turn, until you're finally met by hundreds of waterfalls, steep fjords and a gentle mist above water.
Where is Milford Sound?
Milford Sound is nestled in the heart of Fiordland National Park on the South-West of New Zealand's South Island.
Fiordland National Park is a whopping 1.2 million hectares of beech forest, mountain tops, fiords, glacial lakes, rainforests and wild landscapes with minimal humans to spoil it. Here you'll find some of the best hiking trails of New Zealand and the lone windy road that takes you to Milford sound.
It is only 70 km from Queenstown to Milford Sound in a straight line, but a massive mountain range separates the two. There have been plans to dig a new tunnel through this mountain range to considerably shorten the drive.
While we would have loved the possibility to continue the scenic drive from Queenstown to Glenorchy all the way to Milford sound, this tunnel would have hindered a UNESCO protected national park and it was understandably never realised.
HOW FAR IS MILFORD SOUND?

From Te Anau: It is 118 km from Te Anau to Milford Sound and the drive takes 1,5 – 2 hours.

From Queenstown: It is 288 km from Queenstown to Milford Sound and the drive takes 3,5 – 4,5 hours

From Wanaka: It is 343 km from Wanaka to Milford Sound and the drive takes 4 – 5 hours

From Dunedin: It is 402 km from Dunedin to Milford Sound and the drive takes at least 5 hours

From Christchurch: It is 757 km from Christchurch to Milford Sound. Split the drive into at least 2-3 days and explore more of the South Island.
How to get to Milford Sound
Queenstown is the closest tourist hub in the area and a lot of people drive to Milford Sound as a day trip from there or include it into their NZ South Island itinerary. There are a few different ways of getting to Milford Sound and not all of them include driving:
Do a road trip to Milford Sound
Join a bus tour
Opt for a semi private tour
Jump on a scenic flight
Is it best to drive or do a Milford Sound tour instead?
Self driving to Milford Sounds will give you the most flexibility and freedom and that's why we chose to drive ourselves. If you can, we strongly recommend you rent a car and drive to Milford Sound on your own accord.
We spent the night in Te Anau and in Milford Sound to maximize our time in Fiordland National park. This gave us the opportunity to enjoy th sunset and sunrise as well as do some of the awesome hikes along the way. Plus it just made sense to drive since we were doing a massive NZ road trip anyway.
However, a bus tour is a great option if you don't have your own means of transportation or don't have much time. These bus tours are great value, comfortable and super easy. The tours run daily and stop at the main photo spots along the way and provide heaps of information on the area.
The downside? There's not much flexibility to be had with bus tours like these and you won't be able to do any of the hikes. Also, you're always surrounded by at least a few dozen people from your tour so you can kiss that perfect insta shot goodbye.
We think that a small group or private tour is the perfect compromise! You might want to consider this private tour from Queenstown which includes the drive, cruise and lunch, and is capped at 12 people and a lot more flexible than the big group tours. Or you can make your way to Te Anau and opt for the much cheaper private tour from Te Anau where you also have the option of hiking up Key Summit.
Te Anau to Milford Sound scenic drive
The drive from Te Anau to Milford Sound is 118 kilometers (or 73 miles) long. Depending on the weather, driving to Milford Sound from Te Anau takes 1.5 – 2 hours without stops. But this is a beautiful scenic road and you will want to stop often which could take the whole day.
When driving to Milford, we recommend that you spend the night in Milford Sound or in Te Anau. No matter which direction you're coming from, unless it's by air, the road past Te Anau is the only road into Milford Sound.
Te Anau and its lake are a beautiful area to spend the day, and by spending the night here, you'll be able to beat the tour busses on the way to Milford Sound. Shaving off a couple of hours off your drive, spending the night in Te Anau will also give you more time to enjoy the drive over the Milford Road and stop at some of the highlights of this scenic drive.
Where to stay in Te Anau
Te Anau is a cute little town with plenty of bars, restaurants and shops for its size. If you want to stay smack in town then opt for the Distinction Luxmore Hotel or the Te Anau Lakefront Backpackers.
If you're travelling by camper the Te Anau Lakeview Kiwi Holiday Park & Motels is an excellent choice. Located on the outskirts of Te Anau and boosting beautiful views of the lake, this holiday home offers campsites, rooms and cabins.
But if you want the real deal then it doesn't get any better than the Fiordland Lodge. Just a stone throw from Te Anau this 5 star Lodge is a dream come true. Alpine design, delicious food, oh and did I mention the spa pool and the views?
Where to stay in Milford Sound
Accommodation in Milford Sound is limited to the Milford Sound Lodge which books out well in advance. They have 3 different kinds of chalets available if you have the foresight and budget to book it.
There is also the option of taking an overnight cruise and spending the night on the boat. If you chose to do so, we recommend you book this overnight cruise.
The best stops along the Milford Road
Fiordland National Park is one of the most scenic areas of New Zealand, and half the appeal of going to Milford Sound, is the drive and the stops along the way.
These are the best stops along the Milford Road, they include photo stops, viewpoints and the occasional super short and easy walk. We've also compiled a list of the best hikes and you can find it a bit further down.
1. Te Anau Downs & Lake Mistletoe
30 km from Te Anau
Te Anau Downs are a beautiful plain just outside Te Anau, adjacent to Boat Harbour (another example of creative Kiwi names). This place is filled with rich history, but today is mainly famous as the starting point of the Kepler Track. The boat ramp is actually very photogenic and there's a short walk to the cute Mistletoe lake.
2. Mirror Lakes
59 km from Te Anau
On a calm windstill day you'll see the perfect reflection of the surrounding forest and mountain ranges in these small tarns. They make for the perfect photo spot, just make sure to get here first thing in the morning before the wind picks up.
3. Knobs Flat
63 kms from Te Anau
Just as the road gets out of the forest, ther's the Knobs Flat stopping area where you'll find toilets, an impressive view over Eglinton Valley and interpretation signage.
4. Eglinton Valley
65 kms from Te Anau
The Milford Road takes you straight through the Eglinton Valley. As you drive out of the forest the view suddenly opens up into the wide and flat valley floor, covered with golden green grassland and surrounded by steep rocky mountains. You can park alongside the road to walk into the valley and take in the view.
5. Lake Gunn & Cascade Creek
75 kms from Te Anau
Just before reaching Cascade Creek campsite park in the small carpark underneath the mossy trees. From here starts the easy, wheelchair accessible Lake Gunn Nature Walk. The 45 min loop walk will take you through the native bush and beech forest to the shores of the lake and back. Keep an eye up in the trees and the undergrowth for native birds.
You can also spend the night at Cascade Creek DOC campsite. It's 15 NZD per night per adult and you need to pay cash into the honesty box. There's long drop toilets, a sheltered cooking and dining space and more sandflies than you can count. In high season you'll need to book ahead.
6. The Divide
84 kms from Te Anau
The Divide is the starting point for many hikes in Fiordland National Park like Key Summit and Routeburn track, which pretty much connects Fiordland with the charming Glenorchy, just to name a few. Otherwise this is just a carpark, but there are long drop and chemical toilets available here in case nature calls.
7. Pop's View Lookout
88 kms from Te Anau
Pop's View Lookout also goes by the name Hollyford Valley Lookout as it boosts some magnificent views over Hollyford Valley. Unfortunately this view is often hidden in clouds and fog.
Optional – Humboldt Falls
8. Monkey Creek
96 kms from Te Anau
Just down the road from the viewpoint you'll find Monkey Creek which is a great spot to see Keas. You can fill your water bottle from this creek, just make sure to close all windows as Keas will go through your snack stash when given the chance.
9. Homer Tunnel
102 kms from Te Anau
Get ready to stop at the traffic light and when this happens don't be afraid to jump out of the car and take a few photos. The light stays red for 20 minutes. Here you'll find more keas, see the first display of waterfalls and, if you're lucky, there will still be some snow here waiting for you.
10. Hundred Falls & 1855 Lookout
103 kms from Te Anau
As you come out of the tunnel the road serpentines down into the valley and a beautiful view opens up. There's two stopping bays one after the other from which you can take in the view. Don't forget to look back towards the tunnel where hundreds of small waterfalls are slowly trickling down the steep rock face.
11. The Chasm
110 kms from Te Anau
The Chasm is the last stop before Milford Sound. This short walk along the Cleddau River, is a display of the unbelievable force of nature. The water thunders into the sculpted rocks deep below and it twirls and swirls as it goes.
The Real Middle Earth
Did you know that many of the Lord of the Rings filming locations can be found in Fiordland National Park?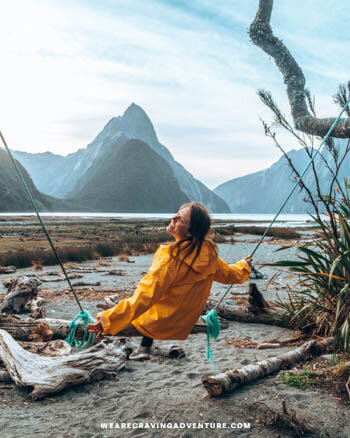 Best things to do in Milford Sound
I was gonna write that Milford Sound is a small settlement, but I am actually not sure it qualifies as such. There are just enough buildings and facilities there to accommodate the workers who ensure the smooth running of the cruises, one lodge, a cafe, the visitor centre and an overpriced self serve petrol station. But that's alright because you're not going to Milford because of manmade attractions, you're going there to admire Mother Nature's work at its finest!
These are some of the highlights from Milford Sound, but there's so much more! We wrote more in-depth about all the things you can and should do in Milford Sound in another blog.
Read Next: The complete guide to Milford Sound
1. Take in the views and feel small
Milford is majestic and the tall steep fjords that surround you will inevitably make you feel small and humble. Add to this a gentle drizzle and a thin layer of fog over the water … it gives me goosebumps just writing about it!
2. Join a boat cruise
Have you even been to Milford Sound if you didn't cruise it? Arguably the best and most unmissable thing to do in Milford Sound is taking a boat tour which takes you the whole length of Milford Sound so you can see the waterfalls up close. When you cruise with Southern Discoveries you can also get access to the underwater observatory.
3. Explore the fjords by Kayak
If you think standing on the shore makes you feel small you should try kayaking! Unlike a big boat, with the kayak you will be able to get really close to the fjords, even touch them and paddle as close to the waterfalls as you dare to. Now, this puts things into perspective! We recommend you combine your kayaking with a boat cruise for the best experience.
4. Visit the underwater observatory or go diving
The freshwater from heavy rainfalls and the sediment from the waterfalls mix with seawater and create a dark layer that, combined with the shade created by the tall surrounding mountains blocks out enough light to create deep water like environment in the shallows.
5. Find the Milford swing
This short walking path takes you along the waterfront and through the rainforest and rewards you with unobstructed views of Mitre Peak. Jump off the path towards the cruise terminal to find the swing.
Map of Milford Sound & the Milford swing
Hiking in Fiordland National Park
If you're into hiking, it is definitely worth it to extend your time in the area and explore the Fiordlands beyond Milford Sound. Hiking in Fiordland National Park really is an experience like no other and you'll get to explore a little bit of Middle Earth.
Fiordland Great Walks and multi day hikes
Fiordland National Park is home to three of New Zealand's Nine Great Walks, and you'll pass the starting or finishing point to all of them along your drive from Te Anau to Milford Sound.
The Kepler track, which starts and ends in Te Anau
The Milford Track which starts in Te Anau Dawns
The Routeburn Track which starts (or ends) at the Divide
Each of these hikes takes multiple days to complete and huts must be booked well in advance. Other popular milti-day hikes in the Fiordlands include the Hollyford Track, Greenstone and Caples tracks.
Best day hikes along the Milford Road
If you'd love to do a hike in Fiordland National Park but don't have a lot of time (or couldn't book the hut), there are several shorter hikes for you to choose from.
We already mentioned a few short walks above (Lake Gunn, The Chasm), but here we list the best hikes on the way, the kind that actually requires you to wear hiking boots and pack at least a big bottle of water if not a sandwich.
1. Key Summit
Starting point: The Divide | Duration: 3h return
If you're short on time and want the maximum reward to effort ratio, opt for hiking up to Key Summit. Key Summit is a side track in the first part of the Routeburn Track, and walking there and back takes only 3 hours. From the top of Key Summit you'll have spectacular mountain views over large parts of Fiordland National Park on every side, and you can even see Lake Marian in the distance!
2. Lake Howden
Starting point: The Divide | Duration: 3h return
Instead of taking the turnoff to Key Summit, continue straight on the Routeburn Track. You will walk through beech forests until you reach Lake Howden Hut and you'll find this gorgeous alpine lake behind it.
3. Earland Falls
Starting point: The Divide | Duration: 6h return
From Lake Howden continue on the Routeburn track towards Lake Mackenzie. You'll soon get out of the forest and will be rewarded with sweeping views over Hollyford Valley. Then you'll reach the cherry on top of the cake, the 174 m high Earland Falls.
4. Lake Marian
Starting point: Lake Marian car park | Duration: 3h return
This hike takes you over a swing bridge, past a waterfall and through lush rainforest up to Lake Marian; an alpine lake in an absolutely stunning hanging valley. The hike up is steep and challenging, so you do need a decent level of fitness and appropriate hiking gear. Allow 3-4 hours to complete the hike.
5. Gertrude Saddle
Starting point: Gertrude Valley car park | Duration: 6h return
If you look at DOC's site you might get turned off by all the warnings, but in reality, this hike isn't such a death sentence as they might have you believe. That being said, you do need some tramping experience and definitely don't attempt it in rain. The trail is steep and you'll be climbing with the help of steel cables at times. Albeit hard, this hike is well rewarded once you reach the Black Lake and get to enjoy the breathtaking views.
Te Anau to Milford Sound scenic drive FAQ
Is it worth driving to Milford Sound?
You're kidding right? The drive from Te Anau to Milford Sound is among the most beautiful drives in the world and worth every second, every penny and every drop of fuel!
What are the best photo stops along the drive to Milford Sound?
If you're in a rush, these are our favourite views along the way and the ones you absolutely must stop for
Mirror Lakes
Eglinton Valley
Hundred Falls & 1855 Lookout
How long does it take to drive from Te Anau to Milford Sound?
The drive from Te Anau to Milford Sound is 118 km long but it takes 1,5 – 2 hours without stops depending on weather and road conditions. With stops it can easily take you the whole day.
What is the road like on the drive from Te Anau to Milford Sound?
The Milford Road is a two-lane road the whole way through with the exception of Homer tunnel which has a traffic light to manage traffic through it.
The road is narrow in parts and has plenty of sharp turns as well as some very steep parts. It gets a lot of traffic, including big campervans, RVs and tour busses so drive carefully.
Many people plan their arrival to Milford Sound according to cruise departures. This might result in congestions during rush hours. Most busses depart Te Anau between 9 am and 10 am and arrive to Milford for the 1 pm cruise. If you can, plan your drive outside of these times or save your stops for the way back.
Is the road to Milford Sound open?
Check for road closures before leaving. The road to Milford Sound may be closed during severe weather. If that's the case there will be a roadblock at the start of Milford Road.
If the road closes while you're in Milford Sound, then you're out of luck. Just joking! The Milford Sound Alliance can organise a convoy back when safe to do so.
What to do if the Milford road is closed
So you've driven all the way down there and now the road is closed? I know, it's a bummer, but do't despair just yet.
A. Go as far as they'll let you
While you might not be able to get to Miford Sound, you might still be able to drive to some of the viewpoints along the way. Consider the weather before you decide to do so.
If it's a beautiful day and the road is closed due to rockfall then by all means, go as far as you can and do as many stops and hikes as possible. But if the road is closed due to heavy rainfall and flooding, chances are that the only views you'll get will be thick layers of grey clouds and fog. Don't know about you, but that doesn't really inspire us to keep driving.
B. Check if there's scenic flights or helicopter flights going
When the road closes, flights are the only option of getting to Milford Sound. Of course, this isn't a solution if there's a hail storm outside, but if the weather permits, this is a fabulous way to explore the sounds, khm, fjords.
C. Consider going to Doubtful sounds instead
Milford and Doubtful sounds are separated by tall mountains which can act as a cloud barrier. So even if all hell cuts loose in Milford Sounds, it is still possible to get nice weather (remember, a bit of rain is good!) in Doubtful Sounds.
What are the facilities like along the drive from Te Anau to Milford sound?
Except for a few stops with long drop toilets there are no facilities along this drive. There are also no petrol stations no phone reception.
I only have time for one half-day hike in Fiordland National Park, which one should I choose?
Marian Lake! It honestly feels like a micro version of the Canadian Banff park. Or Key Summit, if views over endless mountains and valleys are what you're after.
Can I bring my dog along for the ride?
No. Dogs are not allowed in Fiordland National Park.
What's the best time to visit Milford Sound and do the drive?
The Best time to visit Milford Sound is on a rainy day in late Spring or Autumn. That's because you will want to avoid the high season crowds in Summer (Dec – Feb) and freezing temperatures and potential road closures in winter
Milford Sound thrives in the rain when new waterfalls magically appear everywhere, the already existing ones become a lot bigger and the valley gets covered in a mystical fog. A rainy day really is the perfect time to visit Milford, just don't go on torrential storms or you won't be able to see much.
If you're a photographer then you'll love Milford Sound in spring and autumn as the days are just a little bit shorter than in summer which is perfect for sunrise and sunset photo missions and the temperatures are still bearable even when the sun goes down.
If hiking is your focus then summer is the best time for you. There is the slightest bit less rainfall, the days are longer and the temperatures are higher making hikes and camping a lot safer and more comfortable.
---
Keep it handy and pin this to your travel inspo board
---
Have you been to Fiorland National Park? Would you like to?
Let us know in the comments below!
---
Sharing is caring
Click the icon below to share this article with your friends.
It means so much to us!