How to start a travel blog in 2023
Sure, the last few haven't been great years for travel, but keep in mind that some of the biggest and most successful businesses came out of the biggest recessions and hardest times. Chances are, some more awesome ones will make it out of this pandemic and recession at the top.
Now is not only the perfect time to start the next Uber, Tailwind or Pinterest, but also the perfect time to start a successful travel blog! I'll tell you why exactly further down this article.
It might also feel counterintuitive to start a travel blog in the worst possible year when it comes to travel and tourism but what you need to always keep in mind is that blogging takes time. You won't have a successful blog tomorrow.
Travel blogging takes time and it will be hard work. Putting in the effort now will yield results several months or even a year in the future.
It might feel like you've missed the boat, like there's too many travel blogs out there, like every destination has already been written about, like you could never become a successful travel blogger.
And that's partially true, there are not many destinations left undocumented, but even the most popular ones haven't been documented by you. They haven't been written about with your unique style and personality, spiced up with your unique stories and adventures. Your own travel blog will be different and as such it has immense potential.
Even if it feels like there's enough blogs out there, that doesn't mean there isn't space for more, in fact, there's plenty of space for you!
How to start a travel blog?
Starting a travel blog can be scary. Hopefully by the end of this blog you'll feel better equipped to tackle this task. Now is also the perfect time to mention that while I do touch upon some techy stuff, this blog doesn't go over the technicalities of how to set up your site.
Instead I talk about the behind the scenes.
I also think you'd greatly benefit from following a structured week to week SEO course. Google will be your main source of traffic (or at least that's the goal) and investing into a good SEO course early on will make your life so much easier on the long run and your blog a lot more successful, faster.
I highly recommend signing up for the Build Blog Freedom Fast Track course which is the course that really took this blog to the next level. It is very hands-on and helps you set up your blog for SEO success, drive traffic and monetize it.
Alright, brace yourself, this will be a long read so pour yourself a cup of tea, make yourself comfy and let's get going. Without further ado, follow these steps to learn how to start a successful travel blog today!
1. Pick your niche
Back in 2005 travel might have been considered a blogging niche but today travel in general is too broad for a successful launch of a new blog. By niching down you'll be more likely to rank on Google and it will be easier to create a community around your blog when you start small.
At the beginning you won't be able to compete with the big fish in the travel pond, so you need to pick a niche where you do stand a chance. Think about what unique aspect of travel you can blog about and niche down. And once you grow, you can niche out.
It also helps to think about your ideal audience when choosing your niche. What do they have in common and how does your blog help them? This isn't just an important question when choosing your niche, but a question you should be asking yourself with every new article you write.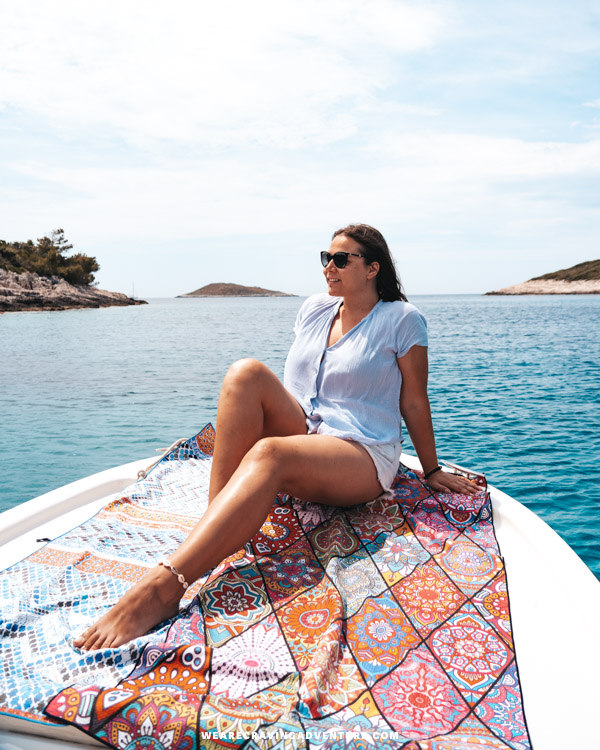 2. Pick a name
With your audience in mind start brainstorming names. I suggest you pick something short, unique and easy to remember. Ideally your blog name will quickly bring across what your blog is all about. But there are also benefits to a more neutral name since it will allow you to niche out in the future, or even change niche altogether.
Your blog name is possibly the most important decision you'll make for a while so do not rush it. Come up with a few options and run them through Namecheckr to make sure the domain name and social media handles are available. Then sleep on it, ask friends for recommendations or put it up for a vote.
3. Buy your domain and set up social media accounts
This is when it starts getting real! I recommend going for a .com domain if you'll be writing in English for a global audience since .com has more perceived trust. If you'll be writing in a language other than English or for a country specific audience you could pick your country's domain instead.
Once you own your chosen domain, go ahead and create social media accounts with your blog's name. You'll want to use the exact same handle across all networks to keep it consistent and easy for your audience to find you.
Make sure to create business accounts where possible since this will give you access to very valuable insights and analytics. Don't worry about photos and bios just yet, at this stage we're just making sure to reserve the right handles.
While we recommend that you only focus on a couple channels to avoid spreading your efforts too thin, it might be really helpful to create accounts on some additional platforms just to reserve the handle for possible future use.
4. Define your brand and branding
This is the fun part! It's important to have a cohesive look and feel across all your channels so branding really is key. You don't have to invest in professional branding from the get go but you should spend some time thinking this through.
First of all you'll want to define your audience, your values and your mission, as well as your brand personality and writing style. Chances are these will overlap with your personal personality and values.
Create your Brand board
With the above in mind you'll move on to the more tangible and visual aspects of branding and create a brand board for yourself.
A brand board is a collection of all visual brand elements where you get a quick overview of:
logo and logo variations,
brand colours with their values (2-5max),
brand fonts (2-3 max, google fonts can help you select pairings that work well together),
any patterns/icons/illustrations you might wish to use,
taglines or other elements that repeat often,
photography style examples,
if you wish you can add a mood board as well as your values & mission.
You'll be able to look back at this brand board in the next steps and it will guide you through your web design, Pinterest cover designs, Instagram grid aesthetics etc.
Oh, and definitely invest into professional branding once you start making money if you want to grow! DIY will only get you so far.
5. Set up your website
Unless you're a developer or have done this before, setting up your own website can be a daunting task. There are plenty of options out there and you probably have no idea where to start.
Here we'll quickly cover some of the most popular blogging platforms, starting with our favourite and the one we use on this site – Squarespace. Then we'll touch upon some design tips.
UPDATE: I no longer recommend Squarespace. It has become painfully slow, the support less helpful by the minute and it really isn't worth the price. On the other hand, WordPress has been getting better and better and the new Gutenberg editor is almost as easy to use as Squarespace and a lot more flexible.
Squarespace
Squarespace is the one stop shop that offers domain registry, hosting, gorgeous website templates, easy integrations, free ongoing maintenance and (very poor) customer support. It is super easy to set up and you can have a blog up and running in minutes.
I love how easy and streamlined everything is with Squarespace, but it does come at a premium price, the site speed is poor (and Google has been pushing for fast sites more and more) and there are limits on customization.
I built many sites in Squarespace but recently made the decision to move Craving Adventure over to WordPress as I've been bumping into more and more frustrating issues with Squarespace. Can you believe there's no auto save and way to revert back your posts and you can loose the whole thing if you haven't saved a change and your wi-fi cuts out?!
Read Next: Why and how I made the switch from Squarespace to WordPress
WordPress
WordPress is the platform most bloggers recommend as it offers more functionality and flexibility. I used to think WordPress was a serious pain in the ass to set up if you're not tech savvy as the learning curve is rather steep.
However, in the past years WP has become much easier to use and some premium hosting companies help you out with all the tech stuff.
While WordPress itself is free, you will have to pay for hosting, as well as premium themes and some plug ins if so you choose
Keep in mind that in WordPress you have to keep the platform, your theme and your plugins up to date at all times or you might be opening a backdoor to hackers. Unfortunately not all themes and plugins keep up with the updates which can cause your site to break and open that back door again.
To minimize vulnerabilities of your site it is important that you chose your hosting, theme and plugins wisely.
You'll need all three.
The hosting is where your content will be hosted and served from to your audience. You want it to have good uptime and fast servers, and ideally also great support.
The theme defines the look of your site (obviously you can customize it!) and the basic functionality.
Plugins offer additional functionalities that your host and theme might not offer otherwise. But go easy on them and make sure not to have two trying to do the same thing.
Hosting
I would urge you to stay away from BlueHost, godaddy, namecheap and similar low price & low quality hosts. They often have hidden costs for all sorts of 'extras' that you actually really need (like an SSL certificate). They also tend to be much slower than premium hosting and more exposed to safety breaches.
I use (and absolutely love) Lyrical Host. Their customer service is the best I've ever encountered, I still can't believe how incredibly helpful their support team is! They also take care of domain registry, tech setup, backups, SSL, have a built in cdn and caching service, offer free courses to their customers and so much more! You honestly can't go wrong with lyrical!
Use code CRAVINGADVENTURE for a 10% discount on your first purchase with Lyrical Host
Themes & plugins
In terms of themes, I'd recommend you stick to the well known and popular ones since these will have the best support, stay up to date and fix any possible issues before you even notice them.
I use Blocksy which is fantastic. Neve, Astra, Generatepress and Kadence are also good choices. The free versions of these themes are great, but if you're serious about blogging I'd recommend getting the pro version as it offers more functionalities and great support.
One of the main things you should be looking at when picking a theme is support and good coding. A lot of the really pretty over designed ones tend to be rather slow and heavy.
Same applies to plugins. Do you really need to display an interactive map of all the places you've been to? Or would you rather have a faster, more responsive site with the potential to rank better?
With Gutenberg quickly advancing and offering more and more flexibility, there is no need to use a site builder (like Divi or Elementor).
Free options
If you're only testing the waters or want to write for yourself without the intention of monetising your blog, blogger.com and medium could be a good, easy and free option for you.
Design and tech considerations
New bloggers often get stuck for days or even weeks trying to design the blog they've envisioned. Partially, because everyone wants that perfect site and partially because moving that line a pixel up and a pixel left is a way of procrastination, a way to delay the tings that really matter and a way to avoid that fear of putting yourself out there.
As a designer myself I can definitely see the benefit of a well designed site, but truth is, that all the time you spend on tweaking your site and obsessing over minor adjustments, is time you're not creating content.
Keep things simple in the beginning and come back to design once you have enough content to justify the effort.
When you're first starting out, content should be your one and only priority so here are my recommendations to quickly set up your site and move on to content creation:
Use your brand board to guide your design decisions and stick to your brand colours and brand fonts.
Have readability and user experience top of mind.
Think through your link structure (for example remove the date out of the blog url), tags and categories.
And here's a designer's tip – keep your line length to 50-75 characters for optimal legibility.
Keep it simple. There's nothing wrong with coming back to the drawing board and redesigning your blog once you have more real life data to base your decisions on.
6. Start creating amazing content
Needles to say that if you're starting a blog, you need to love writing. And if you're not good at it yet, that's something that will come with practice. Skills can be learned but the passion needs to be there from the get-go.
Be honest with yourself – do you love writing? If you don't, chances are this whole blogging business isn't for you and you'll start dreading it and eventually quit.
Still with me? Great! Now, how do you write amazing articles? Wish I had a magic recipe to answer that, but unfortunately there is no such thing. What I can offer you instead is a list of key ingredients:
Tell a story
Story telling plays a big part in how to write a successful travel blog. Take your readers on a journey and make them feel as if they're there, in a far away land seeing, experiencing and smelling all that is. Make them crave more, make them loose sense of time, be painfully descriptive and make sure you talk to them.
Listen to your readers
You're not writing for yourself, or at least you shouldn't be. Have your audience in mind with every word you type down. How does this help them? How does this solve their problems? That's why it is important to define your ideal audience at the very beginning, so you know exactly who you're talking to. And once you've build a community around your blog, start listening to their needs and wants;
Is there a post that's performing particularly well? Chances are that your audience would like more of that.
Is there a question you get asked often? They'd probably enjoy a post about that.
Is there a common denominator to the comments you're getting? Learn from it.
Layout and structure
The attention span of the average human being is getting shorter and shorter. No matter how smart and educated your audience is, if it isn't instantly clear what your blog post is all about and if it doesn't quickly intrigue them… they're gone. Vanished. And your exit rate goes through the roof. And Google hates that.
Use headings, subheadings, tables, bolded text and lists wisely. Break up long chunks of text with images or tables. In short, make your blog posts scannable and easy to read. And count your characters per line again, is it less than 75?
Create original content
I know, I know, there's hardly any original ideas left in this world. Everything has been done in one form or the other but your job as a blogger is to find an original spin on it.
While taking inspiration from those that are ahead in the blogging journey can be very helpful you need to ensure you're putting your own original spin on it. Google hates duplicate content and people don't find it memorable if they've seen it before.
Be consistent
Writing often and writing consistently has several benefits:
With practice your writing will get better and writing will come easier.
When you're first starting out, Google is still trying to place your site in the right bucket. Remember the niche we've talked about? It is important to stick to it in the beginning and create a decent amount of content so that Google can figure out what your site is all about and start ranking it.
By publishing often you'll be building a relationship with your audience and make sure they're coming back regularly.
7. Master the photography game
Photography might not be a big deal if you're blogging about stock markets or dog training, but in travel, photography is a very very big deal. No matter how well you describe a place, it's never gonna be as clear as showing your readers photographs of said place. And honestly, a good photo of an average view might appeal to more people than an average photo of an insanely gorgeous view.
Oh, and don't forget that photography is a skill you can monetize or use to pitch to hotels land free stays!
In travel, photography is extremely important and you should give it the attention, time and effort required. While investing into the right camera gear is definitely something you should consider further down the line, you can create decent photographs with just your phone camera if you develop the right skills;
Learn the basics of photography – how to use the manual settings on your camera and the basics of composition.
Learn to use Lightroom or Photoshop – these days a lot happens in postproduction so learning how to edit is a necessary skill.
Stick to a consistent aesthetic – look back at your brand board and make sure it all adds up
Plan your photoshoots – ensure you get the right photos to use in your blog and keep the golden hour in mind to ensure you're at the chosen location at the right time
Get some good Lightroom presets – this makes editing and having a consistent aesthetic so much easier! You can grab mine to start with, it's free!
A great place to start learning about photography is Skillshare where you can find courses that will teach you the ins and outs of taking and editing your photos, as well as how to optimise them for web browsers.
8. Learn the basics of SEO
SEO stands for Search Engine Optimisation and as a new blogger, this should be your new religion. If people can't find your blog, they can't read it. Make sure to always write for humans, but optimise it for Google. Again, a great place to start learning about SEO is Skillshare, another great resource is moz.com. But the recourse we recommend the most and the one that'll kickstart your SEO knowledge with tons of hand-on tips and examples is Build Blog Freedom Fast Track course. So if you're serious about starting a blog we really think you'd greatly benefit from signing up!
New content from low DA sites usually takes several months to rank on Google so whatever you write during this quarantine will reach its potential by the time the travel bans are lifted. See, now is the perfect time to start a blog!
9. Promote your content
Publish and pray isn't the greatest strategy when it comes to getting your content out there. A crucial part of getting your content noticed are PR and promotion. So whenever you hit publish, make sure to share the new blog with your network. This will bring in traffic while Google is still trying to make up its mind about your site, as well as build social signals and possibly even backlinks aka SEO gold.
Automation
But don't get sidetracked! As a new blogger, content should still be your one and only priority. So let me introduce you to your saviour – automation. Take advantage of scheduling tools to promote your content without spending hours on social media. Later has a free version which is fantastic to schedule posts on Instagram and Facebook. It also supports Pinterest, but its Pinterest functions are limited so we wholeheartedly recommend you sign up for Tailwind to manage your pins.
Pinterest
While your posts on Instagram, Facebook or Twitter will soon get buried under new, fresher posts, your pins will have a much longer life span. I recommend you really think through your Pinterest strategy.
Pinterest often gets thrown into the social media bucket but in reality, Pinterest is a visual search engine. A search engine that will rank your content a lot faster than Google. To sum it up, Pinterest is gold for a new blogger!
Tailwind offers a free trial and costs $15 after that, but the results you'll get from it are worth every cent of your monthly subscription!
If you're not familiar with Photoshop or Illustrator, Canva offers some great templates for pin covers, just make sure to refer back to your brand board to keep it all consistent and use your own photos you've been working on so hard on.
Network & community
Community over competition is a phrase that gets thrown around often, and for a good reason! Your blog doesn't exist in its own bubble therefore networking is essential to success in two very important ways:
Backlinks, which Google absolutely loves.
Community, which is what keeps your blog going.
Consider attending networking events, do guest blogging, collaborate with other bloggers as well as businesses in a similar niche.
10. Rock the blogging world
As your blog grows a whole new world of opportunities will open up for you and you'll want to start monetising, be it with advertising, affiliate marketing, sponsored content or by selling your own products and services. But this is a topic for another time.
For now, start with the basics and if you only take one thing away from this blog, let it be this – always have your audience and their needs at the heart of what you do. And branding. Yeah, definitely think about your branding.
I'm aware that this blog barely scratches the surface and I'd love to help you further. I know a lot of you are interested in hotel collaborations so I have an article to get you started but if you're serious about it I highly recommend you grab my e-book that will teach you the ins and outs of working with hotels.
This e-book is for you if
You want to collaborate with hotels but have no idea where to start.
You spend hours sending out pitches to hotels but rarely hear back.
You are not landing as many hotel collaborations as you'd like.
You are not landing the kind of hotel collaborations you'd like.
You have a small following and feel insecure about it.
Are you serious about your business?
Starting a blog or an online business and choosing a life of travel and exploration can be overwhelming and sometimes it's hard to keep going. I've created some resources to help you along the way and I'm always happy to help so just drop me a comment or get in touch via DM.
What are the main struggles you are facing as a new blogger? Let me know in the comments!