Coromandel Road Trip – 24 amazing things to do in the Coromandel Peninsula
During the summer holidays every living soul in New Zealand rushes to the Coromandel Peninsula for their holiday getaway, and it is easy to see why. Its pristine golden beaches, secluded bays, misty rainforests, beautiful waterfalls and cliffside views make it an ideal destination for a summer escape.
Just a 1.5h drive from Auckland, a Coromandel road trip is an absolute must do when exploring New Zealand's North island.
Follow our recommended route below to experience all the goodies the Coromandel Peninsula has to offer!
Coromandel Road Trip – best route
The Coromandel Peninsula is a beautiful corner of New Zealand that, beyond Cathedral Cove, is unfortunately often overlooked. But we promise you, it's worth every second of your time and every drop of fuel in your tank!
The best route for a Coromandel road trip will take you from Thames along the western coast to Coromandel town and beyond to Port Jackson. Keep in mind that the road is not paved beyond Coromandel. From Port Jackson you'll backtrack back to Coromandel and cross east to Whanapoua and New Chums beach and then head down to Whitianga, Cathedral Cove, Whangamata, all the way to Waihi beach before turning back inland to Karangahape gorge.
From Karangahape you can either loop back to Auckland or continue your North Island road trip. And of course, if you're coming from the South Island and heading up to Auckland you'll do the loop the other way around.
This route is approximately 420 kilometres long and includes a trip to the very top of the peninsula. You can skim off 100 kilometres by forgoing this part and driving from Coromandel town straight to Whangapoua. And remember that driving around the Coromandel takes longer than usual as the roads are steep and windy.
We recommend spending at least 3-5 days on this Coromandel road trip in order to see the top Coromandel attractions. It will take you closer 7-10 days in order to do all the activities and visit all the attractions listed below.
24 amazing things to do in the Coromandel Peninsula
No matter wether you prefer hiking, going to the beach, sightseeing or simply relaxing in a hot pool, the Coromandel has something for everybody and is absolutely worth exploring!
We keep going back ourselves and these are our favourite activities and places to visit in Coromandel.
The attractions and activities are listed in the order you'll be passing them if you follow our recommended Coromandel road trip itinerary.

We marked the absolute best ones as MUST DO and the top 10 things to doin the Coromandel as HIGHLY RECOMMENDED to make it easier for you to prioritise.
1. Hike the Pinnacles
MUST DO
The hike up the Pinnacles is steep and challenging but so worth it! Starting in the forest you'll follow over the Kauaeranga Kauri Trail across streams and over swingbridges to reach the Pinnacles Hut at the base of the craggy Pinnacles. This is where the best part starts – a steep climb to the jagged summit.
During this climb and from the top you'll be rewarded with incredible views showing you almost all of the Coromandel Peninsula from coast to coast. Reaching the hut takes about 3 hours and from there it is another 40 minutes to the top. Up and down takes a total of 7 hours.
If you feel like that is too much then staying overnight in the Pinnacles Hut is an option. Just make sure to book ahead as it is usually booked out well in advance. When you are doing the whole hike up and down in one day we recommend staying in Thames.
Where to stay near the Coromandel Forest Park
Thames is the closest town to Coromandel Forest Park with any accommodation options. Thames is also where you'll want to stay should you decide to do the Sleeping God Canyoning tour and it is also the most convenient town to start the Coromandel road trip from.
These are the best places to stay in Thames.
BEST VALUE Located by the water just outside of Thames, this motel offers comfortable and spacious rooms for very reasonable prices. There is a nice garden around the motel and even a little beach. Perfect if you want to dip into the water on a warm summer day.
BEST VIEWS
This place has it all. Beautiful wooden chalets in the tree-line away from the noise of town, incredible views over the water and amazing hospitality. You'll get homemade cookies on arrival and some liqueur n the evening, which we recommend enjoying by the pool.
AMAZING BREAKFAST
Situated in a stunning 150 year old heritage building surrounded by a bug and lush garden this B&B has everything you'll need for a comfortable stay. On top of that the breakfast is incredibly tasty and enough to last you all day.
2. Abseil down the Sleeping God Canyon
HIGHLY RECOMMENDED
Gotta be honest with you, this awesome canyoning adventure remains unticked on our bucket list but we will be back for it one day! A day filled with over 300 metres of abseils and waterfall jumps followed by a flying fox is certainly worth the trip back!
The Sleeping God Canyon tour is like nothing we've ever seen or heard of and it involves rappelling down 80 metre high waterfalls, holding your breath down exhilarating water slides and 14 metre high jumps into the deep pools below. I know, 14 meters! It gives me the chills just thinking about it. Luckily the really big jumps are optional and you can wither abseil or scramble down the maintenance path.
If you're up for some thrill, this canyoning tour is certain to provide and it will push your limits like nothing ever before.
3. Enjoy the scenic Thames Coastal Road
MUST DO
The drive from Thames to Coromandel town will take your breath away! Mostly because of the views and sometimes because you'll feel like you're headed straight off a cliff. On this scenic drive, you'll be slowly winding through coastal towns, past beautiful beaches and through tunnels made of trees until the road starts climbing up boasting fabulous views over the Hauraki Gulf before descending back down into Coromandel town.
4. Drive the 309 road and cool off at Waiau Falls
Just before reaching Coromandel take a short detour onto the 309 road. There are several stops you might want to take as you drive towards Waiau falls but if you're in a rush you might want to skip the 309 road altogether. The points of interest along this drive are:
Stuart and the pigs where you can mingle with free-roaming piglets,
The Waterworks park with quirky water-powered inventions and finally
Waiau falls with a perfect plunge pool for you to cool off in.
5. Stroll through Coromandel Town
Apart from a place to stay in the middle of the surrounding walks there aren't many things to do in Coromandel town. Go for a stroll through town, peek into one of the many art galleries and grab a coffee. Then stock up on food, fill up your water tanks and fuel up as there won't be any shops or drinking water where you're headed next.
If you have time you can check out Long Bay and Ruffins Bay, otherwise head towards the less discovered Northern part of the peninsula.
Where to stay in Coromandel Town
Depending on when you've started driving it might be best to spend the night in Coromandel. The road to Port Jackson is not recommended in the dark and there is only a Doc campsite there, no other accommodation so you will have to stay in Coromandel if not camping.
These are the best places to stay in Coromandel:
BEST BUDGET OPTION
Located just outside of Coromandel Town, this homey lodge has accommodation types for everyone. They offer campervan sites, dorm rooms and private rooms, either with a shared or private bathroom. All for the best prices you'll find in the area.
VERY COMFORTABLE This beautiful secluded motel has everything you need for an extremely comfortable stay. Fully equiped rooms, the comfiest beds you'll sleep in for weeks and an amazing heated outdoor pool.
MOST UNIQUE
This place can be described in one word: Gorgeous! Nestled away in between New Zealand native trees you'll find the most charming wooden cabins all connected to the communal areas by wooden boardwalks.
6. Drive to the end of the world at Port Jackson and Fletcher Bay
You know those places that are hard to get to, but are so worth it when you finally get there? Coromandel's far North is one of those places.
As you head out of Coromandel town you'll soon run out of paved roads and start diving on gravel with the sea on your left with beautiful views and vertigo inducing cliffs. Do not drive this road in the dark or in severe weather conditions.
The drive is a bit of an undertaking but so so worth the trouble! As you final get to Port Jackson your jaw is bound to drop as you're greeted by miles and miles of untouched beauty.
There's a doc campsite just as you get to Port Jackson and another one in Fletcher Bay.
7. Walk the Coromandel Coastal Walkway
HIGHLY RECOMMENDED
This gorgeous walk between Fletcher Bay and Stony Bay might just be one of the best-kept secrets of New Zealand and certainly among the best walks in the Coromandel. Here you'll get to enjoy some of the best views North Island has to offer over the Pinnacles (not the ones you hiked at the start of the road trip, different Pinnacles), Great Barrier Island to the north and Cuvier Island in the east.
The whole hike is 20 kilometres long and takes about 7 hours to complete (return). If you're up for something more you can loop back from Stony Bay and return via the more challenging mountain biking track. There is a doc campsite in Stony bay if you wish to turn this into an overnight hike.
If that seems like too much you can turn around about halfway once you reach the lookout or even better, take this Coastal Walkway tour with shuttle transfers. They will drop you off at Stony bay and guide you to Fletcher bay where your pickup will be arranged to take you back to Coromandel. This cuts your hiking and driving time in half and you don't need to worry about the dodgy road to Port Jackson.Book your Coastal Walk tour & transfer
Short on time?
These are the top 5 things to do in the Coromandel that you absolutely shouldn't miss out on!
8. Enjoy the view from Tokatea Hill Lookout
Just north from Coromandel, the Tokatea Hill Lookout offers some pretty sweet views in every direction. The Kaipawa Trig Track is 6km long from the starting point on Pacific Coast Highway but if that sounds like too much, you can drive into Kennedy bay road and then it's only a 15min walk from the stopping bay beside the road.
9. Have a picnic at Whangapoua Beach
As the getaway to New Chums Beach, Whangapoua beach often gets overlooked, but we think it's among the most beautiful beaches in the Coromandel and worth a picnic blanket and a sandwich. The perfect way to kill some time while you wait for low tide so you can walk over to New Chums.
10. Discover New Chums Beach
MUST DO
Remember those places that are hard to get to, but are so worth it when you finally get there? New Chums Beach is one of those places too. Rated as one of the world's top 10 beaches it is the kind of perfect white-golden sand beach that you see in travel magazines. While the beach itself is incredible, arguably even better is the viewpoint overlooking the bay.
To visit this beauty, first check the tides. New Chums Beach is another one of those places that you can only get to during low tide. Then start walking north along the sand from Whangapoua Beach, cross the stream (during low tide) and continue walking over rocks along the beach. From there follow a clear path up alongside the ocean until you reach the top of the hill.
To go to the beach itself just follow the path down, and to go to the viewpoint turn right onto the unofficial path and scramble up. Here you'll be able to admire the stunning coastline and take some insta-worthy shots. Getting to the beach takes about 30 minutes and add another 10 for the viewpoint.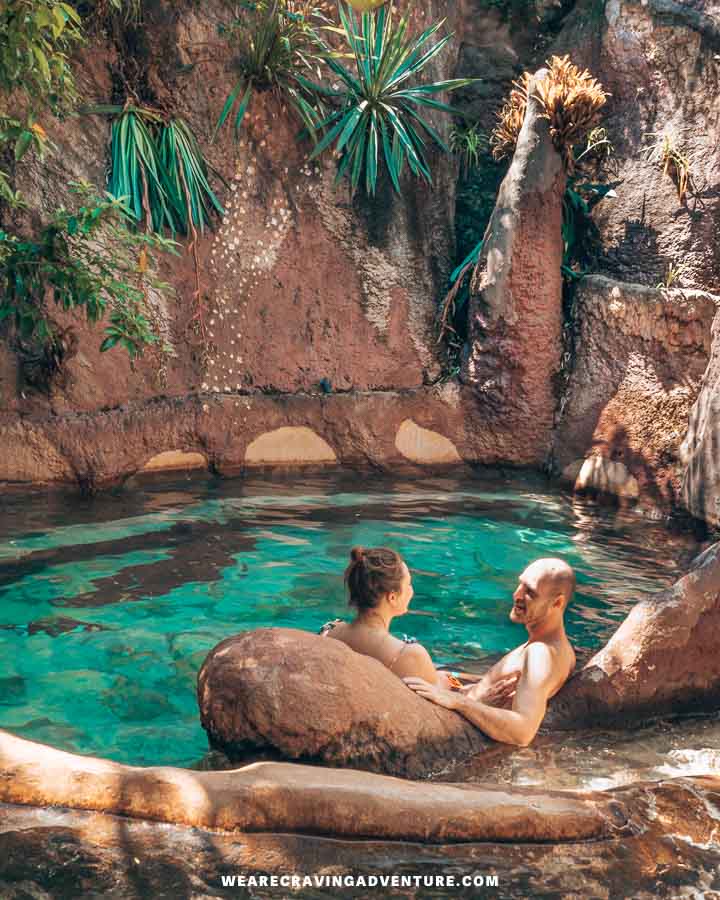 11. Get pampered at the Lost Springs Whitianga
The Coromandel Peninsula's slogan is 'good for your soul' and we're sure they came up with it after visiting The Lost Spring in Whitianga. This oasis with geothermal hot pools (we especially like the jungle hot pools and the one in a cave), a treetop spa, and a restaurant is surrounded by beautiful rainforest.
The Lost Spring hot pools are perfect to relax in with a nice cocktail. They serve drinks and snacks at the pools so you don't even have to get out of the water for a drink or a bite!
Go for a massage in their treetop spa overlooking the forest and you'll come out feeling like a new person. We went for the 'TLS signature Packages' and left feeling stress-free and rejuvenated. A highly recommended hidden treasure!
Where to stay in Whitianga
Whitianga is the next town over from Coromandel and you will want to spend the night here before continuing the drive. This is also a great hub to base yourself if you'd like to do some off the boat tours.
These are the best places to stay in Whitianga:
GREAT HOSPITALITY
This beautiful home with views over Mercury Bay is just a few minutes drive from The Lost Springs. Your hosts and their cute dog are extremely welcoming, but if you want privacy that's fine too. Oh and the breakfast is delicious!
GREAT LOCATION
As the name suggests this modern property is located right by the beach. Great if you're keen on a swim during a sunny day. All rooms are light and spacious, come fully equipped and with very comfortable bed.
ABSOLUTELY STUNNING
Luxury and world-class service at its finest in this Mediterranean style villa. Feel like a king or queen while walking around in the big gardens, sipping wine on the sun terrace or soaking in the hot tub. It doesn't get any better than this.
12. Sail to Mercury Island
HIGHLY RECOMMENDED
How does a sailing tour to Mercury island on board an almost 100-year-old schooner sound to you? Don't worry, the bot has been restored and well maintained, but still keeps its charm and history!
This tour is a full day of fun on the water, exploring the volcanic coastline of Mercury Island, on a lookout for dolphins, orcas, and whales. You'll anchor at the incredible Peach Grove and get a chance to explore the island on foot, leave the first footprints on the beach before venturing into the bush to find a charming waterfall with the perfect plunge pool for a refreshing dip.
13. Admire the marine life on a Glass Bottom Boat Tour to Cathedral Cove
From Whitianga you can hop onto a glass-bottom boat that will take you all the way to Cathedral Cove. On the trip, you will visit sea caves, towering rock formations and peak at the abundance of marine life through the glass floor all throughout your cruise. The boat will take you into the amazing Orua Sea Cave and you'll even get a chance to swim and snorkel!
Book your glass bottom boat tour here
14. Fall in love with Cathedral Cove
MUST DO
The Coromandel's most popular tourist attraction is without a doubt Cathedral Cove. It can only be reached by foot or by boat, but we recommend the first option as this is by far the most beautiful walk in the Coromandel.
From the car park in Hahei, follow the Cathedral Cove track. An hour-long walk takes you from Hahei beach, through a rainforest, alongside cliff edges with dramatic views, over a ridgeway and then down the final reward; Cathedral Cove. Once you reach this secluded cove you'll find a pretty little waterfall on one side and the iconic and picturesque natural archway providing access to the other side of the beach.
Words can't fully describe this place, you really have to see it and it will definitely be a highlight of your New Zealand North Island trip.
15. Hold your breath at Gemstone Bay Snorkel Trail
Yes, you read that right, snorkel trail! On the way to Cathedral Cove you'll see a side track going to Gemstone bay. This is a beautiful little bay to look at even if you don't get in the water. But if you do decide to get wet, there's a surprise waiting for you – a small underwater snorkeling trail with interpretation panels that will help you identify the marine life you're looking at.
16. Chill on Hahei Beach
After the walk to Cathedral Cove and snorkelling at Gemstone bay, take a moment to relax and replenish your energy. Hahei beach is the starting point (and the ending point) of the Cathedral Cove walk making it the perfect spot for a late lunch or to chill for a bit. Or how about you channel your inner child and find this rope swing? With it's silky sand and sheltered location, Hahei beach is pure perfection!
17. Take in the views from Mt Paku Summit
If your legs start cramping and your ass goes numb from all the driving, this is 45min walk is the perfect spot to stretch and get the blood flowing. Mount Paku is an exposed dome of lava that was once an island, but has now been joined to the peninsula by a strip of land. From the summit you will enjoy extensive views of Tairua, the estuary and the central ranges beyond.
18. Learn to surf in Whangamata
HIGHLY RECOMMENDED
Whangamata is a small but cool and laid back surf town. In the summer months the whole town comes alive with loads of cool bars, eateries (try Soul Burger!), and of course the surf shops, not to mention the beach and perfect baby waves for learning.
Where to stay in Whangamata
Even if you are not interested in surfing, Whangamata is still a town worth your time. Even if all you do is chill on the beach and make the most of happy hour, we're sure you'll fall in love with this little town.
These are the best places to stay in Whangamata:
GREAT VALUE This hostel is only one street away from the beach, so you wake up to the sound of the waves rolling onto the shore. They offer both dorms and private rooms and have a surf school and surf rental in the hostel.
BEAUTIFUL LOCATION Located a bit away from the town center, staying in this peaceful lodge set amidst a jungle garden feels like a getaway. All rooms have their own patio, they have a beautiful garden and sun deck, and a spa and wellness center.
BEST BREAKFAST Overlooking the harbour, the marina, and the pacific ocean this place has the best views in town. They offer very large and comfortable rooms, have a big sundeck, and an amazing breakfast is included.
19. Paddle to Donut Island
MUST DO
If you're like us and you love going off the beaten path, you will love Donut Island! Just off the coast of Whangamata lies this old dormant volcano the Māori call Whenuakura but is more commonly known as Donut Island due to its shape.
Through a cave, the center of the island can be accessed from the sea. Inside you'll find a peaceful little lagoon where all you hear is the chirping of birds and the soft rippling of the water. Sounds perfect right?
To this day paddling here is still one of our all-time favourite experiences. Read our Donut Island guide to find out more about this hidden paradise or book this kayak tour to explore Donut Island and Whenuakura Wildlife Sanctuary
BOOK YOUR KAYAK TRIP TO DONUT ISLAND
20. Chase waterfalls in Wentworth Valley
Just a 15min drive from Whangamata you'll find the start to the Wentworth falls. Now, don't confuse them with the Wentworth waterfall in the Blue mountains, the kiwi version is much much smaller. This is an easy 3km walk that will take you through lush forests, across bridges to the top of the falls from where you'll get views all the way over Whangamata.
21. Watch the sunrise at Waihi Beach
Waihi Beach is a beautiful long sandy beach on the Eastern side of the peninsula offering the perfect spot to enjoy a proper Kiwi sunrise!
Walk over to Homunga bay and see if you can find the hidden waterfall, catch some waves and show off your newly acquired surfing skills or simply read a book and enjoy the feeling of sand between your toes.
Where to stay in Waihi Beach
Waihi beach is the perfect summer getaway and you will want to enjoy some beach vibes here as well as have a good night's sleep before the sunrise.
These are the best places to stay in Waihi beach:
GREAT LOCATION
Located practically on the beach, this homey Bed & Breakfast is the place for you if you want spend your summer evening on the beach watching the sunset. And after watching the sunrise, a delicious breakfast is included.
BEST VIEW
These spacious and luxurious apartments are located in town. All units have massive balconies which are great to watch the sunrise and sunset from, and if you splurge a bit you can even watch them from your own hot tub!
Amongst The Nikau YOUR OWN PLACE
The most beautiful modern holiday home set in the middle of a big lush garden; the perfect holiday getaway. The decoration is done with an incredible eye for detail and touches like an outside bath and shower make this place truly unique
22. Peak over to Mt Manganui from Bowentown lookout
As you drive along Waihi beach you'll soon end up in Bowentown. From here it's just a short walk up to the Bowentown lookout from where you can almost jump over to Matakara island and wave to those on top of Mt. Manganui hill.
23. Explore the Karangahake Gorge
HIGHLY RECOMMENDED
Karangahake gorge along Ohinemuri River offers an array of short and long walks that venture over suspension bridges, through old tunnels and showcase the rich history of the gorge. The tunnel walk goes through old railway tunnels and along the river, the historic walk will take you past Owharoa Waterfall and Victoria Battery (an old gold processing facility).
24. Cycle the Hauraki Rail Trail
The Hauraki Rail Trail is an almost 200 kilometres long biking trail over New Zealand's oldest railway corridors. Obviously, the whole thing would take you days, that's why we suggest you only do the Waihi to Paeroa stretch which is only 24 km one way. This section of the Hauraki Rail Trail goes through Karangahake gorge and it is a great way to explore it.
What about hot water beach?
You might wonder why the popular tourist attraction Hot Water Beach is not in here. That's because unless you want to get adventurous and go there at night, we think that Hot Water Beach is not worth the hassle and crowds.
There is another, much nicer hot water beach near Kawhia (photo above) on the west coast of the North Island that is equally beautiful but far less crowded, making it a much nicer alternative to this hotspot.
Getting to the Coromandel & around
The Coromandel Peninsula is located East of Auckland, across the Hauraki Gulf and it frames the Bay of Plenty on the North West.
We think that a self-drive road trip is the best way to experience New Zealand. The Coromandel Peninsula is often done as a road trip from Auckland in which case Thames is the the entry point to the peninsula. Since you'll probably fly into Auckland, pick up your rental car or campervan there and start driving South towards Thames.
If driving isn't an option for you then there are some group tours from Auckland you should consider. They will take you to Cathedral cove and Hot Water beach and provide a few stops along the way.
You can also take the ferry from Auckland to Coromandel town and rent a car or join this tour. The trip across Hauraki Gulf is beautiful but keep in mind that your transport options are limited once you get to the Coromandel.
Getting to the Coromandel Peninsula
Auckland to Thames: It is 114 km from Auckland to Thames and the drive takes 1.5 hours.
Auckland to Coromandel town: It is 168 km from Auckland to Thames and the drive takes 2 hours and 20 minutes. The ferry across the gulf takes about 2 hours.
Tauranga to Waihi Beach: It is 58.8 km from Tauranga to Waihi Beach and takes 50 minutes.
Rotorua to Waihi Beach: It is 111 km from Rotorua to Waihi Beach and takes 1.5 hours.
Where to stay in the Coromandel
There is no shortage of places to stay in Coromandel and sometimes it might be hard to decide where t stay. Since this is a self paced road trip itinerary you might decide to skip some attractions and drive through faster or spend a few days chilling in a spot you like.
The most common towns to spend the night in are Thames (if you're doing the canyoning trip and Pinnacles hike), Coromandel, Whitianga, Whangamata and Waihi beach. And of course the doc campsites if you venture to the very end of the peninsula.
Camping in the Coromandel
Freedom camping is strictly prohibited in the Coromandel and heavily patrolled. There are some free campsites (well, more like car parks) for Self Contained vehicles only and they fill up early in the afternoon during the summer months so you need to be quick.
If you are not travelling in a Self Contained van you will have to stay at DOC campsites, Holiday Parks or Hostels (most have a few spots for campers).
Where to eat in the Coromandel
Whitianga and Whangamata are the more popular towns in the Coromandel and as such, they have a wider choice of restaurants and pubs.
Best time to visit the Coromandel
Coromandel is definitely a popular beach destination and if swimming and sunbathing is your jam, then you should visit in Summer when the weather is hot and dry. But keep in mind that the Coromandel is a very busy in summer and you will need to book everything in advance.
The best time to visit the Coromandel is late spring and early autumn when it's not too busy and the weather is fantastic. It might not be as hot as in the peak of summer but the days are long and the weather is still dry and sunny, perfect to explore every nook and cranny of this beautiful area of New Zealand.
From June on, the Coromandel goes into winter hibernation. A lot of the shops and restaurants close, the days are short, the crowds are gone and the beach has a completely different look and feel.
Tide times Coromandel
Some of the activities and attractions in the Coromandel can only be accessed during low tide, or a couple of hours either side of low tide to be exact. Keep this in mind when visiting New Chums Beach, Cathedral Cove and Hot Water Beach (should you chose to join the pigs in the mud). During high tide access to these attractions floods and becomes dangerous. You can check Coromandel tide times here.
---
New Zealand travel insurance
Good travel insurance is an absolute must when travelling abroad, and we've learned that the hard way!
ACC in New Zealand covers you for accidents but if you get sick or loose your luggage you'll need a good insurance to cover it for you.
We always get insured before we leave and Travel Insurance Masters is our go to platform to find the best insurance options for the specific trip.
The TIM platform works as a search engine and suggests the best insurance company and insurance plan for your criteria so you don't end up paying more for things you don't need! It also takes into account your age, nationality, destination etc. which can greatly impact the final price.
You can get your quote & provider recommendations here.
---
Keep it handy and pin this to your travel inspo board
---
Have you been to the Coromandel? Would you like to go?
Let us know in the comments below!
---
---
Know someone who'd love the Coromandel?
Share this article!