New Zealand South Island Road trip – 2 week itinerary
Seemingly never-ending mountain ranges, breathtaking fjords and glacial lakes, dense rainforests, stunning waterfalls and the most incredible and unique wildlife. New Zealand's South Island has all you need for an epic adventure, and so much more!
There is so much that you can do on New Zealand's South Island that you can easily spend months or even years exploring without seeing it all. If you only have a few weeks, it can feel like an impossible task to choose what to see and what to skip. But don't worry, we're here to help! Zi has lived on the South Island for four years, and on top of that, we spent almost half a year travelling around the island in a campervan and already did all the research for you. By following this 2-week New Zealand South Island itinerary you'll cover all the best things to do and see, and take the optimal route to make the most of your time on the South Island.
This itinerary takes you all the way around the island from Christchurch back to Christchurch and shows you all the highlights to help you make the most of your time here. To follow this itinerary you will need your own wheels. The best way to explore New Zealand is by campervan, but if you prefer to get a car instead that is fine too, we've included where to stay in both cases. This way you don't have to worry about accommodation during you New Zealand South Island road trip!

P.S. This article contains affiliate links. If you make a purchase following one of these links we'll get a small commission at no additional cost to you. We only share products and services that we love and believe you will love too.
What to expect
New Zealand is a really easy country to travel in. It is safe, the people are friendly and helpful, and there are facilities for travellers everywhere. The country just really caters well to travellers, and this shows in the increasing amount of visitors the country welcomes each year. Because New Zealand is not densely populated and has all these vast areas of rugged landscape, it is easy to get off the beaten path, but if you stick to the main touristic hotspots you can still expect some crowds.
Who is this itinerary for?
We've written this itinerary for people who like to make the most out of their time when travelling, without rushing. This means taking the time to experience what this beautiful country has to offer, seeing the highlights as well as some more obscure places, and taking in the scenery and incredible views. This itinerary is for you if you don't mind driving each day, you love authentic experiences and exploring and sightseeing out in nature.
Know before you go
BEST TIME TO VISIT: September – May
SAFETY: Very safe. Check this article to learn more on NZ safety
LANGUAGE: English
With some funky Kiwi slang and a dash of Maori
CURRENCY: New Zealand Dollar (NZD)
At the time of writing this, the exchange rate is:
1 NZD = 0,66 USD / 0,58 EUR
TIPPING: Appreciated but not common for drinks. Encouraged but not mandatory for dinner service
How much time on the South Island?
Two weeks is the optimal amount of time for a New Zealand South Island road trip. 10 days is the minimum amount of time you need to see the highlights of New Zealand's South Island. Less than 10 days would mean rushing and skipping a lot, and that is not something we stand for or want to advertise.
Depending on how much time you have on New Zealand's South Island, you can shorten or lengthen this two-week itinerary as follows:
10 days – If you have 10 days to spend on New Zealand's South Island, then follow this itinerary, but skip going into the Marlborough Sounds (day 3) and drive from Blenheim to the West Coast. Then also skip The Catlins and Dunedin (day 10, 11, and 12) and drive from Te Anau to Mount Cook over Lindis Pass to make this a New Zealand South Island 10 day itinerary. If you have less than 10 days to spend, then this itinerary is not for you.
14 days – Perfect! This is a New Zealand South Island 14 day itinerary, so then this is the itinerary for you. Follow it from step by step to get the most out of your time on the South Island.
3 weeks or more – Lucky you! This allows you to go off the beaten path a bit to see some really unique places like Wharariki Beach and Stewart Island. Have a look at the three-week New Zealand South Island road trip route at the end of the itinerary for suggestions.
Coming from the North Island – Then start this itinerary on day 3 from Picton, and simply add day one and two to the end of your route.
2 week New Zealand South Island road trip
Kia ora, and welcome to Aotearoa; the land of the long white cloud! After landing in Christchurch, the biggest city on the South Island, get a SIM card (so you can look up and follow this itinerary on the go) and then you can start road tripping New Zealand!
To get from the airport into the city we recommend booking a SuperShuttle, which is a lot cheaper than a taxi.
Day 1 – Christchurch
Christchurch is the biggest city in New Zealand's South Island and the best place to start your road trip from. It has been through a lot in recent years with a massive earthquake as its low point, but it has bounced back as a lively city with a lot so see and do.
Christchurch Botanic Gardens
Start your day easy and visit the Christchurch Botanical Gardens in the middle of the city. These 21 hectares big gardens are over 150 years old and consist of ten gardens with all sorts of exotic plants from all over the world. Now, we know hardly anything about plants, but we loved walking around in these gardens. Especially the beautiful Central Rose Garden, the Fragrant Garden with massive flower arches, and the conservatories that make you feel like you're walking in the jungle are worth a look.
Christchurch Hop-On Hop-Off Tram
The best way to see most of Christchurch is by making use of the Hop-On Hop-Off Tram. It makes 17 stops at sightseeing spots in the city and there is a stop conveniently located right in front of the Botanic Gardens. Look at prices for the Hop-On Hop-Off Tram here.
Christchurch may still look a bit messy at first glance, but that is because the city got so severely damaged in the 2011 earthquake that they are still rebuilding parts today. One of the tram stops where you can clearly see the devastating impact this earthquake had is the Christchurch Cathedral. This once massive and very impressive cathedral still lies in ruins, and it is gonna take years before it is restored. As a temporary replacement the Cardboard Cathedral was built. Its official name is the Transitional Cathedral, but since it is built out of cardboard (that's crazy right?!), everyone calls it the Cardboard Cathedral.
Across the street from the Cardboard Cathedral are the 185 Empty White Chairs. This is a memorial for the earthquake, and each empty white chair is unique and represents one of the individual lives that were lost as a result of the earthquake.
Lunch at Little High Eatery
Time for lunch! A few minutes walk from the 185 Empty White Chairs you'll find the Little High Eatery food court. There are eight options for eating and drinking to choose from, and they are all local family-run businesses. We recommend Bacon Brothers for delicious burgers, BASE Woodfired Pizza for super tasty pizzas and Little Social for great coffee.
Christchurch Gondola
If it isn't too late in the afternoon yet, then we suggest taking the Christchurch Gondola to go up the Port Hills. From the top of the hill, you have gorgeous panoramic views over Christchurch, the Canterbury Plains, and Lyttelton Harbour with the countless inlets and little bays of the Akaroa Peninsula behind it. Book your ticket for the gondola here. A great spot to enjoy the view from with a drink or a coffee is the quirky Sign of the Kiwi Café & Bar. On weekdays they close at 4 pm, so if you can't make it there before that time, then taking the gondola up might not be worth it.
New Regent Street
Once you've taken the gondola back down into Christchurch, hop on the tram again and get off at New Regent Street. This vibrantly coloured street is an open-air mall built with Spanish architecture in mind. Apart from the tram driving through the middle of the street, only pedestrians are allowed. There are approximately 40 stores on New Regent Street, ranging from jewellery stores and tailors to souvenirs shops, ice cream parlors and restaurants. New Regent Street is a real must-see in Christchurch, and one of the coolest places in the city to have dinner if you ask us!
Where to stay in Christchurch
BEST VALUE
This hostel is located smack in the middle of town. It has dorm rooms and private rooms for very reasonable prices. They offer free parking, and everything in the town centre is within walking distance.
TRULY UNIQUE PLACE TO STAY
Ever wondered what it is like to spend the night in jail? Well, here you can actually experience it! They've turned this old jail into a hostel and used the jail cells for private- and dorm rooms.
BEST LOCATION
These apartments are literally above New Regent Street, and the tram goes underneath them. How cool is that! The apartments are also fully equipped, and come with breakfast included.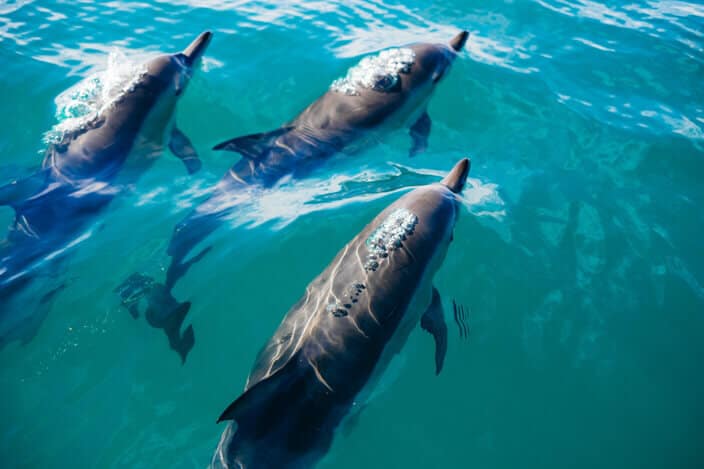 Day 2 – Kaikoura
Driving distance: 311 km | driving time: 4 hours, 12 minutes
Road trip time! Today you'll really start your New Zealand South Island road trip and cover quite a bit of distance. It is a long day and to be able to do the things we're suggesting for today you have to get up quite early.
Pick up your rental vehicle
The first thing to do today is to make your way to the vehicle rental lot and pick up your rental vehicle. If you've chosen to get a campervan (we can't recommend it enough!), then you'll be given a little tour of your campervan by the rental company. They'll explain how everything like charging your electronic devices, filling and emptying the water tanks and folding the couch into a bed works, which is all pretty straightforward. If you're planning on crossing over to the North Island after your New Zealand South Island road trip, then arrange that you can drop off your rental vehicle in Auckland on New Zealand's North Island.
Pack up and drive to the supermarket to stock up on supplies (remember to drive on the left side of the road!). We usually did our shopping at PAK'nSAVE in New Zealand. They are the cheapest supermarket chain in the country, but you can only find their stores in the bigger cities, so make use of it now that you're still in Christchurch!
Kaikoura
Time to leave the city and to make your way to Kaikoura. Kaikoura is a coastal town that is famous for its incredible marine wildlife. It is known as the best place in the country for whale and dolphin watching, and there is a massive seal colony just south of the town at the tip of the peninsula.
One of the coolest things to do in Kaikoura is this whale watching tour. Go for the tour starting at 12:45 pm, because you won't be able to make it from Christchurch to Kaikoura in time for the 10 am tour. During the 3,5 hour trip they take you out to sea on a boat to see massive sperm whales, but you often spot humpback whales, superpods of dolphins, albatrosses and sometimes even sharks too. During the tour, your knowledgable guide will tell you loads about the marine wildlife in these waters, about how they find the whales and about the conservational efforts to keep these tours as eco-friendly as possible.
You might have your doubts about the ethicality of these tours. We had the same doubts before doing this tour and we think that it is always good to question activities involving (wild) animals. We asked questions about and did research on the tours in Kaikoura, and we believe that these tours are okay. New Zealand is very serious about the conservation of its nature and wildlife, and there are very strict regulations for wildlife tour operators like this one.
If you're worried about not spotting a whale during your tour; they have a 95% success rate in spotting whales, but if you're unlucky enough to not spot any they will refund 80% of your ticket. Tours tend to book out fast, especially during high season, so make sure to book your tour in advance!
 Read Next: Best places to see dolphins in New Zealand
Ohau Point
A 20-minute drive north of Kaikoura you get to the Ohau Point Look Out. There used to be a massive seal colony under a waterfall further along the Ohau stream, but in the 2016 Kaikoura earthquake destroyed this waterfall and blocked of the stream. This earthquake had such an unbelievable force that parts of the shoreline north of Kaikoura lifted up 6 meters and even emerged from underwater.
Fortunately, the seal colony survived and made Ohau Point their new home. During breeding seasons hundreds of seals and dozen of the cutest seal pups can be seen snoozing on the rocks or playing in the tidal pools under the Ohau Point Look Out. And since this lookout is literally next to the road on your way north, you just have to stop and take a look.
Blenheim
Drive on to Blenheim and get there in time for dinner. The town of Blenheim is the gateway into the stunning Marlborough region. The Marlborough region is well known for its great wine, and most of the wineries are located around Blenheim. That means wine tasting with your dinner, yummy! We recommend Wither Hills. Their wine is some of the best to come out of the Marlborough region and they serve it with delicious food.
Where to stay in Blenheim
BEST VALUE Located just north of Blenheim, this place has dorm rooms and private cabins with shared or ensuite bathrooms for good prices. They also have a swimming pool which is great to have in sunny Blenheim!
Marlborough Wine Barrel Cabins
MOST UNIQUE
A bit outside of Blenheim in the fields, you can actually sleep in massive wine barrels. The owner created these pretty cabins in the shape of wine barrels, and managed to fit in everything you need!
GORGEOUS VIEW
What better way to stay in style in a wine region, than in between the vineyards! This homestay has the best views in the whole area, looking out over the vineyards and mountains. The perfect place to watch the sunset from!
Wairau Diversion – This is your best campervan option. Free overnight campervan parking a 10-minute drive from Blenheim. The campsite is right next to the mouth of the Wairau River and is sheltered from the wind by a forested area. Find it in the Campermate app.
Day 3 – Marlborough Sounds
Driving distance: 168 km | driving time: 2 hours, 33 minutes
Today you'll explore the best part of the Marlborough region; the Marlborough Sounds. With all its bays, inlets and crystal clear water this is one of our favourite areas in New Zealand's South Island. If you're coming from the North Island, then you start your itinerary from here.
Picton
Picton is a tiny coastal town that probably wouldn't get noticed by many if it wasn't for the ferry to and from the North Island departing and arriving here. There isn't much to do in Picton, but there is one thing that we think you'll LOVE.
From Picton, the E-KO dolphin swimming tour departs. Now, you might have already seen some dolphins if you did the whale watching tour in Kaikoura, but this is something completely different. There are five different dolphin species found in the Marlborough Sounds, including orcas and the incredibly rare Hector's dolphins. Often you also spot fur seals and even penguins in the water. You go out into the calm waters on a relatively small boat, so there is no sea-sickness involved, and the scenery is just picture-perfect.
E-KO tours is the only operator in this region that is allowed to do dolphin tours, and they have strict conditions for when you get to go into the water with the dolphins. They also have their own conservation fund to help keep these marine habitats intact. This is honestly the most eco-friendly tour operator we have come across, so we fully endorse this tour.
The sounds are a stunning area to explore by boat, and when you add swimming with dolphins on top of that you get a truly memorable experience. Check prices for the tour here.
Pelorus Bridge
You must be pretty hungry by now, but if you can wait a bit longer; there is a great place for lunch an hour ahead in Havelock. We suggest taking the scenic coastal road. This road winds its way up and down the coastline and offers stunning cliffside views of the sounds. When you get to Havelock, go for lunch at The Mussel Pot for the best green mussels in the country, coming straight out of the sounds.
A 15-minute drive from Havelock you'll get to the Pelorus Bridge. This bridge goes over the Pelorus River that flows through its narrow rocky river valley. You might recognise this part of the river from the barrel scene in Peter Jackson's movie The Hobbit – The Desolation of Smaug. There is a short track that takes you alongside the river which is nice to do for about 30 minutes, and if you feel like you need to cool down you can jump from the rocks into the river.
Elaine Bay
If you're road tripping in a campervan or have camping equipment like a tent with you, then go off the beaten path and drive to Elaine Bay to spend the night there. If not, then continue to Nelson. To get to Elaine Bay, turn off the main road after Rai Valley and just keep driving this windy road for about an hour.
Elaine Bay is possibly our favourite hidden gem in the entire country. A pristine and peaceful bay with crystal clear blue water, surrounded by lush greenery and far away from the typical tourist path. From the campsite, a long white jetty goes out over the water and stingrays often feed here and glide gracefully through the water underneath around the jetty.
At the campsite, you might also see some weird looking flightless birds. They might look a bit like kiwi birds, but they are most likely wekas; their dumber cousins. (although kiwi birds have been spotted in this area, so you might get lucky). Wekas are quite cheeky and will try to eat literally everything. When we came back from a swim in the bay we found two of them trying to "eat" our camping chairs and another camper had just lost part of his dinner to them.
Where to stay in Nelson
BUDGET OPTION
Located in the middle of Nelson, this hostel offers dorm rooms and private rooms. They have a free onsite fitness centre and pushbikes that you can use to explore town.
BEST VIEW
This spacious, comfortable and modern guesthouse has a big waterfront garden with a gorgeous view over the water. On clear days you can even see Mt. Taranaki on the North Island from here!
YOUR OWN PLACE
Want your own luxurious apartment? Then book this place! These stylishly designed studio apartments all have a fully equipped modern kitchen, spacious lounge, and the comfiest beds you could wish for.
Day 4 – Nelson Lakes National Park
Driving distance: 236 km | Driving time: 3 hours, 8 minutes
Today you'll make your way from Nelson, though the Nelson Lakes area, alongside the Buller River to the West Coast. If you spent the night in Elaine Bay, you'll first have to get to Nelson before continuing with this itinerary, which is a 1,5 to 2-hour drive. If you've spent the night in Nelson, you can use this time for an easy morning in Nelson.
Nelson
With roughly two hours to spend in Nelson, we suggest to check out the beach as you won't find many (or any) golden sand and sunbathing type of beaches south from here. Tahunanui Beach is Nelson's city beach and is is perfect for an easy morning. A long, wide sandy beach with some of the warmest seawater in the country. The seawater in New Zealand is generally pretty frickin' cold, but Nelson is in the top three of sunniest places in New Zealand, which makes that the seawater here actually has a pleasant temperature.
Lake Rotoroa
Brush the sand from your butt cheeks, pack for a picnic and start driving to Lake Rotoroa. The drive takes you through the green mountain valleys and crossing the rumbling rivers in the peaceful Nelson Lakes National Park. You should reach Lake Rotoroa around lunchtime, and we recommend sitting at the picnic table on the pier on the north side of the lake. Lake Rotoroa is one of the two big lakes in the Nelson Lakes area, and perfectly showcases the beauty of this national park. On a clear and wind still day you can see the reflection of the surrounding mountains in the blue water of the lake, and when we were there in October there was a swam family with half a dozen cute little cygnets leisurely paddling around. The perfect spot for a picnic lunch!
Buller River
When you get back to the main highway and continue your way towards the West Coast, you'll be driving alongside the winding Buller River. The Buller River starts from Lake Rotoiti, the other big lake in Nelson Lakes National Park, and flows for 170 kilometers until it adds its water to the Tasman Sea in Westport. There are plenty of places to stop along the thundering river to admire te view, like from New Zealand's longest swing bridge just past Murchison. If you're looking for a bit of an adrenaline kick, then book this Jet Boat ride for thrilling high speed turns and 360 degree spins in the Buller Canyon. Or experience the mighty force of the river and go rafting.
End your day in Westport. From here you'll start your two-day drive along the gorgeous, rugged New Zealand West Coast tomorrow.
Where to stay in Westport
Bazil's Backpackers BBH Hostel
BEST VALUE
This hostel & surf school offers dorm rooms, private rooms and studio apartments. They have a nice garden to relax in and you can even choose a caravan as your accommodation option.
BEAUTIFUL LOCATION
Your own little beachfront apartment, equipped with everything you need. It even has a big garden with a sundeck and a barbeque. Perfect place to go for an evening swim and then straight into your accommodation within minutes
NICEST PLACE IN TOWN These modern, European style spacious apartments offer a home away from home. They are a stone's throw away from the beach and all units have a deck and balcony that look out on the sea.
Kawatiri Beach Reserve – This is your best campervan option. Well, you're only free campervan option really. Luckily it is a pretty good one. Lots of space, toilets, and the beach as your backyard. Find it in the Campermate app.
Day 5 & 6 – West Coast
New Zealand's West Coast is well known for its rugged coastline, rainforest and dramatic sceneries. It is infamous for its bad weather, but we honestly think that some clouds and a light drizzle add to the moody and mystical feel of the region. Get your rain jacket ready and prepare for an amazing drive full of jaw-droppingly beautiful views. We'll go over the suggested stops along the way and where to stay. For more information about these stops and this beautiful stretch of land, we've written this blog post specifically about the West Coast.
Day 5 – Pancake Rocks and Hokitika
Driving distance: 331 km | driving time: 4 hours, 31 minutes
Start driving in the morning and visit the Punakaiki Pancake Rocks & Blowholes. These limestone rock formations look like massive stacks of pancakes, and years of erosion have carved out holes in the rocks. At high tide, water gets pushed through these holes with such force that it shoots meters high up into the air. A spectacular sight!
After Punakaiki, stop at Motukiekie Beach and do the Motukiekie Beach Walk. On this rocky beach you'll find big sea caves in the cliffs and depending on the tide and time of the year you can find dozens of colourful starfish on the rocks and in the shallows. Oh, and the rock formations in the water in front of the beach are pretty cool too. So cool actually that we stopped at three different viewpoints to have look at them, haha!
The next stop is the Hokitika Gorge, our favourite place on the West Coast. It is one of those places that look incredible in pictures, and even better in real life. Imagine a picture-perfect swingbridge going over a rocky gorge with crystal clear, bright blue coloured water flowing through. But really, words don't do it justice. Visiting this place is a MUST!
Time to make your way to the last stop for today and another big West Coast attraction; the Franz Josef Glacier! Tomorrow you can see the glacier and its crevices up close, but for now, you can already see it from a distance.
Where to stay in Franz Josef Glacier
BEST PRICE IN TOWN
They offer dorms, private rooms and self-contained studios. You'll get free soup in the evening, and free breakfast in the morning. If you go for a dorm, you can choose between a regular dorm room or a pod. We personally like pods more because they give you the feeling of having your own little room.
GORGEOUS LOCATION
This place is located a bit out of the centre, but that's for the better in this case because the location is incredible. Your own little serf-contained wooden chalet, looking out over green fields and snow-capped mountains in the back.
TRULY UNIQUE
This place is not actually in Franz Josef, but closer to Fox Glacier so does require a little drive. But we think it is worth it! You get to stay in an old restored church, with glacier and mountain views from your patio
Orange Sheep Campervan Park – This is your best campervan option. For $12,50 per person, you get a non-powered site, tapwater coming from a natural spring, and unlimited hot showers! Find it in the Campermate app.
Day 6 – Glaciers
Driving distance: 294 km | driving time: 3 hours, 51 minutes
Our suggestions for what to do this morning depend on the weather, and you're budget/willingness to splurge. The glaciers have retracted so much over the past decades that there isn't that much to see unless you're standing on them. The absolute best way to see the Franz Josef Glacier up close is by doing a heli-hike. This isn't cheap, but it is a once on a lifetime experience and absolutely worth it in our opinion!
After a briefing about the tour and the gear you'll be using, a helicopter takes you from Franz Josef Glacier village up to the glacier. On the glacier you get to hack around with your ice pick and your guide will take you on a two-hour exploration of blue ice tunnels, ice caves and narrow crevasses. And if your inner kid wants to come out and play, there is plenty of opportunity for a snowball fight. Sounds awesome right?! After the tour, you get access to the hot pools in town to warm up again.
Make sure to book your heli-hike in advance because it is the most popular activity on the West Coast and is often booked out days or even weeks ahead of time.
If the weather is crap (the West Coast is infamous for its moody weather after all), or you feel like the heli-hike is too expensive then we suggest driving to Lake Matheson in the early morning instead. The water in this lake is so dark that on a wind still day its surface is like a mirror, showing you perfect reflections of Mount Cook and Mount Tasman. Especially in the morning light, this is a jaw-droppingly beautiful sight.
Continue down the West Coast to the Haast Pass. This mountain pass is declared as a 'World Heritage' area by UNESCO and it is easy to see why. Deep gorges, thundering rivers and waterfalls, and rainforest-covered mountains everywhere you look. One of the must-stops in Haast Pass is the Blue Pools. You probably guessed that the water here is blue, very very blue. On a bright day, the colours are even more intense than in the Hokitika Gorge, and the water is even clearer too. Two suspension bridges go over the water, and if you're keen on a dip in the ice-cold water you can jump from the second bridge into the pools. We were too cowardly to do so (our excuse was that we didn't bring a towel), but we've seen others do it and it makes for a very instaworthy photo.
Shortly after passing through the Haast Pass, you'll drive along the shores of the incredible scenic glacial lakes as you make your way to Wanaka. Try to schedule your day so that you can enjoy a sunset drive past Lake Hawea and Lake Wanaka, which both have plenty of viewpoints and stopping bays next to the road to admire the sunset from.
Where to stay in Wanaka
BEST BUDGET OPTION
This hostel is located smack in the middle of town. Wanaka is quite expensive, but this place is your best budget option, offering dorms and private rooms. They are situated right next to a green park that looks out over Lake Wanaka.
THE CUTEST ANIMALS
If you love animals, then this is the place for you. Other than the name suggests, you're not actually sleeping in a hay barn, but in a modern and spacious apartment. It is located on a big farm with dogs, sheep and cows roaming around.
ABSOLUTELY STUNNING VIEW
On top of a hill, overlooking Wanaka and the lake, you'll find this gorgeous villa. Within this villa, you get your own stylishly decorated apartment, with a delicious breakfast included.
Albert Town – This is your best campervan option. For $10 per person, you can camp in this DOC campsite by the Clutha River just outside of Wanaka. There is plenty of space, flush toilets and water taps. Find it in the Campermate app.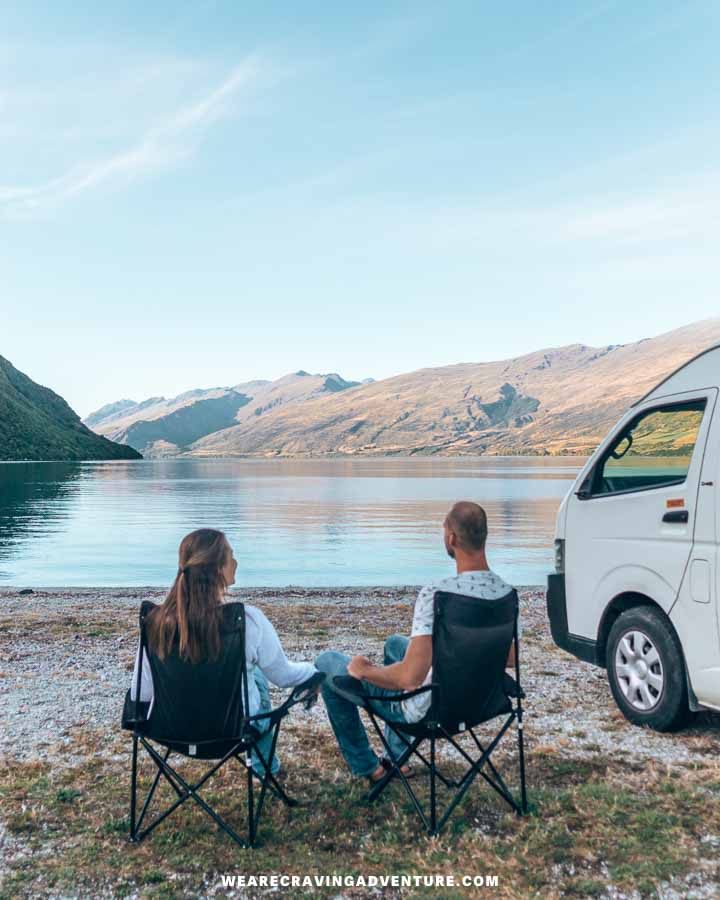 Day 7 – Queenstown
Driving distance: 69 km | driving time: 1 hour, 2 minutes
Get ready for some seriously epic scenery. Today you'll see both Wanaka and Queenstown, two of the most beautiful towns in New Zealand, with Queenstown even being regarded as one of the most beautiful towns on earth! Both are nestled in a valley on the shores of a huge glacial lake, and both are surrounded by massive snow-capped mountain ranges. Many people (including Zi) come here for a few days and end up staying for years. Completely blown away by the scenery and the almost endless number of fun things to do here.
Wanaka
After all that driving in the past days, we bet it will be nice to have a day without much driving. Well, that day is today. Have a nice sleep in go for breakfast in town. We highly recommend Fedeli Cafe. It doesn't have a view over the lake, but the breakfast here is so tasty that it more than makes up for the lack of views.
Have you even been to Wanaka if you didn't take a photo of 'that Wanaka tree'? This willow tree stands alone in the water, about 15 meters from the shore. It has been photographed hundreds of thousands of times and it is Wanaka's most popular tourist attraction. To be fair, it is a really picturesque shot with the Southern Alps in the backdrop.
Fergburger
Drive to Queenstown over the, again very scenic, Cardrona Valley Road and Crown Range Road. Just before the Arrow Junction, there is this viewpoint that we suggest stopping at. From here you have a sweeping view over the surrounding area and the many hairpin-turns that await you on your way down into Queenstown.
Once you're in Queenstown it'll be time for lunch, and what better place for lunch than the famous Fergburger! This place started as a tiny hole in the whole, until Lonely Planet declared it the best burger in the world. Since then people have been queueing up, often for over an hour, to get a taste of these burgers. We guess that queueing up for a burger is not on your New Zealand bucket list, but there is a solution. You can order ahead on the Fergburger website, and then pick up your order when it is ready. Problem solved!
Shotover Canyon Swing
Queenstown carries the title 'adrenaline capital of the world' because of the many adrenaline-inducing sports and activities that you can do here. One of the best ways to experience if there is any truth in this title is by booking the Shotover Canyon Swing! This isn't some ordinary bungee jump. From a platform 109 meters above the Shotover River, you first jump down into a 60-meter free-fall to then swing for more than 200 meters through the Shotover Canyon.
If this doesn't sound thrilling enough, then the Jump Masters (that's how the instructors call themselves) can recommend a whole array of crazy and funny jump styles to spice things up a bit. Imagine getting kicked off the edge This-is-Sparta!-style, flipping over from standing in a handstand, or tumbling off backwards while strapped into a little plastic garden chair. They've tried and tested them all, and which one suits you best depends on how likely you are to sh*t your pants. Joking aside, the canyon swing is an awesome thrill and the instructors will make sure that you are entertained.
Where to stay in Queenstown
BEST VALUE
This hostel with its cool and funky design is located in the middle of Queenstown and offers dorm beds in pod style and private rooms.
UNBEATABLE VIEW
You haven't lived until you've seen the sunrise over the misty Shotover River in the morning. Just kidding, but the view from this beautiful B&B is seriously insane!
Queenstown Park Boutique Hotel
MOST LUXURIOUS
If you like a modern yet classy style then this luxurious boutique hotel is what you should go for. They'll do everything they can to make you stay as memorable as possible, including free drinks, canapés and an amazing gourmet breakfast.
Qbox Motorhome – This is your best campervan option. Unfortunately, freedom camping is prohibited in Queenstown, and what you pay for a non-powered site here is the cheapest you'll find in and around Queenstown. To make up for it a bit, the camp facilities here are very good. Find it in the Campermate app.
Day 8 – Glenorchy or Ben Lomond
Today starts with a choice. If you feel like doing a challenging but extremely rewarding day hike, then we suggest hiking the Ben Lomond Track. If hiking is not your thing or you're more keen on exploring a bit more around Queenstown, then the scenic drive to Glenorchy and Paradise is definitely something for you
Ben Lomond Track
You might have seen pictures or heard of the Roys Peak hike. While the views from Roys Peak are certainly impressive, Ben Lomond boasts equally impressive views and is far less crowded. In our opinion, this makes the Ben Lomond Track the better option if you had to choose one.
Hiking the Ben Lomond track takes 6 hours and offers basically everything you could want in a day hike. Many different landscapes, a steep mountaintop to conquer, and truly incredible views. The official start of the track is from the top of the Skyline Gondola, but if you feel particularly energetic you can start your hike in Queenstown and walk up the Tiki Trail to the top of the gondola instead. This adds two hours to the hike, but in return gives you breathtaking views of Lake Wakatipu as you climb higher and higher. During the hike, expect wide-open vistas with The Remarkables and Bayonet Peaks in the backdrop and Queenstown visible on the edge of the lake far below, flowing green hills, and the Southern Alps stretching out as far as you can see. Parts of the hike are steep and straining, but reaching the top makes it all worth it. Tom did this hike over a year ago and still raves on about it. If you want to know more about his experience and the Ben Lomond Track, you can read it here.
Glenorchy
Driving distance: 126 km | 2 hours, 7 minutes
Glenorchy is a picturesque little town on the northern arm of Lake Wakatipu, about a 45-minute drive from Queenstown. This drive should take you a lot longer though, as the drive there is the second most scenic drive in New Zealand. If you're now wondering what the most scenic drive is, that is the drive to Milford Sound that is planned for tomorrow. Anyway, the drive from Queenstown to Glenorchy is known as the Gateway to Paradise as just beyond Glenorchy lies a hamlet that is literally called Paradise. And if you peaceful mountain landscapes, paradise is exactly what it is.
Between Queenstown and Glenorchy the road snakes its way past cliffside edges alongside the shimmering blue Lake Wakatipu, with misty mountains in the distance and a new glorious view around (almost literally) every corner. There are heaps of sightseeing opportunities where you could potentially spend the whole day along the way before even reaching Glenorchy.
In Glenorchy, you'll find the iconic red Glenorchy boatshed of which we bet you can't resist taking a picture, and a big jetty going out into the lake. Read this article for all the awesome things you can do in Glenorchy.
Next to Glenorchy is where the Dart River feeds the lake with melting water from the mountains. The Dart River is very shallow and runs a little bit different every year, therefore normal boats can't navigate it. BUT, jet boats can, and jets boats are very fast, very nimble, and a lot of fun! If you're keen on experiencing this firsthand, then have a loot at this jet boat tour. The guides love to joke and will take you on an exciting ride through this amazingly beautiful scenery.
If you continue down the road from Glenorchy, you'll get to Paradise. Now don't expect being welcomed by singing angels standing in front of a golden gate, it is not that kind of paradise. Instead, expect an off the beaten path dirt road adventure, massive mountain ranges on all sides, and green plains and dense forests in between. Many parts of the Lord of the Rings movies were shot in this area, and when you see it you'll instantly understand why. It simply looks epic! Interested in all the things to see along the Queenstown – Glenorchy – Paradise drive? Our blog post about it tells you everything!
Atlas Beer Cafe
No matter if you went hiking up Ben Lomond or visited Paradise, today was a big day that needs a big dinner. This is where Atlas Beer Cafe comes in, located in the centre of Queenstown next to the wharf and looking out over Lake Wakatipu. They serve the best steak in town and have a big selection of delicious craft beers (yay, we love craft beer!). The vibe is super relaxed and the staff is always up for a bit of banter. This was our go-to place for dinner in Queenstown, and we're sure you'll enjoy it too.
Where to stay
Stay in the same place you stayed the previous night in Queenstown.
Day 9 – Milford Sound
Driving distance: 406 km | driving time: 4 hours, 47 minutes
When it comes to scenery, today is the day of days, the drive of drives. Okay, when we say it like this it sounds like everything that comes after today will be a disappointment. That is certainly not the case, but today is FILLED with insanely beautiful sceneries. Get up early, because it will be a long day. Today you'll drive through Fiordland National Park over the Milford Road; the most scenic drive in New Zealand, and you'll see Milford Sound; the 8th wonder of the world. Doesn't sound too shabby, right?
Milford Road
Google Maps will tell you that the drive planned for today will take you 4 hours and 47 minutes, as we stated above. Reality is that the drive will take you two to three hours longer because of stops along the way, traffic, and because the Milford Road is not suited for speed limit driving.
Start your day by driving to Te Anau, the gateway into Fiordland National Park. This drive takes you alongside the southern arm of Lake Wakatipu, which you know by now doesn't disappoint in terms of scenery. When you get to Te Anau, make sure you have enough fuel, food and water to go to Milford Sound and back. If not, fuel and stock up here, because there are no shops or petrol stations in between.
From Te Anau, the Milford Road starts. The first part of the drive treats you with views over Te Anau Lake, New Zealand's second-biggest lake after Lake Taupo on the North Island. Te Anau Lake is a glacial lake, just like Lake Wakatipu and looks quite similar with again snow-capped mountain ranges in the backdrop. After passing Lake Te Anau, you'll drive through patches of forest for a bit and then the view suddenly opens up into a wide, green-filled valley in between steep mountains. This is the Eglington Valley. The road takes you straight through the valley and there are plenty of stopping bays to stop and safely take in the view.
After the Eglington Valley, you get to the Mirror Lakes. You probably already guessed by the name that these lakes are called the Mirror Lakes because of the way they reflect their surroundings. On a wind still day, this is an awesome photo stop! Do bring your insect repellent though. Fiordland National Park is sandfly territory and especially on windstill days they'll terrorize every living being they can find.
About three-quarters into the drive, you'll get to the Homer Tunnel. This is a one-way tunnel with traffic lights indicating which side of the tunnel gets to pass through. On busy days the wait here can be up to 20 minutes, so take this into account. The mountainsides next to the tunnel go almost straight up, and after a lot of rainfall lots of little waterfalls form and fall down the mountainsides here. This should give you something to look at while you wait.
Behind the Homer Tunnel, the road goes down steeply in hairpin turns. Find a safe spot to stop alongside the road, because the view is magnificent. You're almost at Milford Sound now, but there is one more worthwhile stop before reaching it; The Chasm. This is a series of powerfull waterfalls gushing through a narrow chasm and then disappearing into deep cracks in the ground.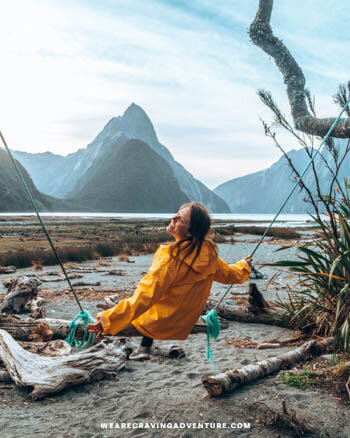 Milford Sound
Milford Sound, you've made it! It is quite a detour, but if there was ever a New Zealand South Island must see, then this is it. Many people say that it is the most beautiful natural creation they have ever seen. For us it definitely makes it into the top three. The first thing that stands out as Milford Sound opens up in front of you is the impressive Mountain Peak towering above the water of the fiord. Oh yeah, did you know that Milford Sound is actually a fiord, and not a sound? Guess it is a bit late to change the name now that it is famous worldwide as Milford Sound.
Anyway, the best way to see the true beauty of Milford Sound up close is by taking a Milford Sound cruise on its waters. A cruise takes you the whole length of Milford Sound and back, and shows you all the points of interest like the massive Lady Bowen Falls and Stirling Falls, many more impressive mountains. You can often also see dolphins challenging the boat to a race, and if you're lucky even a whale or the incredibly rare Fiordland crested penguin. In high season tours book out, so don't wait until you get to Milford Sound and book your tickets in advance. There are many different tour companies offering cruises and you can't really go wrong with any of them. Compare tour prices here.
After your cruise, make your way back to Te Anau. There are many more things to see and do along the Milford Road, and depending on the time you could possibly tick off a few more. Have a look at our Milford Sound blog post to read about more interesting stops along the way and more about Milford Sound and the boat cruise.
Where to stay in Te Anau
BEAUTIFUL LOCATION How does your own chalet on the shores of Lake Te Anua sound? If that sounds good, then this is the place for you! The chalets are self-contained and equipped with everything you need, and the patio in front of the chalets is a beautiful spot to watch the sunset over the lake from.
BEST CAMPERVAN OPTION
There are no freedom campsites in Te Anau, but fortunately, this holiday park has campervan sites with great facilities like a large communal kitchen, warm showers and a laundry room. Alternatively, they also offer dorm beds, private rooms, and self-contained chalets.
GREAT BUDGET OPTION
This hostel is located on the shores of the mesmerizing Te Anau Lake. They offer beds in dorm rooms and private rooms, either with a shared or private bathroom.
Day 10 – Curio Bay
Driving distance: 246 km | driving time: 3 hours, 12 minutes
Have an easy morning in Te Anau and make sure to check out the jetty going out into the lake. It is gorgeous in the morning light! After breakfast, make your way to the south-eastern coast. Today and tomorrow the Catlins are on the adventure menu. The Catlins is the southernmost area of New Zealand's South Island, and it is loved for its beautiful waterfalls, rugged coastal landscapes and extremely rare wildlife.
Waipapa Point Lighthouse
The first stop is the Waipapa Point Lighthouse, although you might want to stop for lunch before getting there to break up the 2,5-hour drive down from Te Anau. If you want to go somewhere for lunch, we suggest steering clear of Invercargill. It is possibly our least favourite city in New Zealand. Even though there are some nice things to see in the area around it, the city itself feels cold and without much character. Instead of grabbing lunch in Invercargill, we suggest the Fortrose Cafe. This cafe in the tiny town of Fortrose is literally the only place you can get food in a 20-kilometer radius, but the food is very tasty and it is only a 15-minute drive to the lighthouse from here.
In the middle of a small windswept Peninsula, poking out of the tall grass stands the Waipapa Point Lighthouse. The lighthouse is pretty, but the real attraction is the many sea lions that laze around in the grass and in between the rocks. They are pretty good at hiding, and often partially dig themselves into the sand. This way you can easily mistake them for a rock, and Zi had a huge scare when one rose up right in front of her and started barking at her. Sea Lions are very territorial, and when they venture into each other's territory this often results in a fight, which is quite a spectacular show.
Slope Point
A 20-minute drive towards the east from the Waipapa Point Lighthouse gets you to Slope Point. This is the southernmost point of the South Island. There isn't much to see though. A sign marks the spot, and then there are about 7 million sheep around it haha! Still, it is pretty cool to tick the southernmost point of the South Island off your bucket list.
Curio Bay
Curio Bay fits perfectly into the rugged coastal landscapes of The Catlins. Big sea cliffs divide the water into two bays. Curio Bay with a petrified forest its shore, and Porpoise Bay that has a beautiful half-moon-shaped sandy beach. We've already mentioned that New Zealand's South Island is great for seeing (rare) wildlife. Well, in Curio Bay you also have a pretty good chance of seeing some of the rarest wildlife around.
Read Next: Best places to see wildlife in New Zealand 
Curio Bay is home to yellow-eyed penguins, the rarest penguin species in the world. Almost every night, at dusk, they return from their hunt and come out of the water at the petrified forest. They are very skittish creatures, so if you want a chance of seeing them you need patience, and you need to keep your distance, sit still, don't make any noise and don't shine any light. The penguins will only come out when they feel it is safe, so there is no guarantee of seeing them, but usually, the chances are about 50/50. This might not sound like a high chance, but we've been to multiple spots where the yellow-eyed penguins supposedly show themselves, and we've only seen them at Curio Bay.
Where to stay in Curio Bay
BEST VALUE
Curio Bay is a small settlement, so it only has a few accommodation options, but that doesn't mean they are bad. This hostel offers dorm beds and private rooms, and they are SUPER comfortable! Oh, and right next to the beach of course.
GREAT LOCATION
From your bed to the beach and into the water within 2 minutes. This big beach bach offers a few options depending on your preferences, but all are very comfortable and with beautiful beach views.
BEST VIEW
Curio Bay Salthouse offers a few different accommodation options in a big and modern villa right next to the beach. The luxurious top floor apartment has a deck with the best views over the bay.
Curio Bay Camping Ground – This is your best campervan option, and honestly the option we personally prefer above all others (if you have a campervan). You're camping with the beach as your front yard and the views from the impressive Curio Bay Cliffs in the back. The petrified forest is only a few minutes walk and you can see the dolphins play in the bay in the morning. Find it in the Campermate app.
Day 11 – Nugget Point
Driving distance: 146 km | driving time: 3 hours, 2 minutes
Don't leave Curio Bay yet, because there is more wildlife to see! Porpoise Bay doesn't just have a nice beach and great surf, it also has a resident pod of Hector's dolphins! These dolphins are the smallest and rarest dolphin species in the world, and they are super playful!
Read Next: How to swim with wild Hector's dolphins in Curio Bay
If you get in the water, they'll almost certainly come over to say hi. The water is very very cold though, so you'll need a wetsuit to be able to last more than a few minutes. If you don't have your own wetsuit, there is a surf school on the beach that rents out wetsuits and other equipment like surf- and paddleboards. Please remember that dolphins are wild animals so don't lure them. Let them come to you out of their own free will, and when they come close, don't touch them, or you might threaten their habitat and chase them away.
McLean Falls
There are many spectacular waterfalls in New Zealand, but McLean Falls is absolutely one of our favourites. It is not nearly the highest waterfall around, nor does it have the most water, but it is certainly one of the most beautiful.
A 20-minute walk takes you from the car park to the falls that are divided into two, or actually three parts. The top part is 22 meter high falls that fall neatly into the pool below. From here the water cascades down over terrace-like rocks to finally plunge down the bottom falls. The track stops next to the middle part where the water cascades down, but if you don't mind a bit of a scramble and the risk of wet feet you can climb up the rocks to get to the top part. Get here early and you'll probably have the falls all to yourself.
The Lost Gypsy Gallery
When you pass through Papatowai, make a short stop at The Lost Gypsy Gallery. Inside an old converted bus, the owner Blair Somerville showcases hundreds of funky automata that he created himself from junk and recycled materials. Inside the bus, you can interact with his creations. Imagine pushing a button and seeing a little train make its way all around the bus, setting a chain reaction of activation all sorts of other quirky machines in motion. Or pull a lever and suddenly water starts to flow over seashells in such a way that they make music. Oh, and the coffee from the coffee cart next to the bus is delicious!
Purakaunui Falls & Purakaunui Bay
On the way to your next stop; Purakaunui Bay, you pass the Purakaunui Falls. This wide waterfall cascades down over three tiers and is well known by local photographers for being great for long-exposure photography. We tried, but Zi was getting wet and couldn't stand still long enough to take a long-exposure picture, haha. No matter if you're into photography or not, it is a beautiful waterfall to see either way.
You've already seen some of the stunning rugged coastal landscapes that the Catlins is known for at Curio Bay, but the coastline at Purakaunui Bay certainly beats Curio Bay in that regard. At the end of a 10-kilometre long gravel road it undoubtedly, falls into the off-the-beaten-path category, and you won't find many other people here. You will find a wide, sandy beach in between massive sea cliffs, some sea lions, and loads of sheep on the fields before the beach.
Somehow these rough landscapes and the rumbling sea always have a very calming effect, and if the sea isn't too rough we suggest to go for a walk on the rocks on the northern side of the bay for the best views. Maybe even have a picnic on top of the rocks, just be careful that the wind or the seagulls don't take away your food ;).
Nugget point
The last stop for today is also the most impressive one; Nugget Point. Nugget Point is named after the rocks that lie in the water in front of the tip of the peninsula and sorta resemble gold nuggets. A 20-minute walk takes you past steep cliff's edges to the end of the peninsula, where on a rocky outcrop the insanely picturesque Nugget Point Lighthouse stands, watching the roaring sea crash wave after wave onto the nuggets below.
This might not be the best advice if you suffer from vertigo, but when you're walking towards the lighthouse look down every once in a while. In the water below seals with seal pups often play in between the rocks, and dolphins are sometimes spotted jumping out of the waves.
Try to time your visit to Nugget Point around sunset to see the lighthouse in its prettiest setting. You might wonder why as the sun sets in the west and Nugget Point faces east, but even though you can't see the sun go under, the sky still lights up in beautiful sunset colours.
If you got unlucky at Curio Bay and didn't stop the yellow-eyed penguin, then stop at Roaring Bay after your visit to Nugget Point. Here yellow-eyed penguins are often seen too, and there is an observatory overlooking the bay to spot them from. If you went to Nugget Point for sunset, it should be just after dusk when you get to Roaring Bay which is right when these penguins usually show themselves.
The driving distance today isn't that far and you might have time for some extra stops. Take a look at our blog post about The Catlins for more ideas. At the end of your day, drive to Balclutha and spend the night here. Tomorrow it is time to start making your way back north!
Where to stay in Balclutha
BEST BUDGET OPTION
This place might not look like much at first sight, but don't let its old appearance fool you. They offer some of the comfiest rooms and bed around and have dorms, private rooms, and apartments available.
MOST ELEGANT
This old, beautiful and big homestay was built in 1914 is all you'll want for a getaway. It has recently been restored and turned into a homestay and it looks just perfect with very stylishly decorated rooms and a beautiful garden around. Each room is a fully self-contained private unit.
BEAUTIFUL LOCATION
This building used to be where the nearby hospital's medical staff resided but has now been turned into a beautiful holiday home. Located amidst green farmland, it has a beautiful garden and sheep grazing in the meadows around.
Day 12 – Dunedin
Driving distance: 87 kilometres | driving time: 1 hour, 17 minutes
Today you'll explore Dunedin and its surroundings. Dunedin is a cool university city with a big Scottish influence that is clearly visible in its impressive architecture. It is built at the head of the Otago Harbour, a deep and narrow inlet, and the two surrounding peninsulas have loads of interesting things to see.
Tunnel Beach
Dunedin is about an hour drive from Balclutha, but just before reaching Dunedin we suggest to make a stop at Tunnel Beach. As you walk on the track through the long grass towards Tunnel Beach, you'll see an oddly shaped sea cliff appear in the distance. When you get closer, you discover that the sea has carved out a massive arch in the sandstone cliffs. The track takes you all the way to the end of this sea cliff, right above the arch. Don't get too close to the edge, because it is quite a tumble down.
From the top of the windswept sandstone cliff you can see a beautiful beach on the other side down below, but no apparent way to get down, just a sheer cliff. This is when you discover why this place is called Tunnel Beach. From the top of the sandstone cliff, a long manmade tunnel is carved out in the rocks that go
down to the beach. We're told that is was completely carved out by hand, imagine the time this must have taken!
Otago Peninsula
From Tunnel Beach, make your way to the end of the Otago Peninsula, on the south side of the Otago Harbour. It is a beautiful drive that follows the coastline and swerves from bay to bay. At the tip of the peninsula, on top of a hill stands the Royal Albatross Centre, which is where (you might have already guessed it) you can see the Royal Albatross, the world's biggest flight-able bird.
You can do a tour of the Royal Albatross Centre where they'll tell you about the birds and the breeding process, show you a short film and take you to a glassed observatory. But to be honest, we feel like at a starting price of $25 per person this is very expensive, especially considering that you can see the albatrosses outside, without paying a cent. Next to the centre, there is a free viewing platform where these massive birds soar over your heads.
Next to the Royal Albatross Centre, you'll find a wildlife refuge for the little blue penguins. This place is your best chance of seeing these cute little waddlers, but as the penguins don't come out of the water until dusk, this might not fit into your planning for the day. We know of another place where little blue penguins are often seen, even in the middle of the day, but we'll get to that next.
Long Beach
On the piece of land across the harbour from the Otago Peninsula, stretches Long Beach. This beach really does its name justice, because it is very long. 2.4 kilometres to be exact. Fortunately, we're not gonna tell you that you should walk its whole length, just half! From the car park, you walk onto the beach almost exactly in the middle, from here turn left (or north) and start walking to the far end.
Rocky walls go parallel to the beach and are great for climbing, so if you're into that; bring your climbing gear! If you ask us the real attraction, however, is the big sea cave at the end of the beach. This cave is already pretty cool to explore on its own, but what is even cooler is that little blue penguins often hide at the end of the cave. When you see them, make sure to keep your distance and don't shine any lights straight at them because this can startle them and disrupt their cycle. Just before going in the cave and seeing the penguins ourselves, we met a local on the beach who checks out the cave every day and he told us that he sees the penguins roughly every other day. This puts your chances at about 50/50, so hopefully, you'll get lucky just like us!
Dunedin
The city of Dunedin itself should not be forgotten as it has many things to do and see that are well worth your time. The name Dunedin comes from Dùn Èideann, which is the Scottish name for Edinburgh, the capital of Scotland. These Scottish roots are clearly visible in the city's architecture. For example, if you walk over the Octagon in the city's centre and take a look at St. Paul's Cathedral and the First Church of Otago. But also non-religious buildings like the Dunedin Railway Station and the Otago Museum were clearly built with Gothic architecture in mind.
The Otago Museum is worth an extra mention and you should visit it if you have the time. They have all sorts of changing exhibitions about both science and the history of New Zealand, and a permanent butterfly garden. The butterfly garden is three stories high and like an indoor tropical rainforest filled with all sorts of exotic plants and hundreds of colourful butterflies flying around.
If you're walking around Dunedin you'll probably notice that the streets are pretty steep. In fact, until recently Dunedin was home to the steepest residential street in the world! Baldwin Street has a 35% gradient, and residents living at the top actually need to run up with their car to make it to their homes. There used to be a yearly charity event where thousands of jaffa balls (chocolate-covered candy balls) were released from the top in a race to the bottom. Unfortunately, the race isn't allowed anymore as these balls would reach speeds of over 100 km/ph and damaged parked cars and other property of the street's residents.
If you love craft beer as much as we do, then head to Emerson's Brewery for dinner (and craft beer, duh!). Try a tasting rack with a small glass of their most popular beers, or go straight for our favourites; 1812 and Bird Dog. Their food is super yummy too with a lot of options to choose from, but you really can't go wrong with the poutine or the beef brisket.
Where to stay in Dunedin
GREAT LOCATION
If you like the hustle and bustle of the city, then this is the place for you. Located right next to the Octagon in the city centre and above a pool café, this hostel offers dorm beds and private beds.
BEAUTIFUL PROPERTY
This roomy studio apartment is situated in a beautiful, late 19th-century Victorian villa in Port Chalmers, just outside of Dunedin. The villa has been kept in perfect condition, and its original features are retained for a truly unique stay.
PURE BLISS
If you don't mind driving a bit out of town, then this place is absolutely worth it. This lodge is situated on its own secluded bit of land on the coast, and the comfortable and luxurious suites come with everything you need. And then there is the beach and view over the water. Just priceless!
The Oval – This is the only freedom campsite in Dunedin itself. It is an oval sports ground without any facilities, but there is a nice pub across from the road. There are only three spots available. Alternatively, go to the Ocean View Recreational Reserve freedom campsite, a bit south of Dunedin in Brighton. It has good facilities, free wifi, and is right next to the beach. Find both in the Campermate app.
Day 13 – Mount Cook National Park
Driving distance: 321 km | driving time: 3 hours, 52 minutes
We're almost at the end of this two week New Zealand North Island itinerary, but there is still some epic scenery awaiting you on the last two days. Today consist of a lot of driving as you make your way to Mount Cook National Park, home of New Zealand's highest mountain and more stunningly blue glacial lakes.
Moeraki Boulders
Start your day by doing your grocery shopping for the last two days in Dunedin. This is the last big place you'll come across before the end of the trip and grocery prices are quite a bit lower here than in the little towns ahead.
Once you've stocked up, drive to Moeraki, about an hour north of Dunedin. The beach in this tiny town is famous for the Moeraki Boulders. This whole beach is scattered with spherical, almost perfectly round boulders that look like they were randomly dropped from the sky. Some of them are over two meters wide, and some of them have cracks in them big enough to disappear in. They make for some funny photo opportunities (like hanging upside down into one of the cracks, pretending it is Pacman swallowing you) and are just a really cool phenomenon to see.
Oamaru
The town or Oamaru is known for two things, Victorian architecture and steampunk. When you walk through Oamaru's Victorian Precinct it feels like you've just gone back in time 100 years. All the buildings, shops, and even the cars in the street are kept and maintained in old Victorian style. When you enter the shops, some of the shopkeepers are even dressed accordingly!
The Steampunk HQ is something you can't miss, literally. With its big steam train and zeppelin contraptions in front of the building, it stands out from a mile away. The whole museum is full of steampunk creations, largely made from recycled materials and almost all of them interactive. It is where history meets science fiction, and it would fit right into a Jules Verne book or a Dr Who episode. Take an hour to see all the quirky things in the museum, and be sure not to miss the crazy scientist's lab and "The Portal".
Lake Pukaki
We're willing to bet that as you approach Lake Pukaki for the first time, you can't help but exclaim a long "wooooow". Either that, or your mouth will simply fall open in speechlessness. This big, bright blue glacial lake is wrapped in by big (seriously big) mountains and shows the magnificent Mount Cook towering above them all on the other side of the lake.
The only way to get to Mount Cook by car is to follow Highway 80 all along the shores of Lake Pukaki for 55 kilometres. If someone told us we'd have to go on a single 55 kilometre long road that has a dead end, we would get tired just from the thought of it, but in this case, it is quite the opposite. We got so excited and make so many photo stops, that the drive took us almost 2 hours instead of 45 minutes.
Kea Point
The most famous and most rewarding hike you can do in Mount Cook National Park is the Hooker Valley Track, but as it is probably already quite late when you get here, it is better to save this hike for tomorrow morning. Instead, we suggest walking to Kea Point, which only takes half an hour to get to and is especially beautiful around sunset.
From the grass-covered lookout on the hilltop at Kea Point, you have a wide-open view over Mueller Lake and its moraine wall. At sunset, the lake is usually already in the shade, but Mount Cook sits right behind it and is still catching the last bits of daylight, showing off a spectacular sight.
Mount Cook National Park is a Dark Sky Reserve. There is so little light pollution in this area, that it shows some of the clearest night skies in Southern Hemisphere. So don't lock yourself inside after sunset yet, but look up to the sky. During cloudless nights you can clearly see the Milky Way and thousands of stars twinkle in the endless distance.
Where to sleep in Mount Cook National Park
MOST AFFORDABLE
This is your best budget option. Located in Mount Cook Village, they offer dorm beds and private rooms. The atmosphere is great, the staff super friendly, and the rooms and common areas are comfy and well equipped.
Aoraki Mount Cook Alpine Lodge
BEST VIEWS
Watch the sunset over the mountains from the comfort of your warm bed, or from in front of the fireplace in the cosy lounge. All the rooms in this beautiful mountain lodge have a private bathroom and gorgeous mountain views.
PURE LUXURY
Big and elegant rooms, two restaurants, a café and a lounge with a log fire and magnificent vires over Mount Cook. This place is pure luxury in the snow. A very good buffet breakfast is included, and the staff will do everything to make your stay the best stay possible.
White Horse Hill Campsite – This big DOC campsite is located right at the start of the Hooker Valley Track, so if you want to get an early start, this is the place to camp. A site is $15 per person per night, and the campsite has basic facilities. Find it in the Campermate app.
Day 14 – Hooker Valley Track
Driving distance: 331 km | driving time: 4 hours, 11 minutes
Today is the last day of this New Zealand North Island road trip itinerary, but it is a good one! An awesome hike, more lakes, and a beautiful drive are scheduled for today before heading back to Christchurch and completing the round trip.
Hooker Valley Track
Get up early to do the Hooker Valley Track at first light. After the Tongariro Alpine Crossing in the North Island, the Hooker Valley Track is New Zealand's most popular day hike, and with good reason! This 10-kilometre long return track offers countless breathtaking views and looks different around every bend. It takes you through a wide river valley with snow-capped mountains on both sides, goes over big suspension bridges, over boardwalks through the high tussock grass and ends at a glacial lake speckled with icebergs right under Mount Cook. This hike tends to get really busy during the day, but if you start at first light you won't see more than a handful of other people on the way there and also have the best light for photography.
The Hooker Valley Track isn't difficult at all as the terrain is mostly flat, and walking to Hooker Lake and back takes about 2,5-3 hours. In the mountains, weather conditions can change quickly, so always prepare well and pack a rain jacket. Before heading out, also check the DOC website for any specific warnings or hazards on the track. When you're back at the start, but still feel like you could walk a bit more, then consider checking out the Tasman Glacier too. For more information about The Hooker Valley Track, Tasman Glacier and other hikes in Mount Cook National Park; read this.
Lake Tekapo
A short drive from Lake Pukaki lies Lake Tekapo. You've already seen many blue lakes during this New Zealand road trip, but this lake is the bluest of them all (mirror, mirror on the wall). On the shore of the lake stands the Church of the Good Shepherd all by itself. This small but picturesque church is operational and has services every Sunday, but more than a church it is a tourist attraction. With the blue Lake Tepako and mountains in the back, it is the most photographed church in the world.
Go for a quick look and a picture as it is a unique sight, but we enjoyed taking a drive along the eastern shore of the lake and stopping for a picnic without another soul in sight a lot more.
When you feel like you've had enough of the lake, drive to Christchurch. This should take about three hours. We're sorry to have to tell you that there isn't much to see on this drive once you reach Highway 1. The drive to Christchurch over Highway 1 has been called the most boring drive in New Zealand by many, but it is the fastest way back to Christchurch.
Next steps
This is it, the end of you New Zealand South Island road trip. You've made it all around the island, but there are still some things to cover. What to do if this is the end of your trip, and what to do if you're continuing your New Zealand adventure on the North Island.
Leaving New Zealand?
Pack up and make your way to your car or campervan rental company to hand in your vehicle. You should already know where it is because it will be the same place you picked up the vehicle. After the drop-off, go to the airport and fly home or to your next destination.
Going to the North Island?
Awesome, the adventure continues! New Zealand's North Island is quite different but equally epic as the South Island. The easiest way to cross over (and the only way to take your vehicle with you) is by ferry. If you've followed this itinerary step by step you've already seen the ferry terminal in Picton where you depart from, so you'll need to drive from Christchurch to Picton first. There are two ferry companies that operate between Picton and Wellington, and it doesn't really matter which one you pick as they are very similar and equally priced.
They have a small cinema aboard this ferry where they play movies.
They have free Wi-Fi onboard, which in all honestly is too slow to be of any use.
---
3-week route
If you have more than two weeks to spend on your New Zealand South Island road trip you can add some stops to this itinerary. Below we've listed some suggestions of places that would be a great addition to your trip. If want to add these places we recommend changing your route a little bit to make it fit nicely. The optimal route, in this case, would be the same up until day 3, and then from Nelson go to Abel Tasman National Park, Takaka Hill and Whareriki Beach. Then when you get back to Nelson follow the 2-week itinerary again as if it were day 4 to day 10 (which will now be day 8 to day 14) and go from Te Anau to Invercargill to hop over to Stewart Island. Then after Stewart Island follow the 2-week itinerary again to the end. This was you get to see both the far north of the island and New Zealand's third island.
3-week itinerary overview
Days 1 to day 2 – As above
Day 4 & 5 – Abel Tasman National Park
Day 6 – Takaka Hill
Day 7– Farewell Spit & Wharariki Beach
Day 8 – Nelson Lakes
Day 9 & 10 – West Coast
Day 11 – Wanaka
Day 12 – Queenstown
Day 13 – Milford Sound
Day 14 to day 16 – Stewart Island
Day 17 – Curio Bay
Day 18 – Nugget Point
Day 19 – Dunedin
Day 20 – Mount Cook National Park
Day 21 – Hooker Valley Track
Abel Tasman National Park
Abel Tasman National Park is the area between Kaiteriteri and Takaka and it is known for its pristine bays with sandy beaches, granite cliffs, forested hills and one of the nine Great Walks; The Abel Tasman Track.
About an hour drive from Nelson, on the southern edge of Abel Tasman National Park lies the Split Apple Rock. On a small rocky island in the water, about 50 meters from a beautiful sandy beach sits an almost perfectly round rock (just like the Moeraki Boulders), except that it is clean-cut in half. A short swim and a climb gets you on the rock and presents the opportunity of taking a funny photo of you doing a split in the middle of the Split Apple Rock.
Not far from the Split Apple Rock is the start of the Abel Tasman Track. The 60-kilometre long track takes three days to complete and has huts and campsites along the track to spend the night. You could choose to walk the whole track so you can boast that you've completed one of the great walks, but then you'd have to skip some other stuff for it.
To make the most out of your time and still see a big part of Abel Tasman National Park, we recommend booking this Kayak & Walk combination instead. This full-day guided tour starts with a kayaking trip past beautiful bays, beaches and rocky outcrops. You then paddle past Fisherman and Adele Island, which are home to many seals and have dolphins and little blue penguins swimming in the waters around them. The kayaking part ends at the stunning Observation Beach where you'll have lunch and time for a swim. You then swap the paddles for your hiking shoes and walk back to the starting point over the Abel Tasman Track. We can't think of a better way to see this beautiful part of the country!
Takaka Hill
Takaka Hill is a steep, almost 800 meters high hill that separates Tasman Bay and Golden Bay. The hill consists of marble rock, that is full of caves and is shaped into strange formations through thousands of years of erosion. The windy drive up and down Takaka Hill is beautiful, but the most interesting thing to see is Harwoods Hole close to the top of the hill.
Harwoods Hole is a wide-open hole in the rocks that goes 183 meters straight down and then connects to a cave system. A 45-minute walking track takes you through the forest to the hole, and a short side track takes you to a lookout point on the rocks with stunning views over the Takaka Valley. Harwoods Hole is popular with cavers, so don't look surprised if you suddenly see a helmet (on the head of a person of course) emerge from the hole. Oh, and a tip from personal experience; don't fly a drone into the hole The rocks cause magnetic interference which makes your drone lose its coordination. We were only just able to safe ours before it would have lowered itself into the hole to never be seen again.
On the other side of Takaka Hill lies the small town of Takaka. This place has a massive hippy vibe going on and has some seriously great eateries along the main road. Takaka can get very busy in summer, as a lot of people use it as a base from where to go to the many festivals that are organised in the Golden Bay area.
Just outside of Takaka lie the Te Waikoropupu Springs, or more commonly known as the Pupu Springs. Because you pronounce it like "poo-poo", you would think that the water in these springs is really dirty, but it is actually the second clearest water in the world, after some water found beneath Antarctica. The water is so clear that you can see every fish, and every bit of the amazingly colourful plants on the bottom despite it being 15 meters deep.
Wharariki Beach
The far north of New Zealand's South Island (this sounds a bit odd, doesn't it?) may look quite barren on the map, but it actually has a lot to see. The first thing that stands out is Farewell Spit. This 25-kilometre long, narrow sandspit points out to the east and is dotted by many sand dunes. You can walk the first few kilometres of the spit and while it looks cool, what you'll find is actually rather sad. Due to evershifting sandbanks and quickly changing tides, the spit has become a whale graveyard after many whale strandings over the years.
A short drive to the west of Farewell Spit gets you to Cape Farewell; the South Island's most northern point. Be prepared to hold your hat (literally) as the wind here is strong enough to blow you off the cliffs. Years of wind and waves crashing onto the sandstone cliffs have created natural arches, deep cracks and other cool rock formations here. Take half an hour to walk over the windswept hills and admire the rugged beauty of the island's most northern point.
From Cape Farewell, walk to Wharariki Beach. This beach is equally windy and has equally impressive rock formations. You most likely already have seen pictures of the Archway Island standing in the shallows and in summer you can often find the cutest little seal pups playing in the tidal pools on this gorgeous beach or hiding in cracks in the rocks. As beautiful as this beach is, it is definitely not the sunbathing-kind of beach as the wind is generally so strong that you can't even lay down a towel. On really windy days we even suggest skipping it, as you really get sandblasted. We decided to risk it on a very windy day and used a bodyboard as some sort of windshield. The bodyboard lasted about a minute before the wind tore it out of our hands and dragged it away three times faster than we could run.
Stewart Island
Stewart Island (or Rakiura as the Maori people call it) is New Zealand's third island and about as off-the-beaten-path as you can go. This wild and pristine piece of land is perfect for hiking, and it is the best place in the world to see a wild kiwi bird. Only 400 people live on the island in one small town called Oban, and there are only 28 kilometres of drivable road. Putting that next to the fact that the island has 245 kilometres of hiking tracks and that 85% of the island is covered by the Rakiura National Park shows you how serious they are about nature here. The most popular hike here is the 3-day Rakiura Track, another one of the nine Great Walks.
You get to Stewart Island from Invercargill and can either take the ferry or fly to Stewart Island in a small plane. A return on the ferry costs a $178 per person and a return flight is $220 per person. We recommend opting for a flight. It is only a tiny bit more expensive, but it is a very scenic flight and the ferry ride can get rough as the Cook Strait that you have to cross is notorious for its rough sea.
There is actually quite a bit to do on Stewart Island and you could easily spend a week here, especially if you want to do some hikes, but two or three days is enough to see the highlights. An estimated 20.000 kiwi birds call Stewart Island their home (almost half the world's kiwi population!) and the best place for a chance to spot these almost mythical creatures is by booking a tour to Ulva Island. This little island is a pest-free bird sanctuary, and over half of the people that went here have seen a wild kiwi bird, even in broad daylight. We went here in hopes of maybe spotting a glimpse of a kiwi bird in the bushes, but ended up having to jump out of the way of two kiwi birds fighting! They ran into us on the track and were so busy with each other that they didn't even notice us.
Read Next: Kiwi spotting on Ulva Island
If you feel like hiking, we recommend doing the Rakiura Track. DOC lists it as a 3-day hike, but it is only 32 kilometres long and one of the least straining of the Great Walks, so it cab easily be done in two days. A lot of people even walk (or run) it in one day! Walk 21 kilometres to the second hut on the first day to spend the night there, and walk the remaining 11 kilometres on the second day.
---
Typical costs of travelling in New Zealand
The costs of travelling in New Zealand are greatly determined by your choice in travelling by campervan, or by car. A campervan costs a lot more to rent per day, but you can save a lot by sleeping in campsites and cooking your own food, whereas with a car your accommodation and food costs are a lot higher. The cost breakdown below is based on eating one meal in a restaurant per day and cooking the rest yourself, and doing some of the activities that we suggested in the itinerary. The difference between 175 and 225 NZD per person per day comes down to what type of car/campervan you choose and the type of accommodation you stay in.
Suggested daily budget: 175 – 225 NZD per person per day as a couple
Cost breakdown
HOTEL: 80 – 300 NZD / NIGHT
HOSTEL: 20 – 30 NZD / NIGHT/ PP
CAMPSITE: 0 – 30 NZD / NIGHT
GROCERIES: 5 – 10 NZD / MEAL / PP
RESTAURANT: 20 – 40 NZD / MEAL / PP
ACTIVITIES: 20 – 300 NZD
CAMPERVAN RENTAL: 100 – 300 NZD / DAY
CAR RENTAL: 50 – 100 ND / DAY
DIESEL: 1,65 NZD / LITER
PETROL: 2,39 NZD / LITER
Money-saving tips
Cook your own meals as much as you can. A lot of accommodations have a kitchenette and your campervan will come with a cooker. Campsites often have cooking facilities too and you can find free or coin-operated barbecues in parks around the country.
Do your grocery shopping at PAK'nSAVE. We found this to be the cheapest supermarket chain in New Zealand, but they only have stores in the bigger towns. FourSquare is generally the most expensive one. We also found that grocery prices can vary a lot depending on your location, so we recommend to stock up in the bigger cities and less touristic places as they tend to be cheaper.
If you're renting a campervan, stay in free campsites where you can.
When eating out, check First table for 50% off on food at restaurants. They have a big variety of participating restaurants you can choose from. You need to book the table in advance via their website. The reservation is 5-10 NZD and you get 50% off on your meals, but not drinks. We used this quite a bit to eat at some very nice restaurants, without having to pay top dollar for it.
Getting around in New Zealand
By now we've probably made clear that you really need your own transportation in New Zealand, and one of the main things to be aware of when driving in New Zealand is that they drive on the left side of the road. The next thing to keep in mind is when you road trip New Zealand's South Island is roads are different and you should always account for some extra time when driving from A to B. The roads are often steep, windy and narrow, there are one-lane bridges everywhere, roads are hardly ever more than two lanes and gravel roads are a common occurrence. Take your time, stop regularly (which is not a punishment with all that beautiful scenery) and don't see maximum speeds as a target, because there are often unsafe.
That being said, let's talk about the best way to get around in New Zealand; in a campervan! Not only does it help you cut down on costs as we explained before, but you also don't have to pack and unpack all the time, you always have your home with you in bad weather, and it gives you a lot more freedom to go where you want to go. We've converted our own campervan and travelled around New Zealand in it for a year, so we can tell you from personal experience why a campervan is the best way to travel New Zealand.
Best time to visit
The best time to visit New Zealand all depends on what you prefer. The weather, cost of travelling, amount of people and even how the landscapes look is different in every season of the year. Think about the best season for you when you plan your New Zealand road trip.
SPRING: September, October & November – With spring starts the hiking and outdoor adventuring season as temperatures start to rise and the country is in full bloom. Funnily enough, the lakes and rivers are the coldest in spring, as they fill up with melting water from snow in the mountains. New Zealand is the greenest in spring, and the prices for vehicle rental and accommodation are relatively low. Spring is best if you like mild temperatures but don't mind the occasional rain shower, like to see New Zealand in its fairytale-like state and want to avoid the crowds.
SUMMER: December, January & February – Summer is high season in New Zealand. This means that higher amounts of people and higher prices come along with the higher temperatures. Summer is the best season to spot most of New Zealand's incredible wildlife and to visit New Zealand's beaches. Go to New Zealand during summer is you want high temperatures, don't mind crowds or just actually want to meet people, and don't mind paying more for vehicle rental and accommodation.
AUTUMN: March, April, May – Autumn is great for hiking and outdoor activities. The country changes to autumn colours and the days are still relatively long with pleasant temperatures. Most of the crowds have left and with them the high prices as well. Autumn is best if you want to focus on outdoor activities without overheating in the summer sun.
WINTER: June, July, August – When it comes to tourism, winter in New Zealand has one focus: Winter sports. With snow on almost every mountain, skiing and snowboarding are what it is all about in New Zealand during winter. Outside of the winter resort areas, all the crowds are gone, and vehicle and accommodation prices are half of what they are in summer. Winter is great is you want to save money and avoid the crowds.
What to pack
New Zealand is not your typical holiday destination, so what you should pack isn't typical either. Of course there are the basics like our clothes and toiletries but be sure to put some thought in what you're going to need specifically for New Zealand, like your hiking gear, an extra sweater and rain jacket for the unpredictable weather, a daypack, your camera gear, and plenty of insect repellent. New Zealand South Island weather is unpredictable to say the least, so take that into account when you're packing your day pack too.
   Must pack items for your New Zealand road trip Read more
Insider tips
If you're travelling together, we recommend to each get a SIM card from a different provider. Mobile reception in New Zealand is patchy to say the least, and when one provider doesn't have any coverage, the other one often does. This gives you the biggest chance of at least one of you having mobile reception. We went with Spark and 2degrees and this combination worked well for us.
We found that fuel is the cheapest around Dunedin and Invercargill. So it is usually a good idea to fuel up as much as you can before leaving this region. Fuel is most expensive in Queenstown and the Fiordlands, so if you can, try to avoid filling up there.
Download the Campermate app – This app shows you where (free) campervan sites are, where facilities like public toilets, water taps are, and even gives you suggestions on things to see nearby. Super handy when you're touring the South Island of New Zealand!
Download the Maps.me app and download the map of New Zealand in the app – This navigation app works without any data, as long as you have a GPS signal. This is great for when you're in an area without mobile coverage.
Learn from our experience and read our breakdown of New Zealand's good, bad, and ugly.
---
Excited yet?!
New Zealand's South Island is heaven on earth for nature and wildlife lovers. Following this New Zealand South Island road trip itinerary will be the adventure of a lifetime, but a real New Zealand road trip isn't complete without including New Zealand's North Island, which is completely different but equally impressive!
---
---
Have you been to New Zealand? Would you like to go?
Let us Know in the comments below!
---
---
Sharing is caring
Click the icon below to share this article with your friends.
It means so much to us!