New Zealand North Island Road trip – 2 week itinerary
Geothermal hot springs, glow worm caves, 2000-year-old trees, white sandy beaches, massive volcanoes and heaps of other crazy landscapes; New Zealand's North Island has it all and so much more!
The list of things that you can do on New Zealand's North Island is almost never-ending, and you can spend months or even years exploring without seeing it all. If you only have a few weeks, it can feel like a mind-boggling task to choose what to see and what to skip. But don't worry, we've got you covered! We spent almost half a year exploring the North Island and already did all the research for you. By following this 2-week New Zealand North Island itinerary you'll cover all the best things to do and see, and take the optimal route to make the most out of your time on the North Island.
This New Zealand itinerary of the North Island takes you the long way around from Auckland to Wellington and shows you all the highlights to help you make the most of your time here. To follow this itinerary you will need your own wheels. The best way to explore New Zealand is by campervan, but if you prefer to get a car instead that is fine too, we've included where to stay in both cases. If you've been road tripping around New Zealand's South Island first and just took the ferry up to Wellington, then just follow this itinerary in reverse.

P.S. This article contains affiliate links. If you make a purchase following one of these links we'll get a small commission at no additional cost to you. We only share products and services that we love and believe you will love too.
What to expect
New Zealand is a really easy country to travel in. It is safe, the people are friendly and helpful, and there are facilities for travellers everywhere. The country just really caters well to travellers, and this shows in the increasing amount of visitors the country welcomes each year. Because New Zealand is not densely populated and has all these vast areas of rugged landscape, it is easy to get off the beaten path, but if you stick to the main touristic hotspots you can still expect some crowds.
Who is this itinerary for?
We've written this itinerary for people who like to make the most out of their time when travelling, without rushing. This means taking the time to experience what this beautiful country has to offer, seeing the highlights as well as some more obscure places, and taking in the scenery and incredible views. This itinerary is for you if you don't mind driving each day, you love authentic experiences and exploring and sightseeing out in nature. Sounds like something for you?
Know before you go
BEST TIME TO VISIT: September – May
SAFETY: Very safe
Check this article to learn more on NZ safety
LANGUAGE: English with some funky Kiwi slang and a dash of Maori
CURRENCY: New Zealand Dollar (NZD)
1 NZD = 0,66 USD / 0,58 EUR
TIPPING: Appreciated but not common for drinks, encouraged but not mandatory for dinner service
How much time on the North Island?
Two weeks is the optimal amount of time for a New Zealand North Island road trip. 10 days is the minimum amount of time you need to see the highlights of New Zealand's North Island. Less than 10 days would mean rushing and skipping a lot, and that is not something we advocate.
Depending on how much time you have to spend on New Zealand's North Island, you can shorten or lengthen this two-week itinerary as follows:
10 days – If you have 10 days in New Zealand's North Island, then follow this itinerary, but skip going north of Auckland (day 3, 4, 5, and 6). This makes your route a New zealand North Island 10 day itinerary. If you have less than 10 days to spend, then this itinerary is not for you.
14/15 days – Great! Then this is the itinerary for you. Follow it from A to Z to get the most out of your time on the North Island.
3 weeks or more – Awesome! This allows you to go off the beaten path a bit to see some really unique places. Have a look at the three-week New Zealand North Island road trip route at the end of the itinerary for suggestions on more of the best things to do in New Zealand's North Island!
New Zealand travel insurance
Good travel insurance is an absolute must when travelling abroad, and we've learned that the hard way!
ACC in New Zealand covers you for accidents but if you get sick or loose your luggage or anything else happens, you'll need a good insurance to cover it for you.
We always get insured before we leave and Travel Insurance Masters is our go to platform to find the best insurance options for the specific trip.
The TIM platform works as a search engine and suggests the best insurance company and insurance plan for your criteria so you don't end up paying more for things you don't need!
You can get your quote & provider recommendations here.
2 week New Zealand North Island Itinerary
Kia ora, and welcome to Aotearoa; the land of the long white cloud! After landing in Auckland, New Zealand's biggest city, get a SIM card (so you can look up and follow this itinerary on the go) and then you can start exploring!
After getting your SIM card you can make your way into Auckland. Either get a taxi or hop on the SkyBus. This shuttle bus takes you directly from the airport into Auckland CBD for $17, which unless you're travelling in a group is a lot cheaper than a taxi.
Day 1 – Auckland
We hate starting with a bit of a bummer, but we don't really like Auckland as a city. In our opinion, you visit New Zealand for its natural beauty, and a big city like Auckland doesn't really fit into that picture. But because of its location on the island and because it is a big city that has lots of facilities, it is still the best place to start from. Nevertheless, there are still some things here that are worth checking out.
Auckland Sky Tower
Let's start the day with something exciting, and check out the Sky Tower. This 328 meter high telecommunications tower is the most iconic building in Auckland's skyline, and you go up to its observation decks, to then jump off of them. Wait, what? Yes, you can jump off of the Sky Tower. On the 53rd floor at 192 meters high sits the SkyJump. For $158 you can jump off the Sky Tower and safely land on your feet at ground level! They do this by attaching you to a cable system that slows you down when you get close to the ground. We can say from personal experience that stepping off the edge is a bit scary, possibly even scarier than bungy jumping, but the thrill you get as you soar down makes you instantly forget that!
If jumping off feels like too much, but you still want to see the view, then buy this Skip the Line ticket that gets you access to the upper levels as well. Between the 50th and 60th floor, there is a café, two restaurants and two observation decks, the highest of which at 220 meters high, giving views up to 82 kilometers in the distance.
Auckland War Memorial Museum
Right, after that excitement it's best to do something more relaxed and with both feet on the ground. We feel that if you visit New Zealand, you should learn something about the Māori people and Maori culture and history. A great place for this is the Auckland War Memorial Museum that has a permanent Māori exhibition. The whole ground floor is filled with Māori treasures and items like a massive canoe called a "waka", totems, weapons, and even a beautifully decorated Māori meeting house called a "wharenui". This museum is a great place to get a bit of an understanding of the lives of New Zealand's first settlers.
Mount Eden
Auckland is built on top of 50 volcanoes, The highest of which is Mount Eden. This 196-meter high hill stands in the middle of the city. The hill and its surroundings are covered in greenery and on a sunny day its a beautiful area to go for a walk, but the real appeal is the summit. From the summit, you can look straight down into what used to be the volcano's crater, and you get 360-degree panoramic views over the whole city.
Eat and drink in Auckland
By now you're probably hungry, and that's a good thing because one thing we do really like in Auckland is the food culture. There are heaps of little eat streets full of bars, café and restaurants that serve all sorts of good food, and best of all; craft beer. We LOVE craft beer, and New Zealand is great at it!
For good food, we recommend taking a stroll on either High Street or at the Waterfront. High Street has a lot of options for good food, from chique restaurants for fine dining to little cafés and takeaway Asian fusion. The Waterfront doesn't have any options for fine dining, but the food there is still good and the vibe and scenery are awesome.
For drinks the number of options are pretty overwhelming in Auckland. The city alone already has more than 200 breweries, and that number just keeps rising. We really like Brother Beer City Works Depot for their tasty craft beers, industrial look and relaxed atmosphere, or 16 Tun for their insane amount of craft beers on tap and their location by The Waterfront.
Where to Stay in Auckland
BEST VALUE
Smack in the middle of Auckland's CBD and dorm beds for less than $30 per person per night. You're not going to find a better value for money in Auckland than this. Oh, and they have free high-speed WiFi for all guest.
Haka Hotel Suites Auckland City
GORGEOUS VIEWS Your own modern little apartment in the center of Auckland, with an incredible skyline view from your balcony. Honestly, the views on the Sky Tower and Harbour Bridge alone are worth staying here!
PURE LUXURY
This incredible contemporary 5-star hotel is attached to the Auckland Sky Tower and is pure luxury. Award-winning restaurants, a fitness center with a heated pool, a spa, a 24-hour casino. You name it, they have it.
Day 2 – Waiheke island or Piha
Today starts with a choice. Either spend the day on an island full of wineries just of the coast of Auckland or pick up your car/campervan, start your New Zealand road trip and go to the beach. Which choice to make depends on what you like to do and on your budget. Waiheke Island is considered a bit of an upscale place and tends to be pricier than the mainland. If you can afford it to splurge, we wholeheartedly recommend you opt for Waiheke Island.
Waiheke Island
If you decide to go to Waiheke Island, then don't pick up your rental car or campervan yet. That is because you don't need a car on the island. By picking up your rental vehicle tomorrow when you get back, you save paying for extra days of expensive rental.
Waiheke Island is an island just off the coast of Auckland. Known for its beaches and wineries, it is the perfect place to escape the busy city for a day. In the morning, check out of your accommodation and make your way to the wharf (close to The Waterfront) to take the Fullers Passenger Ferry to Waiheke Island. The ferry goes every half an hour, takes about 45 minutes to get there and costs $42 for a return ticket.
Once you're on the island, you can get an all-day bus pass for $10 to get around. Drop off your bags at your accommodation and check out the beach. We recommend either Oneroa Beach, which is a nicely sheltered beach but tends to get quite busy, or Onetangi Beach, the island's largest beach that is great for swimming and has lots of cafés and restaurants around.
When you've soaked up enough sunshine, let's taste some of the wine that Waiheke Island is so famous for! There are countless of wineries to choose from, but we recommend Tantalus Estate because on top of good wine they have delicious craft beer as well. Alternatively, take a look at Obsidian. We love them for their down to earth simplicity and incredible wine.
In the evening everyone heads to Charlie Farley's for a drink. Located right next to Onetangi Beach this is arguably the island's most popular pub. We're sure you'll understand why once you're sitting on their deck with a drink while watching the sunset.
Where to stay on Waiheke Island
PERSONAL TOUCH
This cute bed and breakfast looks like the perfect holiday house. The owners have put heaps of thought and effort into the interior and decoration, giving the whole place a lot of character. Oh and the breakfast is delicious!
GREAT LOCATION Prefer having your own place? At Four Huia, you get your own little chalet with a garden, terrace, and a balcony with sea views. It is also just a stone's throw away from Oneroa Beach and a bus stop on the main bus lane.
The Moorings Studio Apartments
AMAZING VIEW Your own luxury apartment with arguably the best views on the whole island. The Moorings Studio Apartments is next to a bus stop, and only a few minutes away by foot from the ferry terminal, which makes arriving and leaving super easy.
Piha
Driving distance: 40 km | driving time: 45 minutes
Alright, time to really start your North Island road trip! Have an easy morning in Auckland and get ready to really start exploring New Zealand's North Island.
Pick up your rental vehicle
Make your way to your rental vehicle pick-up location. If you've opted for a campervan (you really should!), then the campervan rental company will show you all the features of the van and explain how everything works. It might seem complicated, but folding down the bed, filling and emptying the water tanks, and using the battery is actually pretty simple and straightforward. In either case, make sure that you can drop off your rental vehicle in Wellington or on the South Island if you're planning to cross over after your North Island road trip. This will allow you to explore a lot more as you don't have to drive back to Auckland.
Pack all your stuff into your vehicle, and drive to the supermarket to stock up on some supplies (remember to drive on the left side of the road!). Make use of the fact that you're still in a big city and do your grocery shopping at PAK'nSAVE. They are the cheapest supermarket chain in the country, but you only find their supermarkets in the bigger cities.
Piha beach
Time to hit the road and drive to Piha! Actually, if it isn't late in the afternoon yet, you can take a short detour and check out the Karekare Falls on the way to Piha. These falls definitely won't be the most impressive waterfall you'll see in New Zealand's North Island, but it's still pretty to look at, easy to get to and has a nice plunge pool at the bottom that is perfect for a little dip.
After your short stop at the waterfall (if you had time for it), continue to Piha. This tiny coastal is town well known for its awesome surf, beautiful beach and stunning sunsets. But before you run in for a surf, make sure that you know what you're doing. The current and riptides in Piha are strong and conditions on the water can change quickly, making it dangerous for less experienced surfers.
Danger aside, Piha is an incredibly scenic beach. Lion Rock, a big rock in the middle of the beach that looks like a lying male lion, and the black colour of the sand give it this moody and rugged feel that is so typical to New Zealand. Make sure you find a nice and comfy spot on the beach in the evening, because you don't want to miss the sunset here that lights up the sky in all shades of red, purple and pink.
Where to stay in Piha
BEST CAMPERVAN OPTION
This is the only option for campervans in Piha, but that doesn't mean it is a bad option. The camp is only a few minutes to the beach by foot, they have a decent kitchen, and clean bathroom and toilet facilities.
GREAT VALUE
This lovely homestay has both dorm rooms and private rooms. If you're on a tight budget, go for the dorm rooms. If you want more comfort and privacy, then opt for a private room.
INCREDIBLE VIEW
This holiday house has everything you could possibly wish for. It is beautifully designed, has spacious and luxurious rooms, a big sundeck and the most incredible ocean views.
Day 3 – Paihia
Driving distance: 263 km | driving time: 3 hours, 50 minutes
Hope you rested well in the past few days, because from today on most days will consist of a lot of driving. Have your breakfast and then drive towards Paihia in the winterless north. This buzzing town is known as the gateway to the Bay of Islands and in summer there are always plenty of things to do here. If you stayed on Waiheke Island last night, then take the ferry back to Auckland in the morning and do the steps we've described above under "Pick up your rental vehicle".
Muriwai
If you stayed in Piha last night, got up early and don't mind driving a bit more (what, even more?!), then we suggest driving to Muriwai before heading on to Paihia. Muriwai has a black sand beach just like in Piha, but the coolest thing here is a massive gannet colony. What is a gannet I hear you think? Don't worry if you don't know, Tom thought that they were Pelicans when he first saw them (he can be a bit silly sometimes). Gannets are large seabirds that sorta resemble seagulls.
Now you probably won't get too excited by the thought of seagulls and already fear getting pooped on, but hear us out. Gannets are massive. They have a wingspan of two meters and this colony consists of roughly 2500 of them. The birds are nested on two massive limestone pillars that rise up out of the sea, and a short walking path leads to a viewing platform right above the colony from where you can see them fly off and land again with hundreds at a time. Even if you don't care about seeing the birds, seeing the awesome cliffside rock formations still makes visiting this place worthwhile.
When you're done watching the birds and possibly got pooped on – sorry, it can happen – get back behind the wheel and continue to Paihia.
Skydiving
One of the most popular activities in the Paihia area is skydiving, and it's easy to see why with such amazing scenery. On top of that, they also have New Zealand's highest skydive here at 20.000 feet! The thrill of jumping out of a plane and then soar in the sunshine over turquoise waters and golden sands underneath you sounds like something that perfectly fits into a New Zealand adventure, right?
Waitangi Treaty Grounds
Scared of heights, or can't swing the costs of skydiving? Then how about some culture! Next to Paihia lies Waitangi, one of the most significant places in New Zealand history. Waitangi is the place where the Treaty of Waitangi was signed. This treaty was signed to enable the British settlers and the Māori people to live together in New Zealand under common law. The treaty was signed on the 6th of February 1840, and nowadays the 6th of February is still a national holiday called Waitangi Day.
Nightlife
Even though Paihia is a small town, it still has a more than decent nightlife. This becomes abundantly clear if you stroll into Kings Road after 9 PM. The Base Backpackers Hostel and Bay Adventurer Hostel organise pub crawls to check out all the bars in town. But if a pub crawl is not your thing and you prefer something more low-key then we recommend heading to the Sandpit to play some pool or to Thirty30 for some delicious craft beers.
Where to stay in Paihia
Bay Adventurer Backpacker & Apartments
BEST VALUE
Right on Kings Road in the middle of Paihia, it has the best location in town for a budget price. They offer dorms, private rooms, and apartments. There is free WiFI and an outdoor swimming pool.
GREAT BREAKFAST
This beautiful bed and breakfast is located across the street from the beach, just outside the busy town center. The rooms are large and comfortable, the hosts are super hospitable and helpful, and the breakfast is delicious!
BEAUTIFUL VIEW
Your own luxurious suite on the waterfront just a few minutes stroll from the wharf. These big and modern rooms come with a private balcony with stunning sea views, world-class service, and a heated swimming pool. What more could you want?!
Seaview Holiday Park – This is your best campervan option. For $15 per person, you get a spot, cooking and washing facilities, and hot showers. Find it in the Campermate app.
Day 4 – Bay of Islands
While Paihia is a fun town, the real appeal of the Bay of Islands is its 144 subtropical islands full of hidden coves and beautiful sandy beaches. And what better way to explore this than by boat?!
Bay of Islands boat cruise
In the morning, hop on a boat from the wharf in Paihia. Most day cruises will tour you around the bays and islands, do a stopover on one of the islands for lunch, and anchor a couple of times to go swimming, snorkelling and paddleboarding/kayaking. This 5-hour cruise is a lot of fun and includes two stopovers on remote islands, walking up to a viewpoint overlooking the Bay of Islands, and snorkelling and paddleboarding, but the boats are quite small.
For something more comfortable, go for the Barefoot Sailing Adventures cruise on a catamaran. This boat is way nicer and the tour includes basically the same but swaps the viewpoint for a visit to a wildlife sanctuary.
If you'd like to take the sailing aspect a bit further than opt for She's a Lady Island Sailing Adventures. This cruise is on a beautiful sailing boat where on top of everything the other cruises do, the crew is happy to let you take the helm and teach you how to sail as well!
You'll probably see loads of advertisements for dolphin cruises when you're in Paihia and might be wondering why we're not recommending a dolphin cruise. That's because swimming with dolphins has recently been banned in the Bay of Islands, and we feel that is wrong to chase dolphins around. Seeing dolphins is awesome, but only if they come to you out of free will. Dolphins are still wild animals and should be treated that way. On top of that, there are way better places to see dolphins in New Zealand. That said, chances are that some dolphins will still show themselves somewhere along your Bay of Islands cruise.
Read Next: Best spots to see dolphins in New Zealand
Where to stay in Bay of Islands
Stay in the same place you stayed the previous night in Paihia.
Day 5 – Cape Reinga
Driving distance: 331 km | driving time: 4 hours, 37 minutes
Onwards to the far north! Well, as far north as you can go in New Zealand. This area is known for its wild beaches, massive sand dunes and rugged, wind-swept sceneries. Once you pass Kaitaia, there are no more towns other than a few tiny settlements, so make sure you have enough food, water and fuel to get to Cape Reinga and back.
Ninety Mile Beach
On your way north, make a stop somewhere along Ninety Mile Beach. Other than its name would suggest, Ninety Mile Beach isn't actually ninety miles, but "only" 88 kilometers (or 55 miles) long. The craziest thing about this beach isn't its length, but that it is an official New Zealand highway. Unfortunately, most rental companies won't allow you to take your rental vehicle onto the beach because people often get stuck or get caught in the incoming tide. We parked our campervan on the beach here and it got stuck in the sand when a big tidal sweep hit its wheels. Fortunately, there was a friendly local with a 4WD that towed us out, but we do think twice before driving onto sand now, even if it is an official highway!
This doesn't mean that you shouldn't check it out though, as it is still a beautiful and impressive beach with its massive sand dunes. If you're into surfing you'll probably get excited knowing that it has one of the best left-hand surf breaks in the world. And if you're not into surfing, how about blo-karting on the beach or just simply work on your summer tan.
Cape Reinga
Cape Reinga is the end of the road, literally. Although it isn't officially the northernmost point of New Zealand, it is as far as you can go. The northernmost point is North Cape, further to the east (and a tiny bit to the north), but that isn't publicly accessible. Regardless of it being the northernmost point, Cape Reinga is a stunning sight. Right in front of the cape, you can clearly see two different coloured bodies of water meet. This is where the Tasman Sea and the Pacific Ocean turbulently clash, or so is said; the truth about these oceans colliding is a bit more complicated.
Not only is the cape with its lighthouse on top an incredibly picturesque sight, but the cape is also a place of local mythology. At the tip of the cape stands an 800 years old pohutukawa tree. According to Māori belief, the spirits of deceased Māori ascend from this tree to let the ocean take them away to their ancestral homeland.
Cape Reinga is quite a touristic hotspot, and the deck around the lighthouse is often swarming with people. Fortunately the cliffs in the surrounding area are at least as an impressive sight as the lighthouse. From the car park, walk towards the lighthouse until the path splits. Take a left here and go down the steps. Keep walking for a few more minutes and you're most likely all by yourself with cliffside views that just keep getting better and better.
Te Paki Giant Sand Dunes
We've already mentioned the sand dunes twice, and now on the way back down from Cape Reinga is the time to see them. The Te Paki Giant Sand Dunes do their name justice because they are truly massive. They go up to heights of 150 meters and are seriously steep. Climbing up is difficult, but once you're on top it almost feels like you're in the middle of a vast desert. The real fun is in going down again, especially when sandboarding down.
In order to do so, get a sandboard from one of the vendors along the road and see how far you can go. Zi made it almost all the way down before coming to a stop, and Tom thought he could beat that, but dove headfirst into the sand instead. Now you might think that won't happen to you, but it's honestly a lot harder than it looks!
Where to stay in Kaitaia
Beachcomber Lodge & Backpacker
BEST VALUE Located just off the town center close to shops and stores, this is the most popular hostel in Kaitaia. They offer both dorms and private rooms and have a bar and restaurant on site.
GREAT LOCATION Located in the middle of town, this hotel offers super comfy beds, an outdoor pool, and a restaurant on site.
BEAUTIFUL SCENERY
This comfortable cottage is beautifully located amidst lush green hills. The cottage itself is spacious, modern and stylish. It has a massive garden and also comes with a hot tub! Look up at night, because the night sky is extremely clear from hereCheck prices
If you have a campervan, then you can stay at the Tapotupotu Camping Area close to Cape Reinga. This remote DOC campsite lies next to a beautiful secluded bay with a rugged beach. There is no phone signal, no potable water, and only cold showers, making staying here a real off the beaten path adventure. Keep in mind that if you choose to spend the night here instead of in Kaitaia, you do add another hour and a half of driving to your day tomorrow, which already consists of a lot of driving. But if you don't mind driving a bit more and have a campervan, then staying at this campsite is really worth it in our opinion.
Day 6 – Waipoua Forest
Driving distance: 348 km | driving time: 5 hours, 26 minutes
Today you'll walk amidst the ancients in Waipoua Forest. Some of these trees are so old that they were already there long before the Māori people arrived in New Zealand. When driving from Kaitaia, take the ferry from Kohukohu to Rawene instead of going around. This saves you a considerable amount of time and distance driving.
Waipoua Forest
This big native forest is special because of the many kauri trees that stand in it. Kauri trees are big coniferous trees that only grow on New Zealand's North Island, and the biggest of them stands in the middle of Waipoua Forest. This tree is called "Tāne Mahuta", which means God of the Forest, and in Māori belief, this tree is actually considered a God. It stands 51 meters tall, but even more impressive is its girth of over 13 meters. That equals at least 8 people standing around it with their arms spread wide. A short walk takes you from the road going through the forest to this behemoth of a tree where a guide stands to tell you its story if you want to hear it. Tāne Mahuta is estimated to be 2000 years old but isn't even the oldest Kauri tree in the forest. The oldest Kauri tree is Te Matua Ngahere, meaning Father of the Forest, and is estimated to be nearly 3000 years old.
If you liked walking in the forest and seeing these incredible trees, then also stop a bit further down the road to see the Four Sisters and Te Matua Ngahere.
Tokatoka Peak
After passing the town of Dargaville you're driving through mostly flat farmland, except from one hill standing out, visible from miles away. This is Tokatoka Peak, and you should walk to the top! Don't worry, this isn't some strenuous hike. Tokatoka Peak isn't even that high, but because the surrounding area is so flat you can see very, very far from the top. It takes only 20 minutes to get to the top and is a nice activity to break up the driving. Do wear proper shoes though because the track is quite steep.
After climbing Tokatoka peak (and having a picnic on the top) drive onward to Auckland. If you'd like another break from driving then make a quick stop in Warkworth, where another impressive Kauri tree stands.
Where to stay in Auckland
Stay in the same place you stayed the last time in Auckland.
Day 7 – Cathedral Cove
Driving distance: 237 km | driving time: 3 hours, 23 minutes
Today you get to sleep in, yay! With less than four hours of driving and only one sightseeing spot on the agenda today you can take it easy. Leave Auckland after lunch (again) and drive to the Coromandel Peninsula. The Coromandel Peninsula might well be our favourite area on the North Island! Secluded bays, misty rainforest,cliffside views and the best beaches in New Zealand's North Island are awaiting here.
Cathedral Cove
Drive straight to Hahei, park at Hahei Beach and start getting excited for the magical Cathedral Cove, an absolute must see in New Zealand's North Island. An easy and beautiful 45-minute walk takes you from the beach, through the trees, over a grassy saddle with wide-open ocean views to the insanely picturesque Cathedral Cove and its adjacent near-perfect beaches.
Cathedral Cove's main feature is the massive picture-perfect archway that frames the Te Hoho Rock that rises up from the sea just right and gives passage from one beach to the other. Just off the beach more rocks rise up out of the water to make the scenery more interesting, and if you feel like shenanigans today then swim out to the flat rock to do some acrobatic jumps off of it.
In summer Cathedral Cove gets really crowded during the day, so we recommend to walk here a few hours before sunset so you have time for a swim and to relax on the beach, and then stay for an amazing sunset. We went here for sunset on a weekday in summer and had the whole cove to ourselves for most of the evening. Remember to bring a torch with you as the walk back will be in the dark.
Read Next: All you need to know about Cathedral Cove
When the sun is down, make your way back to your car or campervan and drive to the laid-back surf town Whangamata. It will be dark by now so you won't see much of it, but that will change tomorrow.
Where to stay in Whangamata
GREAT VALUE
This hostel is only one street away from the beach, so you wake up to the sound of the waves rolling onto the shore. They offer both dorms and private rooms and have a surf school and surf rental in the hostel.
BEAUTIFUL LOCATION
Located a bit away from the town center, staying in this peaceful lodge set amidst a jungle garden feels like a getaway. All rooms have their own patio, they have a beautiful garden and sun deck, and a spa and wellness center.
BEST BREAKFAST Overlooking the harbour, the marina, and the pacific ocean this place has the best views in town. They offer very large and comfortable rooms, have a big sundeck, and an amazing breakfast is included.
Whangamata Information Centre Carpark – This is your best campervan option. Free overnight campervan parking in town. Usually, it doesn't completely fill up, but if it is full check the Whangamata Marina for $10 per person instead. Find both in the Campermate app.
Day 8 – Donut Island
Driving distance: 184 km | driving time: 2 hours, 49 minutes.
Wake up nice and early, head to the beach and park at this overnight campervan parking. If you have a campervan, you're probably wondering why we didn't tell you to stay the night here. Well, there are only three spots available for overnight parking, and in summer they are basically always full. So if we had told you to stay here, you would have arrived late in the evening only to find it full, and you would have been left without a place to stay.
Anyway, this is where you should park now because it is the closest you can park to Whenuakura Island, more commonly knows as Donut Island. Donut Island is an old dormant volcano where a cave-in left it with an open roof and a flooded center. The center of the island can be accessed from the sea through a cave opening, and for us going here is one of our absolute favourite experiences to date!
Put on your togs (Kiwi slang for swimwear), rent a kayak or paddleboard from the beach for $30 per person and paddle to Donut Island. The opening is on the south-eastern side of the island and paddling there takes about half an hour one way. We assure you that it will be one of the most awesome things you'll do in New Zealand.
When you're back from Donut Island you've most certainly worked up an appetite, so now is a great moment to head into town. Take a stroll on Whangamata's main street to peek into all the quirky boutique shops and then grab some food at Soul Burger. They're a serious contender for serving the country's best burger if you ask us!
Hobbiton
After you've munched down a delicious soul burger (or two, we won't judge) drive to Matamata for a must-do for any Lord of the Rings fan; the Hobbiton movie set! If you are a fan, then this place is most definitely already high up on your 'NZ bucket list', and if you don't like Lord of the Rings, then just skip this activity.
The Hobbiton film set is the only film set from the Lord of the Rings and The Hobbit movies that hasn't been broken down after filming, instead, it has been turned into an open-air museum. To enter Hobbiton you need to pre-book tickets, so make sure that's covered before heading there.
Read Next: Lord of the Rings filming locations
During the two-hour long tour through The Shire, you get a chance to see 37 hobbit holes. This includes Bag End where you can imagine Bilbo and Frodo in their waddling around on their big hairy feet preparing tea and ends with a jug of ale in the Green Dragon Inn. The tour does feel a bit rushed in all honesty, but if you're a fan then you'll regret not going.
Rotorua Redwood Forest
We hope you didn't drink too much in the Green Dragon Inn, because there is still a bit of driving to go. Head to Rotorua and go straight to the Whakarewarewa Forest. Within this forest stands 7 hectares of Californian Redwood trees. These trees are over 100 years old and some of them are over 75 meters high. The most interesting thing about these trees, however, is that you can walk among high above the ground.
Redwoods Treewalk created a treewalk consisting of wooden platforms high up in the trees connected by 28 suspension bridges. You get to see the forest from a whole new perspective, and in the evening the whole walk is illuminated by lanterns in art installations, giving the forest a magical ambience.
Where to stay in Rotorua
BEST VALUE
This place is pretty unique. They're located right next to the Kairau Park and their swimming pool gets geothermally heated from the same underground vents. They offer campervan parking, dorms, and private rooms.
GREAT LOCATION
This building was recently refurbished into a beautifully designed, modern hotel with a clean look in the center of town. Comfortable rooms, a café, and an outdoor pool and spa.
AMAZING VIEW
If you have a bit more to spend you'll love Karanda BnB for a more luxurious stay. Wake up in a gorgeous, massive villa on top of hill just outside of Rotorua, with incredible views over Rotorua towards the lake.
Hinemoa Street Carpark or Lakeside Rotorua – There are two free overnight campervan parking areas in Rotorua, but both usually fill up quickly. Find both of them in the Campermate app.
Day 9 – Rotorua
Rotorua is one of the most interesting cities on the north island. It is the country's core of Māori culture, and full of (smelly) geothermal activity. The smell of sulphur – which in reality smells like rotten eggs – might scare you off at first, but once you get used to the smell a bit you'll find that Rotorua is an awesome place to spend a few days. So let's dive right in, possibly literally!
Rafting
How does rafting off a 7-meter high waterfall sound? Awesome? Scary? A bit of both? Rotorua is home to highest commercially rafted waterfall in the world, and today you're going to conquer it! Book this rafting tour with Kaituna Cascades and they'll pick you up from your accommodation in the morning to take you to the Tutea Falls.
After instructions and a safety briefing by your highly experienced guide (really, they're the best in the world), you'll get into the raft and onto the river. The adventure on the river takes about 45 minutes, takes you over 14 rapids and small waterfalls, and ultimately the big 7-meter high one. About 50% of the rafts flip over while going down the waterfall. So did ours, but we wouldn't have it any other way because it was such a fun thrill! And don't worry, it is perfectly safe. Tom was completely unharmed after flying out of the raft in the picture above.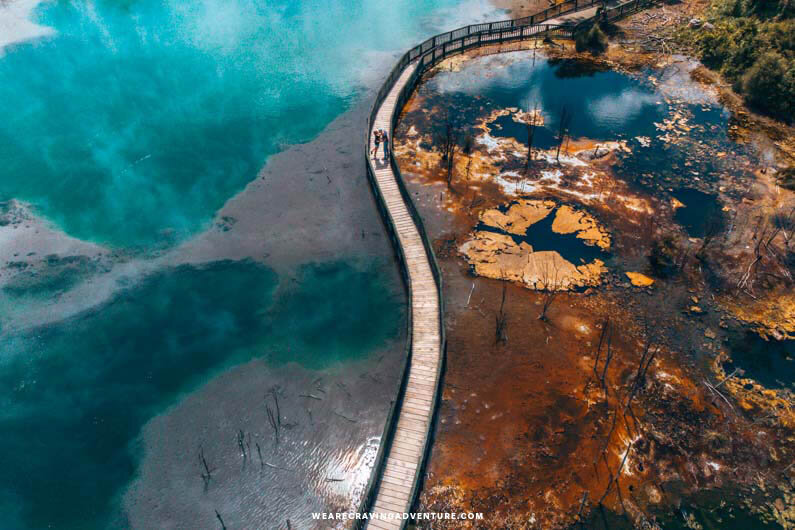 Kuirau Park
After all that excitement, we bet that you could use something a bit more relaxing. Get yourself some food on Eat Street – we recommend BREW | Craft Beer Pub (Craft beers, yes!) – and walk to Kuirau Park in the center of town. This geothermal park is full of bubbling mud pools, small geysers and a steaming lake with a boardwalk going right over the middle. Taking a stroll through this park while watching these otherwordly features is the perfect way to wind down from the thrill of plunging down that waterfall.
Tamaki Maori Village
As we mentioned, Rotorua is New Zealand's heartland of Māori culture, and now it's time to experience this firsthand. There are multiple Māori villages in and around Rotorua that you can visit, but we recommend getting tickets for the Tamaki Māori Village to get a real show.
After gathering in town, you're taken to the village where you're welcomed by the men of the village with an imposing haka. After the welcoming ceremony, your guides walk you through the village to teach you about arts & crafts like their tattoos, the famous haka, and how to make a hangi meal. After the tour, the people of the village will put on a show for you and then you get to eat a delicious hangi meal. We can assure you that you'll go for multiple food runs to the buffet!
Where to stay in Rotorua
Stay in the same place you stayed the previous night in Rotorua.
Day 10 – Taupo
Driving distance: 182 km | driving time: 2 hours, 25 minutes
Don't get out of bed too late because today will be a busy day in and around Taupo. The town of Taupo lies on the shore of Lake Taupo, New Zealand's biggest lake. Lake Taupo is actually the flooded caldera of the Taupo supervolcano. Have a look at the size of Lake Taupo to get an idea of how incredibly big this volcano is. The Taupo volcano is responsible for most of the geothermal activity in the center of the island, and you'll see some more of that today.
Wai-o-tapu Thermal Wonderland
On the way from Rotorua to Taupo, about half an hour in, lies Wai-o-tapu Thermal Wonderland; your first stop for today. This big park is full of steaming lakes and oddly coloured hot pools, and boardwalk paths take you past all of it. It is considered as New Zealand's most diverse and colourful geothermal sightseeing attraction, and definitely worth a visit. Make sure you get here no later than 10 AM because shortly after that the park's most spectacular feature happens. Every morning, at 10:15, the Lady Knox Geyser erupts and shoots boiling hot water 20 meters up in the air. Get your tickets for Wai-o-tapu Thermal Wonderland in advance.
Huka Falls
After Wai-o-tapu, continue driving and stop at the Huka Falls just before reaching Taupo. It is literally next to the road to Taupo, so this stop isn't even a detour. The Huka Falls aren't impressive in terms of size, we wouldn't even call it a waterfall but rather rapids or cascades, but they are very impressive in terms of volume. Every second, almost 250m3 of water comes down the Huka Falls, that is a quarter of a million liters of water per second and it would fill an Olympic swimming pool in 11 seconds! A small footbridge goes over the falls, from where you can see all of this water thunder underneath you. There is a walk that takes you to some natural hot pools upstream, but we recommend to skip that for now and to just drive to these hot pools after the next activity.
Maori Rock Carvings
Get some lunch in Taupo (we recommend Victoria's for good food) and check out the lake. Lake Taupo is approximately the same size as Singapore and is so big that it has tides. One of the coolest things to see on the lake are the Maori Rock Carvings, on the lake's northeastern shore. These carvings are an impressive artwork of a 14-meter high tattooed face carved into the cliffside, and some smaller sculptures carved into the surrounding rocks. They are only accessible by water, and there are basically two options of getting there.
Guided kayak tour – The most fun way to get there is by kayak! Book this half-day kayaking tour for an awesome experience. From Taupo, your tour guide takes you to a bay close to the Maori Rock Carvings, from where you'll paddle the rest of the way. There is plenty of opportunity to explore a bit more of the lake and to go for a swim. If you feel like you don't need a guide, then there is also the option of paddling there on your own. In that case, drive to Acacia Bay, just west of Taupo, and rent kayaks or from Taupo Kayaking Adventures for four hours. Get in the water and follow the shoreline west to the Maori Rock Carvings. Make sure to pack some snacks and water because it is a 5 kilometer paddle one way that takes about 1,5 hours. So you'll spend roughly three hours paddling which you shouldn't take lightly, but if you feel fit and if you like kayaking it is a lot of fun! The rent for the kayaks is $55 per single kayak or $110 for a double kayak. If you feel like this is too expensive, or you're not sure if you're fit enough; then go for the next option. In any case, the Maori Rock Carvings are one of the coolest paddleboarding spots in New Zealand
Boat tour – Seeing the Maori Rock Carvings and Lake Taupo by boat is obviously the most relaxing way. Book this Lake Taupo boat tour and step aboard a beautiful sail yacht for 2,5 hours. Sunbathe on deck while you sail on the lake on your way to the carvings.
Otumuheke Spa Park
Time for the natural hot pools we mentioned earlier! Especially if you went kayaking to the Maori Rock Carvings, you'll love relaxing your muscles in these warm waters. Park in this car park and follow the path to the Otumuheke Spa Park. Here hot water bubbles up from the ground and creates a stream that flows into the Waikato Rives. Where the water bubbles out of the ground it is way to hot to get in (really, don't try as you can get severe burns from it), but where the hot water meats the Waikato river it gets cooled down to a perfect hot tub temperature. Beware that you don't put your head underwater, there are bacteria in the hot water that can get in your system and make you sick.
When you're done soaking and your fingers are all wrinkly from the warm water there is a choice to make. If you're up for a hike, then drive to National Park to do the Tongariro Alpine Crossing. It is a tough but oh, so rewarding day hike. If you like hiking, this will be a true highlight of your trip in New Zealand. Even if you're not that into hiking, the scenic views are still absolutely worth it and might even turn you into an avid hiker. Hiking the Tongariro Alpine Crossing will add one day to this itinerary.
If nothing of this sounds appealing to you, then skip the hike and drive straight to Waitomo instead.
Where to stay in National Park
BEST CAMPERVAN OPTION
This is an option both for campervan and car. They have campervan sites for $20 per person, and budget rooms if you need a room. The facilities include cooking and washing facilities, and hot showers.
GREAT VALUE
This lodge has dorms, private rooms and apartments. A great addition is that they also offer a shuttle service to the Tongariro Alpine Crossing, and they have a hot tub that guest can use to relax their muscles after the hike.
Tongariro Springs Boutique Suites
INCREDIBLE SCENERY
These mountain-hut-style suites are located a bit south of National Park and have incredible views on Tongariro National Park. To make things even better they also have a large hot pool to admire the view from.
Optional Day – Tongariro Alpine Crossing
Driving distance: 142 km | driving time: 1 hour, 47 minutes
Today you'll hike the Tongariro Alpine Crossing, the most popular of all the New Zealand North Island hikes, and arguably also the most rewarding one. This 19.4 kilometer long track takes through steamy thermal fields, up steep mountain slopes, past volcano craters and colourful lakes, and then winds down over tussock fields into the forest.
Don't underestimate this hike just because it is so popular. It is long, steep and exposed, so prepare well with the right equipment before setting off. An important detail to know before you go is that it is a one-way track and parking on each side is limited to 4 hours. The track will take 6-8 hours to complete, so you can't drive there yourself and park at the start. The solution is booking this shuttle service. They take you from National Park to the start of the hike in the early morning and pick you up again at the end to take you back to National Park.
When you're back in National Park at the end of the afternoon and you feel like your legs can carry you again, drive to Waitomo. Get an early night, you must be exhausted. Waitomo is where you're going caving tomorrow!
Where to stay in Waitomo
BEST VALUE
This hostel has campervan sites, dorms and private rooms. There is an attached petting zoo and the manager has an endless supply of jokes and always has a Lord of the Rings movie playing on the tv.
BEAUTIFUL LOCATION
Located in the center of town but still completely surrounded by greenery and native trees. From the rooms, you have a beautiful view over the valley, and a delicious breakfast is included.
QUIRKY & UNIQUE
This could be the coolest and most unique New Zealand North Island accommodation. Their rooms are all truly unique. How about a room that is built into an old airoplane?! Or a boat, a train carriage, or a hobbit hole?!
Day 11 – Waitomo
Driving distance: 330 km | driving time: 5 hours, 18 minutes
Waitomo is famous for its many cave systems. There are over 300 known caves in the area, and it is estimated that the total number of caves is even quite a bit higher. The main attraction in Waitomo isn't the caves themselves though, but the glowworms that live in them. If you ask us, this is another New Zealand North Island must see.
Black water rafting
Time to see what Waitomo is famous for. Book this black water rafting tour for the morning. We recommend going for the 3-hour tour rather than the 5-hour tour, as the 5-hour tour doesn't really give you much more and is quite a bit more expensive. The tour will start with your guides explaining a bit about the caves, and dressing up in a wetsuit, gumboots and a fashionable helmet before going underground.
After a bit of crawling you'll get to a spectacular sight; a hall FULL of glowworms. There are so many glowworms that their light is bright enough for the guides to take some pictures of you with them. Then you get to the rafting part of the tour. Don't expect something like the rafting in Rotorua, but leisurely floating under a sky of glowworms in an underground stream on an inflatable donut. Less thrilling, but absolutely not less interesting. The guides love joking around and will definitely keep you entertained while keeping everyone safe.
Marakopa Falls
Once you've emerged from underground again, drive to the Marakopa Falls. The 35-meter height of this waterfall is already quite something, but when you combine that with its width you've arguably got the most impressive waterfall on New Zealand's North Island. The amount of water and the force the water comes down with is so big that you can feel the spray on the viewing platform, more than 100 meters away.
There is a fence behind the viewing platform, but you can easily skip it (through the massive gap right next to it, haha) to get closer to the waterfall. The path down can be quite slippery, so be careful, but it is worth it for a much better view of the waterfall. Depending on the time of day, you might even see a rainbow at the bottom of the falls.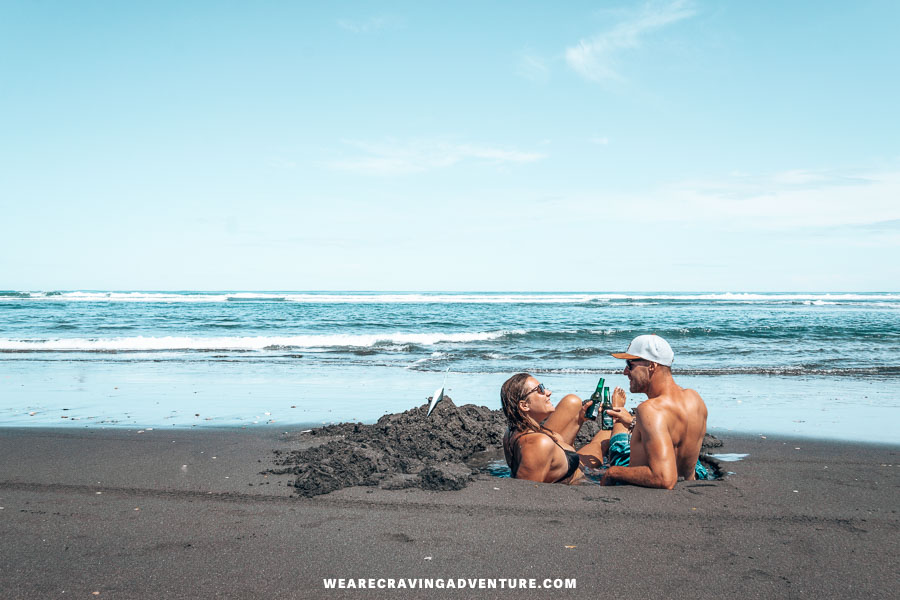 Hot Water Beach – Kawhia
Wipe the spray from the waterfall off your face, drive to Kawhia on the island's west coast and park at the end of the road here. You might have heard about Hot Water Beach in the Coromandel, one of the big attractions in New Zealand's North Island, and might also have wondered why we haven't included in this itinerary. That is because we're hardly exaggerating when we say that on a regular summer day there are more people than grains of sand there. Fortunately, we found a far less crowded alternative, and that is the hot water beach in Kawhia where you're going now.
Get your beach bag out, grab something you can dig with and walk over the sand dune to the beach. As you come down from the sand dune there is a pole sticking out of the sand. From this pole, walk in a straight line towards the water and keep an eye out for little bubbles in the sand or the smell of sulphur. When you see bubbles or smell sulphur, just start digging! Once you're about 30-40 centimeters deep, warm water comes up from the ground and you've got yourself your very own hot pool on the beach. After yesterday's challenging hike your legs will thank you for this!
The Three Sisters and Elephant Rock
The next stop is the Three Sisters and Elephant Rock. These rock formations are only accessible around low tide, and if possible try to combine this with arriving just before sunset because that's when they are a truly stunning view. Park your car at this car park on Clifton Road and follow the rocky coastline for about 5 minutes until you get to the beach.
When you get around the corner, you are met by the Three Sisters, standing where the beach meets the sea. These 25-meter high rock formations look a little bit like Te Hoho Rock at Cathedral Cove. Funny enough there are actually only two sisters still standing, and 20 years ago there were even four of them. Erosion has taken its toll and made two of them collapse in recent years.
Continue past the three sisters to get to Elephant Rock. This is a big rock that (you guessed it) resembles the shape of an elephant. It looks a bit disfigured, but this is again due to erosion. It used to look like the elephant had its trunk in the water, but a few years ago the poor thing lost its trunk to the sea.
Get back in your vehicle and drive another hour alongside the coast to New Plymouth, at the foot of the magnificent Mount Taranaki.
Where to stay in New Plymouth
BEST VALUE
Located just out of the city center and surrounded by greenery, this hostel has both dorms and private rooms. It also has a sun lounge that looks out on Mount Taranaki.
MOST UNIQUE
Ever been glamping? This is your chance! And what better place than at the foot of the magnificent Mount Taranaki?! These luxurious tents out in nature are equipped with all necessary facilities.
BEAUTIFUL VIEW
This stunning wooden mansion is located on the top of a hill just outside of New Plymouth's center. From the big terrace, you have beautiful ocean views. The rooms are big, stylish and comfortable, and the included breakfast is incredible.Try the Eggs Benedict!
Lake Rotomanu – This is your best campervan option. It is located in a park right next to a beautiful lake and a few minutes walk from the Te Rewa Rewa Bridge, which is a sightseeing option for tomorrow. Find it in the Campermate app.
Day 12 – Taranaki Peninsula
Driving distance: 105 km | driving time: 1 hour, 23 minutes
What you'll do today depends on how you feel and what you want to see. If your legs feel fine again, then there is a 5-hour return hike on Mount Taranaki that is well worth the time. If you're still sore then it is best to skip this hike. Instead, we can suggest a few spots to see Taranaki from, and some nice beaches that are perfect for a relaxing day.
Pouakai Tarns hike
If you've done some more research on spots to see, you most likely came across pictures of Mount Taranaki and its perfect reflection in the water. These pictures were taken on this hike. Getting there takes about 2,5 hours one way, and then the same way back. The elevation change is only gradual, but almost the whole track long. While it isn't nearly as straining as the Tongariro Alpine Crossing, it is not a leisure walk in the park. So don't forget to wear proper hiking gear and bring plenty of water and some snacks.
In the morning, drive towards the mountain and park in this car park at the end of Mangorei Road, this is where the track starts. The first 1,5 hours of the way leads you up through the forest. The forest is beautiful, but other than the forest there is nothing to see in this part. After you pass the Pouakai hut and reach the top of the ridge, Mount Taranaki peaks out and as you reach the saddle you can really see how HUGE this volcano is. Another 20 minutes and you're at the tarns. If you're lucky enough to get a clear and wind still day, you get a perfect reflection of Mount Taranaki in the water. Get your Instagram shot, have a snack by the water and return back the way you came.
New Plymouth
If you've decided not to hike up to the Pouakai Tarns, then start your morning with a stroll in New Plymouth. This small city is full of quirky coffee shops. Just pick one that catches your eye and go in for breakfast. New Plymouth is known for its art scene, and many coffee shops double as art galleries to allow local artists to showcase their work.
Te Rewa Rewa Bridge
Still want a nice view and a decent picture of Mount Taranaki? Then go to the Te Rewa Rewa Bridge. The shape of this bridge is made to look like a breaking wave, and if you look straight across it from the northern side it perfectly frames Mount Taranaki. The bridge lies next to a nice park with a lake, and it is also the start of the coastal walk to New Plymouth.
Lake Mangamahoe
Another option is to go to Lake Mangamahoe. This lake feels a bit like a hidden oasis in the middle of a forest. From the northern shore of the lake, you have an incredible view on Mount Taranaki over the water. Just don't make the same mistake we made and don't get into the water of the lake. We took our paddleboards out on the lake, but then a DOC ranger came to take us out and told us that going in the lake is prohibited. Apparently this lake is used as New Plymouth's water supply, whoops…
The Surf Highway
Highway 45 going west from New Plymouth, alongside the coast of the Taranaki Peninsula, is known as the Surf Highway. On top of awesome surf break after surf break, this coast is also known for its beautiful black sand beaches. The nicest beaches along the way are Oakura Beach, Opunake Beach, and Ohawe Beach. Another worthwhile stop is at the Cape Egmont Lighthouse. Looking from the coast inland you get an amazing photo opportunity with the lighthouse in the foreground and Mount Taranaki in the back.
Where to stay around Taranaki
BEST VALUE
Located in the middle of a massive farm with wide-open views on Mount Taranaki. They offer dorms, private rooms and self-contained chalets. If you're there in spring you can help feed the calves if you like.
GREAT LOCATION
This 4-star motel located just outside of Hawera's center is surrounded by big gardens with farm animals. The motel has a hot tub with an unobstructed view on Mount Taranaki.
AMAZING BREAKFAST
Big wooden house in the middle of a beautiful estate. They offer spacious, elegantly furnished rooms, a big terrace, and an outdoor swimming pool. A delicious breakfast is included.
Day 13 – Drive to Wellington
Driving distance: 282 km | driving time: 3 hours, 35 minutes
Today you'll make your way down alongside the coast to Wellington, the last stop of your New Zealand North Island road trip. You'll pass a few interesting spots and beaches, and the Kapiti coast with Kapiti Island just off the shore.
Whanganui Regional Museum
Have an easy morning, maybe go to the beach for a bit and then drive to Whanganui. The town of Whanganui itself isn't all that much, but it the Whanganui Regional Museum is worth a visit. This museum has a lot on the history of New Zealand's flora and fauna. Have you ever heard of the Moa? A massive ostrich-like bird that reached almost four meters in height and was hunted to extinction by the Māori people. Well, they show loads about the Moa here. They have a giant waka in the center of the museum, and something that can only be described as a mad scientist's lab.
Kapiti Coast
Have some lunch in Whanganui, and drive on to the Kapiti Coast. The Kapiti coast consists of 40 kilometers of uninterrupted beaches. The west coast is notorious for strong riptide and undercurrents, which makes that not all the beaches are suitable for swimming, but most of them are beautiful and tranquil. Otaki Beach is known for its epic surf and always has a surf watch in summer. Peka Peka Beach is the smallest town on the Kapiti Coast but has the most beautiful beach. Waikanae Beach is the best beach for swimming and has the best views of Kapiti Island, a predator-free bird sanctuary 5 kilometers off the coast.
After all that beach hopping in the past few days, you've probably seen enough beaches for a while. Brush off the sand and drive to Wellington for the last day of this itinerary.
Where to stay in Wellington
Hotel Waterloo And Backpackers
BEST VALUE
This hostel in the city center has dorms and private rooms for great prices. They host activities and games in their bar for those interested. Value for money you won't find anything better in Wellington.
GREAT LOCATION
Located in the center of town, a few minutes walk away from Civic Square and the wharf. These spacious and modern apartments are perfect if you want a quiet night and a good sleep.
MOST LUXURIOUS
The InterContinental brand is known all over the world for its excellence. In this case, you get a 5-star luxury hotel located on the city's waterfront. Big and elegant rooms, a fitness center, indoor heated pool and spa, two bars and an award-winning restaurant. Pure luxury!
Owhiro Bay or Evans Bay – These free campervan parking sites are your best campervan option. Combined they have 67 parking spots, but they tend to fill up fast. Have a look at the suggestions above as a back-up. Find both in the Campermate app.
Day 14 – Wellington
Welcome to New Zealand's capital, also known as '"Windy Welly" or "Wellywood"! The nickname Windy Welly comes very simply from Wellington being very windy. Wellington lies on a point of land sticking out into the Cook Strait. The Roaring Forties, strong westerly winds found below 40 degrees latitude on the Southern Hemisphere, push through the Cook Strait even stronger, making Wellington extremely windy.
The nickname Wellywood comes from the massive film production business that was established in Wellington by Peter Jackson for the Lord of the Rings movies.
Whichever name you use for Wellington, it is a buzzing city with lots to do and see, with great food culture, and generally just one of the nicest cities in New Zealand's North Island if you ask us!
The Weta Cave
Are you a Lord of the Rings fan? Then you have to check out the Weta Cave. The Weta Cave is part of the Weta Workshop where all special effects, most of the props and costumes for the Lord of the Rings and The Hobbit Movies were made. After filming, the Weta Cave was opened to show visitors the making of special effects and props, and where many of the props used in the movies are displayed. Make sure to book your tickets for the Weta Workshop in advance.
Mount Victoria
Drive up Mount Victoria (or walk up if you're in for a bit of a workout) and stop at the Mount Victoria Lookout. This lookout provides unobstructed 360-degree views over the city and the harbour. On a clear and less windy day, you can even see New Zealand's South Island from here! On a windy day, Mount Victoria is as windy as it gets and walking uphill will be a real struggle. Oh, and don't wear a hat or a cap up here. Tom lost his to the wind basically the second he stepped out of the car.
Te Papa Tongarewa Museum
This museum is housed in a beautifully designed building on the waterfront in the center of Wellington and houses a permanent exhibition on the Māori people, New Zealand's incredible wildlife, and the earthquakes that regularly terrorize the country. It also has an earthquake simulator that lets you experience just how severe the 2011 earthquake that laid waste to Christchurch and cost the lives of 185 people was.
Bars and craft beer breweries
One of the things we love the most about Wellington is the many bars and craft beer breweries! Take a walk around the wharf and sit down at one of the many bars (like on the massive lawn in front of St John's) or head into town to visit one of the many craft beer breweries. Our favourite one is The Garage Project. As the name suggests, they started brewing beer in their garage (and still kinda do) and the beer they make is just yummy! Even though they've grown quite a bit since then, they still have a bit of this underground microbrewery vibe. We also like the Whistling Sisters brewery that is more centrally located. A bit further out of town you'll find the Parrotdog Brewery. Their beers are delicious and the name is just hilarious. There are many more breweries to choose from in Wellington, and if you're a craft beer enthusiast like us you'll love all of them!
Read Next: 20 secrets nobody tells you about travelling in New Zealand
Next steps
So that's it, the end of this New Zealand North Island road trip! Although there are still some things we have to go over. What to do if this is the end of your New Zealand trip, and what to do if you're going to the South Island
Leaving New Zealand?
Pack up your stuff and go to your car or campervan rental company. All the bigger rental companies have locations both in Auckland and Wellington, and in Wellington, most of them are conveniently located near the airport. Go to the airport and fly home or to your next destination.
Going to do a New Zealand South Island road trip?
That's awesome, good for you! New Zealand's South Island is possibly even more scenic than the North Island. The easiest way to get to the South Island (and the only way to take your vehicle with you) is by ferry. There are two New Zealand North to South Island ferry companies that can take you there, and it doesn't really matter which one you pick as they are very similar and equally priced, just make sure you drive to the correct one as they each depart from a different port.
Bluebridge Cook Strait Ferry – They have a small cinema aboard this ferry where they play movies. The Bluebridge ferry terminal is located at 50 Waterloo Quay , Pipitea, Wellington.
Interislander Cook Strait Ferry – They have free Wi-Fi on board, which in all honestly is too slow to be of any use. The Interislander ferry terminal is located at Aotea Quay, Pipitea, Wellington.
---
3-week route
If you have more than two weeks to spend for your New Zealand North Island road trip you can add some stops to this itinerary. Below we've listed some suggestions of places that would be a great addition to your trip. If want to add these extra days, we recommend changing your route to make it more efficient. The optimal route, in this case, would be the same up until day 8, and then from Hobbiton change the route as follows: Hobbiton – Waitomo – Taranaki – Forgotten World Highway – Tongariro Alpine Crossing – Taupo – Rotorua – Gisborne – Napier & Hastings – Castlepoint – Putangirua Pinnacles – Wellington. This is basically the same route we took ourselves, except that we travelled it veeeery slow and spent over three months exploring everything around. If you have three months too, lucky you! If you don't, then three weeks is enough for this route.
3-week itinerary overview
Days 1-8 – As above
Day 9 – Waitomo
Day 10 – Taranaki Peninsula
Day 11 – Forgotten World Highway
Day 12 – Tongariro Alpine Crossing
Day 13 – Taupo
Days 14 & 15 – Rotorua
Day 16 – Drive to Gisborne
Day 17 – Gisborne
Day 18 – Napier & Hastings
Day 19 – Castlepoint
Day 20 – Putangirua Pinnacles
Day 21 – Wellington
Forgotten World Highway
State Highway 43 is more commonly known as the Forgotten World Highway. This 148 kilometer long road winds its way from Stratford near Mount Taranaki over green rolling hills, through dense rainforest, and past impressive rocky cliffsides to Taumarunui close to National Park. While 148 kilometers doesn't seem that long, driving it will take you all day. This is because the road goes up and down over the many hills in the region, most of the time you're driving on gravel roads, and there are plenty of (peculiar) things to see along the way.
The most peculiar thing on the Forgotten World Highway is Whangamomona. This tiny settlement of only a few dozen buildings declared itself an independent republic in 1989, and now has its own government and president. In the center of town stands the Whangamomona Hotel, where you can get your passport stamped.
The second peculiar thing is the Moki Tunnel. The Forgotten World Highway is a two-lane and two-way road all the way, except for the Moki Tunnel. This 180-meter long tunnel was carved out by hand, and is only wide enough for one vehicle. You better check if no one is in from the other side as you enter, or you might get stuck in the middle!
The last point of interest is the Mount Damper Falls. Driving there is about an hour detour off the Forgotten World Highway, and then another hour return walk over private farmland full of sheep to the waterfall, but it is more than worth the extra time. With a 74 meter drop, this is one of the highest waterfalls on New Zealand's North Island, and after some rainfall, it is a truly spectacular sight.
Gisborne
Gisborne is New Zealand's most eastern city, and it is the first city in the world to see the sunrise! Apart from getting up early to be able to brag to your friends that you saw the sunrise before anyone else, there is enough to do in Gisborne to fill a few days. Another good thing that comes from Gisborne being located on this eastern peninsula is a pumping surf. If you're into surfing then this is an amazing place to get your surfboard (and wetsuit because the water is cold) out as it is regarded as one of the best places for surfing on New Zealand's North Island
The coolest thing we found around Gisborne is the Rere Rockslides, about 45 minutes from Gisborne. Here you'll find a big, curtain-like waterfall that you can walk behind, to then jump through the waterfall into its plunge pool. The real attraction, however, is behind the waterfall, where the water has polished the rocks into a 60-meter long natural slide. Bring a bodyboard or an air mattress and speed down on the rocks. When you're done with all this fun head back to Gisborne to indulge at one of the many wineries in the area.
Napier and Hastings
Napier and Hastings are well known for their wineries, possibly even more so than Gisborne. Visiting a winery is always a good idea, but how about visiting multiple in a row, without having to worry about drunk driving? Book this bicycle tour that takes you through the beautiful Hawke's Bay region to visit multiple wineries and have some of their delicious wines.
Next up is Napier itself. Take a stroll through the quirky center and have a look at all the art deco buildings and landmarks that make the town so interesting. Then head to Te Mata Peak just south of Hastings. If you feel like hiking, then walk up as it is a beautiful walk, but if you're feeling lazy you can just drive to the top (which is what we did). From the top, you have an incredible 360 degrees view over Hawke's Bay and all its rolling hills, green fields, and vineyards.
Castlepoint
Castlepoint is a small town at the end of a long road, leading away from anything else, but it is honestly the most worthwhile detour you can make on New Zealand's North Island. This off the beaten path location is absolutely stunning. We decided to go to Castlepoint, thinking we'd have a quick look and turn back in a matter of hours, but got completely mesmerized by the scenery and ended up staying for three days.
So why is Castlepoint so special? Well, for starters it has a beautiful, long, sandy beach. But what makes it one New Zealand's top 10 most loved beaches is actually the surrounding scenery. Read all about Castlepoint here, and we'll guarantee that you'll want to make the detour as well.
Putangirua Pinnacles
Close to the South Island's most southern point; Cape Palliser, you'll find the Putangirua Pinnacles. This otherwordly landscape of gravel pillars is seven million years old, and are arguably the most awesome rock formations in New Zealand. A two-hour loop track takes you up through the forest to a platform overlooking the Pinnacles and then takes you down to walk in between these giants. You get a bit of an eerie feeling when you walk past all these barren rocks, which makes you understand why this location was chosen to film the Dimholt Road in The Lord of the Rings – Return of the King.
---
Typical costs of travelling in New Zealand
The costs of travelling in New Zealand are greatly determined by your choice in travelling by campervan, or by car. A campervan costs a lot more to rent per day, but you can save a lot by sleeping in campsites and cooking your own food, whereas with a car your accommodation and food costs are a lot higher.
The cost breakdown below is based on eating one meal in a restaurant per day and cooking the rest yourself, and doing some of the activities that we suggested in the itinerary. The difference between 175 and 225 NZD per person per day comes down to what type of car/campervan you choose and the type of accommodation you stay in.
Suggested New Zealand road trip budget: 175 – 225 NZD per person per day as a couple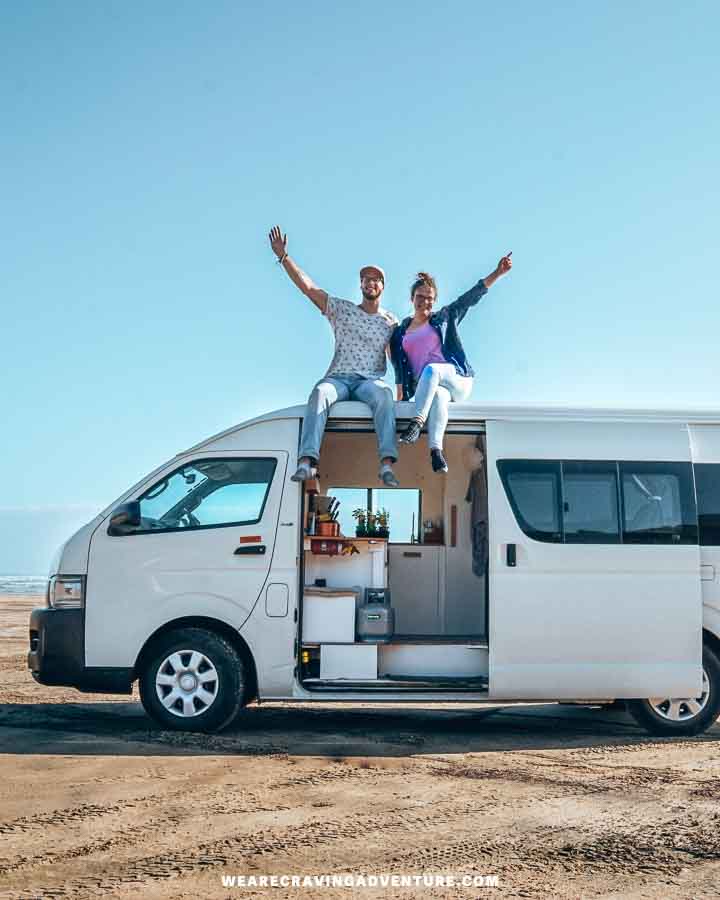 Cost breakdown
HOTEL: 80 – 300 NZD / NIGHT
HOSTEL: 20 – 30 NZD / NIGHT/ PP
CAMPSITE: 0 – 30 NZD / NIGHT
GROCERIES: 5 – 10 NZD / MEAL / PP
RESTAURANT: 20 – 40 NZD / MEAL / PP
ACTIVITIES: 20 – 300 NZD
CAMPERVAN RENTAL: 100 – 300 NZD / DAY
CAR RENTAL: 50 – 100 ND / DAY
DIESEL: 1,65 NZD / LITER
PETROL: 2,39 NZD / LITER
Money saving tips
Cook your own meals as much as you can. Al lot of accommodations have a kitchenette and your campervan will come with a cooker. Campsites often have cooking facilities too and you can find free or coin-operated barbeques in parks around the country.
Do your grocery shopping at PAK'nSAVE. We found this to be the cheapest supermarket chain in New Zealand, but they only have stores in the bigger towns. FourSquare is generally the most expensive one. We also found that grocery prices can vary a lot depending on your location, so we recommend to stock up in the bigger cities and less touristic places as they tend to be cheaper.
If you're renting a campervan, stay in free campsited where you can.
When eating out, check First table for 50% off on food at restaurants. They have a big variety of participating restaurants you can choose from. You need to book the table in advance via their website. The reservation is 5-10NZD and you get 50% off on your meals, but not drinks. We used this quite a bit to eat at some very nice restaurants, without having to pay top dollar for it.
Getting around in New Zealand
By now we've probably made clear that you really need your own transportation in New Zealand, and one of the main things to be aware of when driving in New Zealand is that they drive on the left side of the road. The next thing to keep in mind is that New Zealand roads are different and you should always account for some extra time when driving from A to B. The roads are often steep, windy and narrow, there are one-lane bridges everywhere, roads are hardly ever more than two lanes and gravel roads are a common occurrence. Take your time, stop regularly (which is not a punishment with all that beautiful scenery) and don't see maximum speeds as a target, because there are often unsafe.
That being said, let's talk about the best way to get around in New Zealand; in a campervan! Not only does it help you cut down on costs as we explained before, but you also don't have to pack and unpack all the time, you always have your home with you in bad weather, and it gives you a lot more freedom to go where you want to go. We've converted our own campervan and travelled around New Zealand in it for a year, so we can tell you from personal experience why a campervan is the best way to travel New Zealand.
Best time to visit
The best time to visit New Zealand all depends on what you prefer. The weather, cost of travelling, amount of people and even how the landscapes look is different in every season of the year. The weather in New Zealand's North Island is subtropical to temperate. In summer temperatures go up to around 30 degrees celsius, and in winter they go down to around 0 degrees celcius, with snow and ice on higher altitudes.
SPRING: September, October & November – With spring starts the hiking and outdoor adventuring season as temperatures start to rise and the country is in full bloom. Funnily enough, the lakes and rivers are the coldest in spring, as they fill up with melting water from snow in the mountains. New Zealand is the greenest in spring, and the prices for vehicle rental and accommodation are relatively low. Spring is best if you like mild temperatures but don't mind the occasional rain shower, like to see New Zealand in its fairytale-like state and want to avoid the crowds.
SUMMER: December, January & February – Summer is high season in New Zealand. This means that higher amounts of people and higher prices come along with the higher temperatures. Summer is the best season to spot most of New Zealand's incredible wildlife and to visit New Zealand's beaches. Go to New Zealand during summer is you want high temperatures, don't mind crowds or just actually want to meet people, and don't mind paying more for vehicle rental and accommodation.
AUTUMN: March, April, May – Autumn is great for hiking and outdoor activities. The country changes to autumn colours and the days are still relatively long with pleasant temperatures. Most of the crowds have left and with them the high prices as well. Autumn is best if you want to focus on outdoor activities without overheating in the summer sun.
WINTER: June, July, August – When it comes to tourism, winter in New Zealand has one focus: Winter sports. With snow on almost every mountain, skiing and snowboarding is what it is all about in New Zealand during winter. Outside of the winter resort areas, all the crowds are gone, and vehicle and accommodation prices are half of what they are in summer. Winter is great is you want to save money and avoid the crowds or if you want to go skiing. For skiing in New Zealand's North Island; check out Mount Ruapehu.
What to pack
New Zealand is not your typical holiday destination, so what you should pack isn't typical either. Of course there are the basics like our clothes and toiletries but be sure to put some thought in what you're going to need specifically for New Zealand, like your hiking gear, an extra sweater and rain jacket for the unpredictable weather, a daypack, your camera gear, and plenty of insect repellent.
 Read Next: New Zealand Packing List
Insider tips
If you're travelling with someone, we recommend to each get a SIM card from a different provider. Mobile reception in New Zealand is patchy to say the least, and when one provider doesn't have any coverage, the other one often does. This gives you the biggest chance of at least one of you having reception. We went with Spark and 2degrees and this combination worked well for us.
We found that fuel is the cheapest around Taupo and Rotorua. So it is a good idea to fuel up as much as you can before leaving this region.
ACC covers you for accidents but if you get sick or loose your luggage or anything else happens, you'll need a good insurance to cover it for you. We always get insured before we leave and Travel Insurance Masters is our go to platform to find the best insurance options for the specific trip.
Download the Campermate app – This app shows you where (free) campsites on New Zealand's North Island are, where facilities like public toilets, water taps are, and even gives you suggestions on things to see nearby.
Download the Maps.me app and download the map of New Zealand in the app – This navigation app works without any data, as long as you have a GPS signal. This is great for when you're in an area without mobile coverage.
Learn from our experience and read our breakdown of New Zealand's good, bad, and ugly.
---
Excited yet?!
New Zealand's North Island is an amazing place full of culture and the most beautiful sceneries. Following this New Zealand North Island road trip itinerary will be the adventure of a lifetime, but a real New Zealand road trip isn't complete without including New Zealand's South Island, which is possibly even more impressive!
---
Have you been to New Zealand? Would you like to go?
Let us Know in the comments below!
---
---
Sharing is caring
Click the icon below to share this article with your friends.
It means so much to us!