Hvar Itinerary – the best of Hvar Island in 3, 5 or 7 days
Hvar is one of the sunniest and liveliest islands in Croatia known for its beautiful beaches, vibrant bar scene, rich history, and exquisite cuisine. Hvar is the perfect summer destination and an absolute must visit in Croatia.
I was fortunate enough to spend a whole month in Hvar, basking in the Mediterranean sun, exploring the hidden bays, finding the best sunset views, and eating the most delicious food. During this time I've hung out with locals and explored some highly underrated hidden gems, beyond the usual touristy route,
It's fair to say that I've grown to know the island inside out and now I'm sharing all my insider knowledge with you! Below you'll find carefully crafted itineraries and recommendations on the best things to do on Hvar in 3, 5 and 7 days.
Hvar Itinerary overview – the best of Hvar Island
I've condensed all of the best things to do and the most amazing places to see into these 3, 5 and 7 day itineraries. All of these allow for plenty of leisure and beach time, without missing out on sightseeing!
I'll be giving you plenty of information with links to other relevant articles for each place or activity whenever I mention it for the first time. But since these activities repeat for different itineraries I left those as a list and you can refer back up for more info when needed.
The best way to experience the itineraries below is by having your own wheels. For this you can either take your car over on the ferry, rent a scooter or rent a car.
Where to stay in Hvar
If it's your first time on Hvar, then staying in Hvar town is the obvious choice and this itinerary has been designed with a base in Hvar town in mind. That being said you can easily adapt it if you're staying anywhere on the western side of Hvar island.
Hvar town is fairly small and easily walkable, but when picking where to stay keep in mind that there are hills and parking can be an issue. The old town is a pedestrian-only zone and in the peak of summer, the party scene is lit.
If you do choose to stay in the center of town, Hektorovic house just off the main square is a fantastic choice with great value.
We stayed at Apartments Ivanovic and loved it, it was clean, spacious, and quiet. What we didn't necessarily love is the walk up the hill, but this was a necessary evil in order to have secure parking in front of the house.
If you prefer to stay in a hotel rather than an apartment then Adriana Hvar Spa Hotel is the perfect choice smack in the middle of town.
AFFORDABLE & CENTRAL
Just off the main square these stylish rooms are perfectly located to explore Hvar.
BLUE & GREEN OASIS
Sleek, modern design, stunning ocean views, and exceptional service.
CENTRAL AND LUXURIOUS
With gorgeous views, excellent service, and fabulous amenities.
How many days on Hvar?
Three to five days is the perfect amount of time to see Hvar for most people and is enough time to see the main sights, enjoy the beach a little as well as get a little taste of the island beyond Hvat town.
Three days will allow you to see the main attractions in Hvar town, explore the magical Pakleni islands, as well as a bit of the Western side of the island. In five days you'll be able to explore Hvar Island extensively, enjoy the many beaches and you'll get to explore some of my favorite hidden gems too. If you want to explore deeper and visit some of the surrounding islands, you'll need a full week, which will also give you enough time to hop over to the surrounding islands should you choose to.
Hvar Island is the fourth largest island in Croatia and its shape is quite narrow and long with plenty of hills. The roads aren't great, and getting from A to B takes way longer than one would hope for. Allow for some extra time if you'd like to explore the island in its fullness.
7-day Hvar itinerary
One week is the perfect amount of time to discover Hvar Island and it's surroundings, work on your tan on the most beautiful Hvar beaches, venture off the beaten path and explore the surrounding islands.
Day 1 – Hvar Town
Take the first day to explore Hvar town and its beautiful beaches. Start the day by visiting the Spanjola Fortress, then find some shade in the narrow alleys of Hvar old town and discover its history and imposing architecture.
Join this walking tour for a guided experience and a similar route as the one I suggest below. A knowledgeable guide will explain the sights and history into more detail and the tour price includes all entrance fees!
When it gets too hot it's time to go for a swim, before ending the day with a beautiful sunset display with drink in hand at Falko beach bar.
Spanjola Fortress
Perched above Hvar, the Fortica or Spanjola Fortress is quite a sight! And the views from the top? Even better!
We recommend you start early and hike up the Spanjola Fortress before it gets too hot. Here you can enjoy your morning coffee with views all over town and the Pakleni Islands.
To get to the fortress follow the signs from town and make your way up the many stairs until you reach a winding footpath lined with pine trees and aloe vera plants. As you keep climbing up the views keep getting better!
Location: Spanish Fortress
Opening times: 9 AM – 9 PM, open until 10 PM on Saturday
Entrance fees: 50 kuna or 80 kuna for the combined ticket (fort, theatre, arsenal, clock tower)
Explore Hvar Town and its charming alleys
One of my favorite activities in Hvar was to just get lost and explore these little alleys and find new bars, shops, and restaurants. Hvar has some of the most charming stone streets lined with beautiful old houses, loads of potted plants, and exquisite hidden corners. So take a detour or two as you make your way down from the fort.
Book your tour: Hvar walking tour

Read next: The ultimate guide to Hvar town
Saint Stephen's Square & historic buildings
Saint Stephen's Square is at the heart of Hvar town and where you'll find some of the most impressive buildings of Hvar. With its 4500 square meters, this is the largest square in Dalmatia. The square used to be part of the bay but was leveled out and paved in the 18th century.
On the southern side of the square you'll find the Arsenal and, on the second floor, the historic Hvar Theatre which is considered to be the first European public theatre that was also available to the lower class.
Facing the sea and Hvar's little harbor is the Saint Stephen I. Cathedral with its adjacent renaissance bell tower. In front of it a large elevated platform serves as the meeting grounds for locals and tourists alike.
Location: Trg Svetog Stjepana
Book your tour: Hvar walking tour
Franciscan Monastery
This 15th-century Franciscan monastery sits on the little peninsula just around the corner from the Hvar Riva with the pretties little beach right in front of it and surrounded by a lush green garden. The monastery houses a small museum and the gardens make for the perfect quiet stroll under Cypress trees.
Location: Franciscan Monastery
Opening times: 9am–3pm & 5–7pm, closed on Sunday
Enjoy the beach
Pokojni Dol and Bonj beach are both within walking distance (in opposite directions) from the old town of Hvar. Bonj is the closer, more popular one but in our opinion, Pokojni Dol is the much nicer one!
Shop these beach essentials:
Pick Bonj Beach if you don't feel like walking too much (it's not only closer but also on the way to your last destination of the day), if you want a bit of a party vibe, a selection of bars and the option to rent paddleboards or a jetski.
Pick Pokojni Dol if you prefer a nicer bay with a more relaxed vibe and beautiful clear water. There's also two restaurants here where you can grab some refreshments or lunch.
Read next: The best beaches on Hvar island
Sunset drinks at Falko
Falko Beach bar and restaurant is located at the tip of the little peninsula and it is one of the rare places in Hvar where you can watch the sun drop down (almost) into the sea rather than disappear behind a hill hours before sundown.
We loved the relaxed vibe at Falko Beach Bar, the abundance of hammocks, bean bags, and cozy places to chill. During the day you can rent sun beds here, or have lunch, but the real magic happens as the sun starts going down.
Location: Falko Beach Bar & Food
Opening times: 11 AM – 9 PM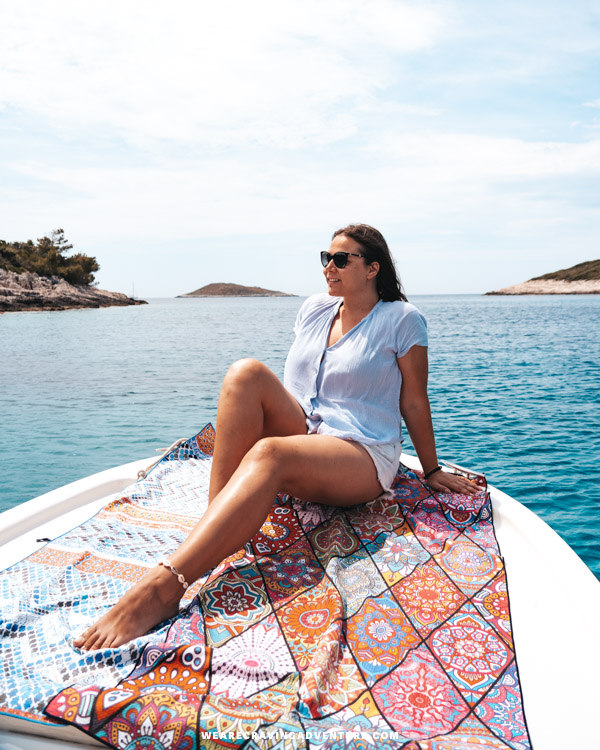 Day 2 – Pakleni Islands
Spend the second day out on the water exploring the gorgeous Pakleni Islands just off the coast of Hvar town and end the day with a celebratory drink at Backlane Craft bar, maybe even followed by a night out!
Read next: The ultimate guide to the Pakleni Islands
Pakleni Islands
The Pakleni Islands are a chain of rocky islets that dot the sea just off the coast of Hvar. This beautiful archipelago is only a short boat ride from Hvar town.
The Paklinski Islands are the perfect place to bask in the Mediterranean sun, swim in the clear Adriatic waters and just have a bloody good time! Here you'll find picturesque coves, stunning beaches, hip bars, and beautiful nature.
If you have a boat license then renting a boat and exploring at your own pace is the best way to experience the Pakleni islands.
This private tour is the next best thing, and if you're on a budget I highly recommend this group tour to the Blue Cave and Pakleni Islands. You can also catch a water taxi to the islands, but you'll be limited to one island.
Book a private tour to Red rocks & Pakleni islands
Drinks at Backlane
BackLane is by far our favorite bar in Hvar! They brew their own beer and the IPA was absolutely fantastic, just the right amount of bitter versus fruity. You can also choose from a vast array of delicious cocktails and enjoy live music in a beautiful stone alley.
Location: BackLane craft bar
Opening times: 9 AM – 1 AM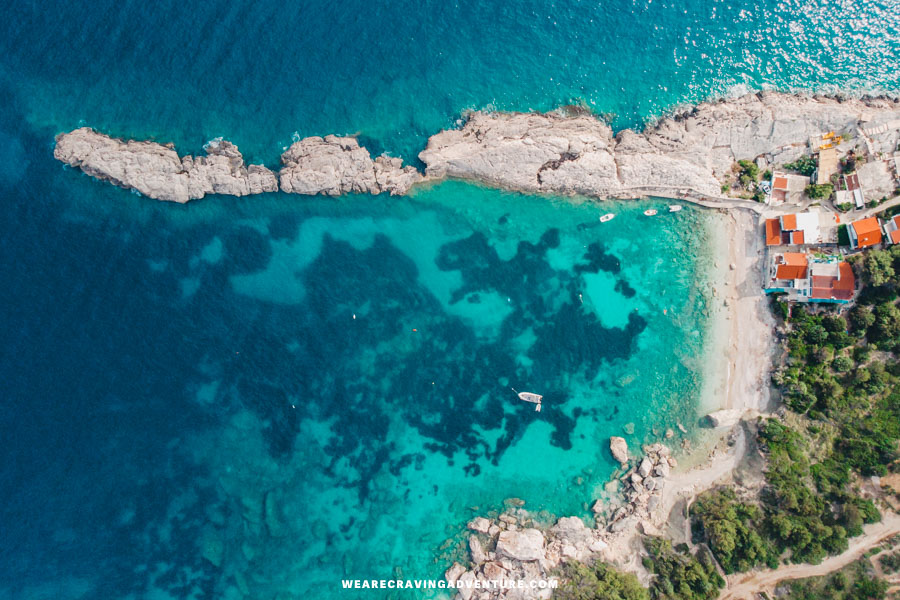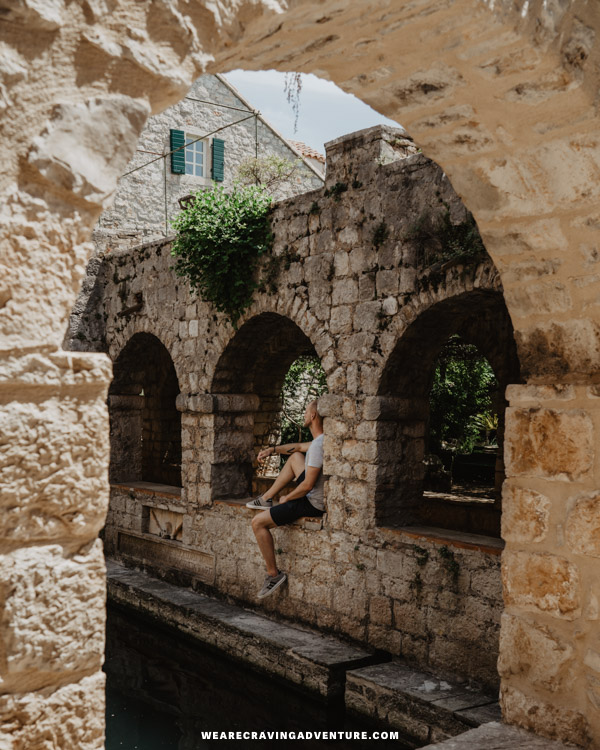 Day 3 – Beaches and Stari Grad
It's time to venture beyond Hvar town. Grab your rental car or even better, rent a scooter and head off to some of the most beautiful beaches on Hvar and just take it easy and enjoy the beautiful Mediterranean holiday. In the late afternoon make your way toward Stari Graad and its plains.
Read next: The best beaches on Hvar island
Zarace beach
Zarace beach is actually two beaches very close together, each with a completely unique look and vibe. As you drive on the 116 road you might notice long rocky spits just off the coast. They look absolutely mind blowing, actually if you check out Zarace on google maps it looks a bit like Yoda's head is poking from beneath Hvar island.
Malo Zarace is an idyllic little bay with a small pebble beach that has always been a local's favorite. Velo Zarace beach is approximately the same size as Malo Zarace, but there is no boulder in the middle and the rocky spit reaches way further into the sea. This beach is a lot more open and more popular, partially due tot he beach bar and restaurant here.
Location: Malo Zarace, Velo Zarace
Dubovica beach
Dubovica beach is a long stretch of pebbly beach in a decently sized cove just a short drive from Hvar town. To get there you'll walk through olive groves before getting down to this picturesque bay with white pebbles and old stone houses adding to its picture perfect vibe.
Location: Dubovica Beach
Stari Grad
Stari Grad is the quieter, more authentic alternative to Hvar town and, in peak season, a very welcome retreat from all the craziness and parties of Hvar town. With a peaceful harbor, a long riva, charming stone alleys, and gorgeous hinterlands and bays, Stari Grad is a true gem you must explore!
We highly recommend you visit Petar Hektorovic Fortress (Tvrdalj), stroll down the riva, meander the old stone streets, feel the coziness of the many squares, and admire the many, many churches.
Read next: The ultimate guide to Stari Grad
Petar Hektorovic Fortress (Tvrdalj)
Petar Hektorović was a Croatian writer and poet who was born and died in Stari Grad. Tvrdalj was his summer residence, a Renaissance home that was later fortified so that it could act as shelter before the Turks for the local citizens.
Inside you'll find a beautiful sea water fish pond surrounded by arcs, a peaceful garden and the old kitchen at the back. The living quarters are closed to the public and are privately owned.
Location: Tvrdalj of Petar Hektorović, Stari Grad
Opening Times: 10:30AM–1:30PM
Entrance fee: 20 kuna
Stari Grad Plains
Stari Grad plains are a UNESCO world heritage site, protected for the preservation of the ancient chora, a geometrical system of land division used by the ancient Greeks. Here you'll also find several roman ruins and archaeological sites.
Wine tasting at Hora winery
In the heart of the Stari Grad Plains you'll find a gorgeous agrotourism, Hora Winery. They mainly serve their own products; wine, olive oil, cheese and cold cuts.
We did a wine and olive oil tasting at Hora Winery and not only was it fabulous, but very reasonably priced too! On top of that they offer peka (order at least 2h in advance!) and BBQ dishes if you choose to have dinner here.
Location: Hora Winery
Opening times: By reservation
Day 4 – Beaches of the South
Today calls for a car., or even better, an ATV as you'll be exploring the beaches of the South followed by dinner (which is an experience in itself) at our favorite restaurant on Hvar.
This itinerary takes you to three different beaches, so pack your sunscreen, a lunch pack and plenty of water.
To reach Luscica beach and Gromin Dolac you'll have to drive over dirt roads and most car rental companies won't allow you off tarmac roads. If you don't want to rent a quad, you can walk from Sveta Nedjelja to Luscica beach (about 1km) and skip Gromin Dolac beach.
Read next: The best beaches on Hvar
Luscica beach
The small, picture-perfect white pebble beach is surrounded by aloe vera plants at the back, sloped rock shores on the sides, and boasts a breathtaking backdrop of steep cliffy mountains. The scenery here really is breathtaking!
Location: Bay Lučišća
Sv Nedelja
Sv. Nedilja sits right under Sv. Nikola, the highest mountain on Hvar and is a quiet retreat with beautiful scenery and a unique underwater wine cellar in the harbor.
Read next: Your guide to Hvar island
Jagodna bay
Jagodna Beach is a little slice of paradise just a few minutes drive from Sveta Nedilja. What makes it so special? Sand! Yes, you heard that, Jagodna beach is (at least partially) a sand beach, in Croatia!
Location: Beach Jagodna
Gromin Dolac Beach
Gromin Dolac Beach is like no other beach we've found on Hvar! Under a cliff of conglomerate sedimental rocks, you'll find a decently sized pebbly beach. But its most unique feature, and the reason we decided to visit Gromin Dolac in the first place, is the cave like formations.
Location: Beach Gromin Dolac
Dinner at Konoba Kokot
If we only had one mean on Hvar Island we'd want to have it at Konoba Kokot. Sure, the tables might not all be perfectly level and the plates might not be beautifully decorated (and definitely not half empty), but this family-run restaurant will show you what true Dalmatian hospitality really is.
Grandma Jagoda and her (extended) family will welcome you with homemade grappa and show you to a table in their own backyard.
Everything they serve, they produce themselves or source from locals they know and trust. Here you'll only get the freshest ingredients from the island, veggies from their garden, cheese from their own goats, lamb from their kettle, boar hunted in the nearby hills, and the daily catch from the Adriatic sea.
Location: Konoba Kokot
Opening times: 6 PM – 12 AM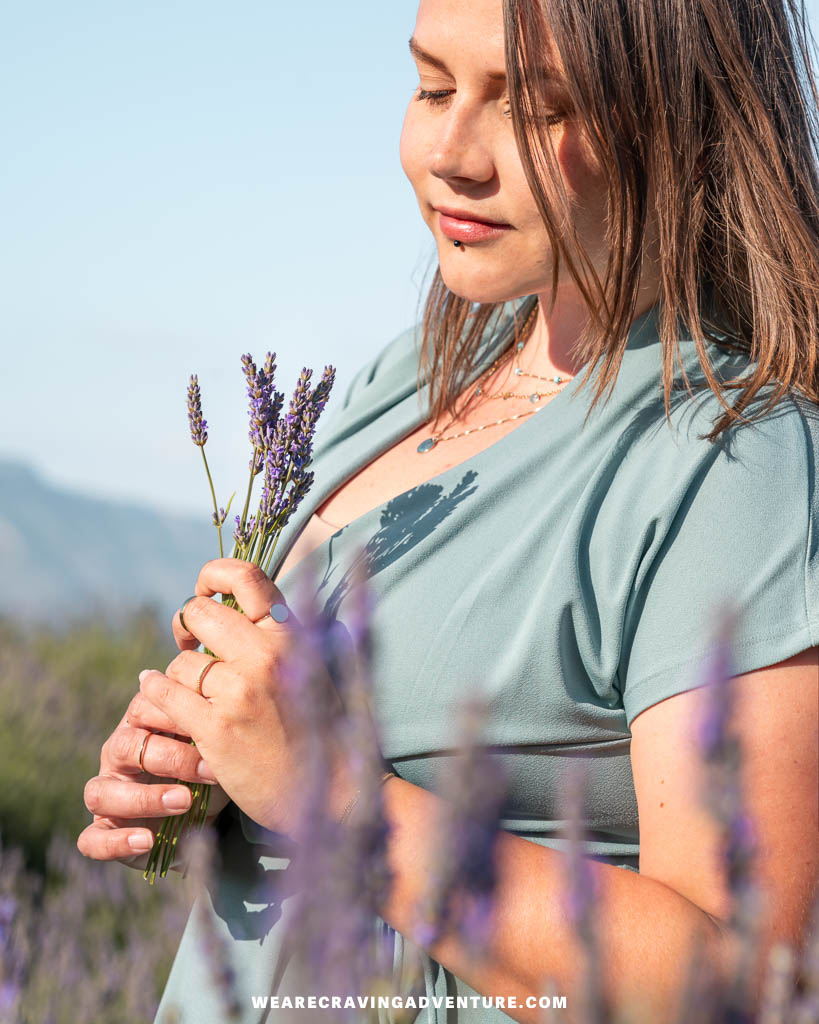 Day 5 – Off beat Hvar
Off-beat and off-road! Today you'll be heading on the path less traveled to explore the Kabal Peninsula (dirt roads only) where you'll find more beautiful bays and Tito's caves. On the way back you'll go through some cute Dalmatian villages and end the day at the best viewpoint in all of Hvar. Again you'll need a car, scooter, or even better, an ATV.
Read next: Your guide to Hvar island
Kabal Peninsula
The Kabal Peninsula near Stari Grad is often an overlooked part of Hvar but for us it was definitely one of the highlights of our trip!
On Kabal you'll find some the most beautiful bays on the island and you'll only have to share them with a handful of people (if any) and loads of fish. At the tip of the peninsula, you'll find Tito's caves that were built into the rocks to guard the entrance to the Stari Grad Channel.
Read next: The ultimate guide to Stari Grad
Lunch at Tiha
Tiha Lounge truly does have a soul and is a living, breathing manifestation of the owner's love for this part of the world, art, crafts, and great hospitality.
Tiha translates to 'the quiet one' and as the name suggests, this lounge bar and restaurant is a place to relax and retreat. In this cozy Hvar beach club you won't find crazy parties late in the night, but you will be treated like family and you will fall in love with the quirky decor, bluest of waters, and chilled vibes.
Location: Tiha lounge bar
Opening times: 10 AM-ish – 10 PM-ish
Brusje & Velo Grablje
Take the scenic backroads from Stari Grad back towards Hvar which will take you through Brusje and Velo Grablje. These tiny villages are cute, but the real treat are the roadside views on the way.
Brusje is often recommended as THE spot to visit lavender fields, but before you get your hopes up, the lavander fields of Brusje and Velo Grablje are just a vague reminder of what once was a leading industry on Hvar island.
There are some lavender tours that might give you better insights and show you the fields and lavender produce on the island.
Location: Brusje, Velo Grablje

Book your tour: Hvar lavender tour
Napoleon Fort for Sunset
While the Spanish fortress takes all the glory and all the tourists, the Napoleon fort takes all the sunset views with none of the crowds.
Sitting on top of the tallest hill around, the fortress boasts breathtaking views over Hvar town and the peninsula to the West, Brac island, Pakleni Islands, all the way to Vis island, and it offers a direct line of sight over the horizon to the West.
Watch the sky turn orange, the cliffs on Brac reflect the colorful light until the Sun drops into the ocean.
Location: Napoleon
Day 6 – Vis and the Blue Cave
The Blue Cave (also Blue Grotto or Plava Spilja) is a gorgeous sea cave on the east side of the island of Biševo, just of the coast of Vis island. The Blue Cave is by far the most popular day trip in this part of Croatia.
Read next: Your guide to visiting the Blue Cave
The sunlight enters the cave through a crack in its arched roof and reflects off the water's surface illuminating the entire space with blue light making for a unique natural phenomenon and a gorgeous sight.
Unfortunately you're not allowed off the vessel while in the cave and the visit only lasts a few minutes due to the high demand and the small capacity of the cave.
To make the most of this trip make sure to book this group tour or even better this private tour. Both also include the Green Cave nearby and a stop at Stiniva beach on Vis island.
Stiniva beach is one of the most unique beaches in Croatia. Hidden at the end of a deep inlet and framed by the iconic tall cliffs that cut deep into the narrow bay only leaving a four-metre wide opening for small boats to enter.
Book a private tour: Vis, Blue and Green Cave private speed boat tour
Book a group tour: Island Vis discovery group tour
Day 7 – Brac and Jelsa
In the morning make your way to Jelsa where you'll catch the boat over to Bol on Brac island. You'll be spending the day on Brac and grab dinner in Jelsa upon your return.
If you book a tour, there will be organised transport from Hvar town but if you prefer to do the trip by ferry from Jelsa we recommend you catch the bus to avoid paying rental costs just so you can pay for parking too.
Day trip to Bol, Brac
The Golden Horn (Zlatni Rat) in Bol on Brac island is the poster child of the Croatia Tourism board. This iconic spit changes shape with the tide and it's a sight not to be missed!
Many believe that Zlatni Rat is a sandy beach, it certainly looks like one on the photos! But in reality, the beach is made of (smaller than usual) pebbles.
One would be forgiven to spend the whole day busking in the Mediterranean sun on this beautiful beach, but Brach has so much to offer it would be a shame not to explore furth
er.
Consider checking out Blaca Monastery, Zmajeva Spilja (Dragoon Cave), hike up Vidova Gora, try the local wines at Stina winery and indulge in the delicious Dalmatian food at one the many authentic restaurants.
Jelsa
Jelsa is a delightful small town with a relaxed vibe. It is located along a deep inlet with a large marina and expands over steep hills on either side.
Jelsa is a fabulous town to explore with its beautiful streets, cute shops and fabulous restaurants. Here we have found the best ice cream shop and even more churches in a tiny area than usual, even for Croatian standards!
Read next: Your guide to Hvar island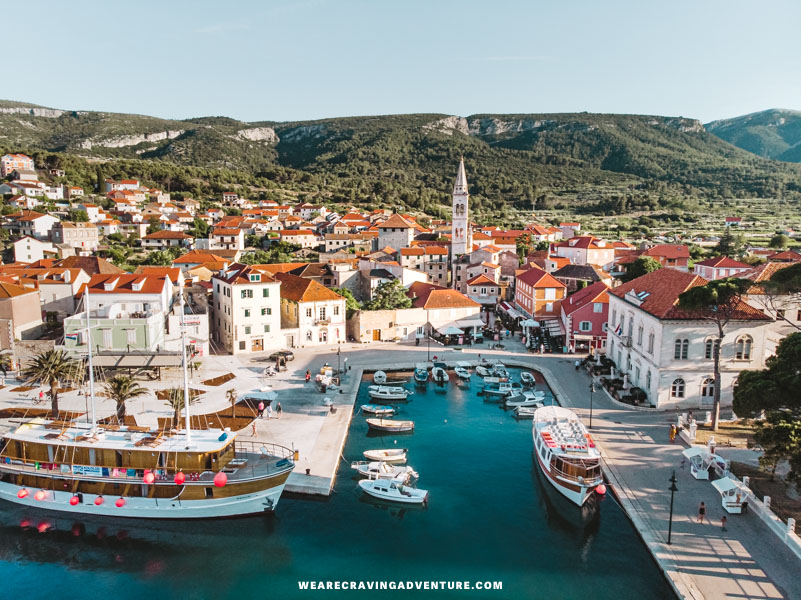 5 Day itinerary
With 5 days you'll be able to explore Hvar Island extensively but, compared to the 7-day itinerary, you'll have less time to explore the surrounding islands.
Because you won't be going via Jelsa for the day trip to Brac we recommend you start earlier on day 4 and visit Jelsa on your way to the beaches of the south.
If you really want to visit the Blue Cave you have two options:
book this guided tour that includes the Blue Cave and Pakleni Islands on your second day or
book this Blue Cave Tour on the last day instead of going to the Kabal Peninsula. If you choose the later, we still recommend you make it up the Napoleon Fort for sunset!
Day 1 – Hvar Town
Visit Spanjola Fortress | Hvar walking tour
Explore Hvar town | Hvar walking tour
Pokojni Dol or Bonj Beach
Sunset at Falko Beach Bar
Day 2 – Pakleni Islands
Pakleni Islands | Red rocks & Pakleni islands private tour | Blue Cave and Pakleni Islands group tour
Drinks at Backlane
Day 3 – Beaches and Stari Grad
Get a vehicle | rent a car | rent a scooter | rent a quad
Zarace Beach
Dubovica Beach
Explore Stari Grad
Wine tasting at Hora Winery | Wine and olive oil tasting
Day 4 – Jelsa and beaches of the South
Get a vehicle | rent a car | rent a scooter | rent a quad
Jelsa
Luscica beach
Sv Nedelj
Jagodna Beach
Gromin Dolac Beach
Dinner at Konoba Kokot
Day 5 – Off beat Hvar
Get a vehicle | rent a car | rent a scooter | rent a quad
Kabal Peninsula
Tiha Lounge bar and restaurant
Brusje & Velo Grablje
Napoleon Fort for sunset
3 Day itinerary
Three days are just enough to get a good taste for Hvar and What this Island has to offer. We've prioritised beaches above all since they are Hvar's best selling point but the itinerary on the second and third day is a little bit more packed.
If you wish to visit the Blue Cave you can do so on the second day by booking this guided tour that includes the Blue Cave and Pakleni Islands.
Day 1 – Hvar Town
Visit Spanjola Fortress | Hvar walking tour
Explore Hvar town | Hvar walking tour
Pokojni Dol or Bonj Beach | rent a car | rent a scooter | rent a quad
Sunset at Falko Beach Bar
Day 2 – Pakleni Islands
Pakleni Islands | Red rocks & Pakleni islands private tour | Blue Cave and Pakleni Islands group tour
Napoleon Fort for sunset | rent a car | rent a scooter | rent a quad
Drinks at Backlane
Day 3 – Beyond Hvar Town
Get a vehicle | rent a car | rent a scooter | rent a quad
Zarace Beach
Dubovica Beach
Explore Stari Grad
Wine tasting at Hora Winery | Wine and olive oil tasting
Dinner at Konoba Kokot
What to pack for Hvar, Croatia
Pack lightweight and breathable clothing suitable for warm Mediterranean weather, including shorts, t-shirts, and my favorite, flowy dresses. I highly recommend packing a linen shirt that you can use as a bikini coverup or as a long-sleeve layer if you get chilly at night.
Sun protection essentials like sunglasses, a hat, and high-quality sunscreen are crucial. Don't forget a beach bag (ideally one you can use as an everyday tote), a beach mat, a reusable water bottle (you can drink tap water in Croatia), and obviously, your favorite bikinis.
The beaches in Croatia often have sharp rocks or pebbles so water shoes are recommended and don't forget to pack comfortable walking shoes or sandals for exploring the cities and national parks.
Shop these Croatia essentials:
Getting to Hvar, Croatia
There is no commercial airport on Hvar and in order to reach the island, you'll have to take a boat or a ferry from Split, Drvenik or one of the surrounding islands.
Most visitors come to Hvar from Split, and if that's the case with you, make sure to check out my Split itinerary to make the most of your time in Split Old Town and its surroundings.
Car ferry
There are two ferry lines connecting Hvar to the mainland; Split – Stari Grad and Drvenik – Sucuraj. While you can usually just rock up at the port and get a ferry ticket there, in high season it's better to book it ahead of time.
Passenger ferry to Hvar town
The passenger ferry is much faster than the ferry and it will drop you off in the centre of Hvar town. This is the best option if you do not have a car.
Private transfers
Private transfers by speedboat are the fastest way of getting to Hvar and often include pick up from the airport.
They're a fabulous option for bigger groups, late arrivals and anyone wanting to take some extra precautions with social distancing and Covid safety. Private transfers are also a lot more flexible in terms of drop off points and can get you much closer to your chosen accommodation on Hvar.
Getting around Hvar in Croatia
Hvar is almost 70 kilometres long and as soon as you venture past Jelsa the roads get narrower and windier. And parking is an issue in most of Croatia.
There is also plenty of places on Hvar that are only accessible over gravel or dirt roads. Most rental car companies won't allow you on gravel or dirt roads and these are often the most beautiful places you won't want to miss out on!
By car
Despite exploring the island by car ourselves, this would not be our first choice if we had to rent a car on the island. Some roads (if you'd like to explore deeper) are just too narrow for two way traffic and parking is an issue in most places in Croatia. On top of that, most rental companies will not allow you to drive on dirt roads, whichrules out the majority of roads worth driving on on the island.
That being said, a lot of people explore the island by car since it's cost effective and very easy to get it over by ferry if you rent a car in Split and there certainly is something to be said about AC!
Hire a scooter
A scooter is a fabulous way to explore Hvar! It's easy, affordable and the island is just small enough that you can get almost anywhere by scooter. OK, maybe not Sucuraj or you won't be able to feel your ass by the end of it.
Navigating the narrow roads and parking is a lot easier when you have a scooter, just make sure you get one that's strong enough to get you over the hills before you get old!
Hire a Quad (ATV)
As we mentioned before, there's plenty of gravel and dirt roads on Hvar d certain areas are better explored with a 4×4!
We'd recommend you rent an ATV for the Kabal Peninsula and to take the shortcut (past Zi's favourite beach) to Sveta Nedilja. On top of that you'll be able to discover loads of other bays and beautiful viewpoints you can't access otherwise.
Hire a boat
A day on the boat is an experience in itself but a boat is also a great way of getting around and exploring some of the most secluded bays and beaches on the island!
We highly recommend you rent a boat and explore Pakleni Island, the Red Rocks and drop anchor in any bay that calls your name.
Read next: Renting a boat on Hvar – tips, rules, suggestions
Use public transport
There are several buses per day that connect the main towns and villages on Hvar island as well as water taxi services you can use. But these will only get you so far.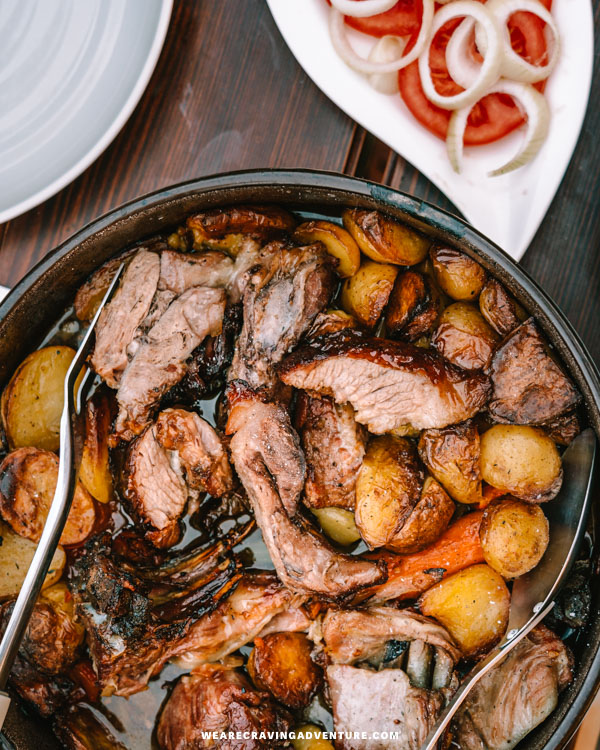 Where to eat in Hvar
We tried many restaurants during our month in Hvar and we're happy to report that we never had a disappointing meal! That being said, there are a few meals and restaurants that really stood out.
Konoba Kokot for authentic Dalmatian hospitality. If you have the time (and wheels) we urge you to book a table at Konoba Kokot. This is our absolute favorite restaurant on the island!
Stajun for a fancy dinner. If you prefer to stay in town, Stajun has the cutest crockery and the best burrata we ever tried, and we tried many! While we were in a hurry and went for a single course, Stajun is actually famous for their set 3-course meal.
Junior for fabulous seafood. We also really loved the fish platter at Junior, a small family run fish restaurant that serves the daily catch and fabulous wine.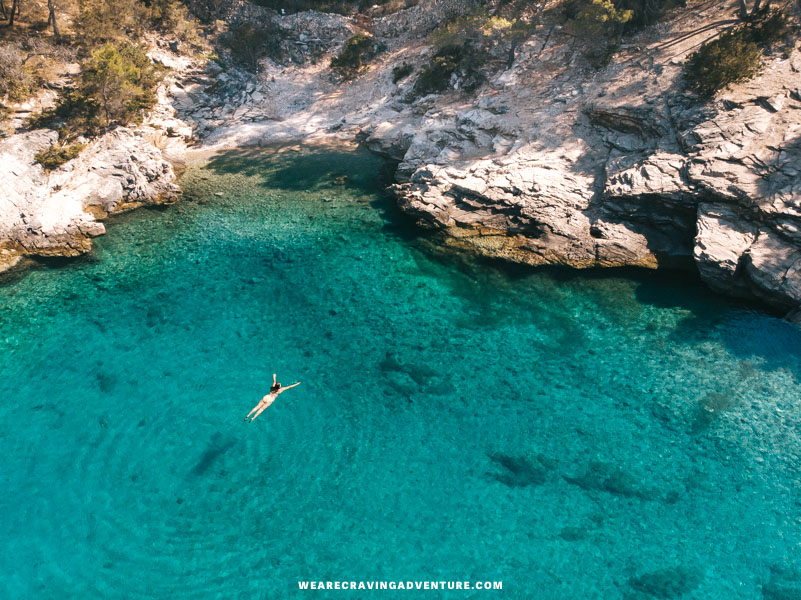 Best time to visit Hvar island
The best time to visit Hvar is in the shoulder season which runs April till mid-June, and September to October. This is when the crowds are manageable, the weather is warm and pleasant, and the prices more affordable. If you visit in Autumn you'll also have the benefit of the warmer sea.
Hvar claims it gets the most sunshine of all the islands and it is a popular summer holiday destination that becomes very crowded, loud, and expensive in the peak of season which is late June till the end of August.
As a rule of thumb, we would advise you to avoid Croatia in the peak of summer. It just gets too hot, too crowded, and too expensive. You'll have a much better experience visiting in late spring or early Autumn.
During the winter months, Hvar is very quiet and most bars, restaurants and shops are closed.
Planning a trip to Hvar?
Hvar is a beautiful island and we're sure you'll love it! To help you plan your trip to Hvar Island we've prepared a series of travel guides for you to help you dig deeper into each of the above mentioned locations.
Read next:
Hvar travel insurance
Good travel insurance is an absolute must when travelling abroad, and we've learned that the hard way!
Now we always get insured before we leave and Travel Insurance Masters is our go to platform to find the best insurance options for the specific trip.
The TIM platform works as a search engine and suggests the best insurance company and insurance plan for your criteria so you don't end up paying more for things you don't need! It also takes into account your age, nationality, destination etc. which can greatly impact the final price.
You can get your quote & provider recommendations here.