Pakleni Islands – Your guide for the perfect day trip from Hvar
The Pakleni Islands are only a short boat ride from Hvar town and while the name, Pakleni Otoci, literally translates to Hell Islands, in our experience, they're more like Paradise Islands and a must do on Hvar!
We spent the most amazing day exploring the Paklinski otoci by boat, dropping our anchor in the most beautiful bays, swimming, sunbathing and literally living our best life. It was a day to remember and something we wish everyone would have the chance to experience!
What are the Pakleni Islands and why should you visit?
The Pakleni Islands are a chain of rocky islets just off the coast of Hvar. This beautiful archipelago is only a short boat ride and a popular day trip from Hvar town as it offers some of the most breathtaking beaches, the best snorkelling in Croatia, and some of the most amazing beach clubs in Hvar.
Across the Hvar Strait, on the Pakleni Islands archipelago, you'll find picturesque coves, stunning beaches, hip bars, and beautiful nature. The Pakleni Islands, also referred to as Paklinski Islands, are the perfect place to bask in the Mediterranean sun, swim in the clear Adriatic waters and discover new bays, and just have a bloody good time. No wonder they're one of the most popular day trips form Hvar!
Getting to Paklinski Islands
The Pakleni Islands are just a stone-throw away from Hvar and the boat ride over only takes 10-20 minutes! You can do a guided tour or catch a water taxi to the islands but, if you have a licence, we wholeheartedly recommend that you rent a boat and explore at your own pace.
Book your Pakleni Islands adventure:
Rent a boat
Book a private boat tour
Book a group boat tour (including Blue Cave!)
Join a kayaking tour
Shop these beach essentials:
Rent a boat
We honestly believe that doing a Pakleni Islands tour at your own accord is the best way to explore the archipelago. You'll be free to drop the anchor wherever you like, leave whenever you like and have all the freedom and all the fun.
Renting a boat in Hvar is easy. We rented this 20HP Bettina with a shade roof from Antonio Rent who we highly recommend. Jure gave us a crash course on how to operate the vessel and gave us some awesome recommendations on where to go as well.
Also the Betina boat is a tad stronger than the average Pasara which made the trip over a lot more fun and a lot faster!
Book: We highly recommend this 20HP Bettina
Price: 180 Eur (for 4 times the horse power of the average Passara you'll get elsewhere this is a fab price!)
Insiders Tip: Ask for a cooler box and pack some lunch. Also put a bottle of water into the freezer over night – it will keep the food cold and you'll have a cold drink handy even in the late afternoon!
Read next: Renting a boat on Hvar – tips, rules, suggestions
Private boat tour
If you don't feel comfortable driving a boat or would prefer to have a few drinks, then a private tour is a fabulous choice.
The beauty of private boat tours is that they're customizable and the skipper will listen to your wants and needs. They'll recommend the best stops, shower you in local knowledge and make sure you have a fabulous and carefree day out on the water.
This Red Rocks and Pakleni Island speedboat tour is fantastic! You'll get to explore some of the best beaches of Southern Hvar, marvel at the astonishing Red Rock cliff, and enjoy the gorgeous bays of Pakleni Islands.
While these tours usually have a tentative itinerary, you can always choose to pack up and move on or stay a little longer if a bay steals your heart.
Book: Red Rocks and Pakleni Island tour
Price: €520 per group (up to 8)
Insiders Tip: Ask to stop at Luscica Beach near Sv. Nedelja
Island hopping group tour
Group tours are a great option if you want a time and cost-effective way to explore all the highlights. A typical day speedboat tour like this will include a trip to Stniva on Vis, the Blue Cave on Bisovo, Green Cave on Ravnik, and end by exploring the main bays of the Pakleni Islands.
While group tours aren't flexible and you'll be surrounded by other groups most of the day, these island hopping tours do pack in a lot at a very good price and are great if you're on a budget.
Book: Blue Cave, Vis and Pakleni Island tour
Price: €80 per person
Kayak to Pakleni Islands
Quite a few of the Pakleni Islands are close enough to Hvar that you can easily reach them by kayak. We haven't found an option to rent kayaks or paddleboards but there are several options to join a kayaking tour to the archipelago.
This morning kayaking tour is best if you'd like to take some time to sunbathe and snorkel. If you prefer to explore in the evening you can join this sunset kayaking tour. You won't be venturing as far into the Pakleni islands but the sunset views are absolutely amazing.
Taxi boat
Taking the water taxi from Hvar to Pakleni Islands is the cheapest and most common way of getting over to the archipelago and will drop you off at the Palmizana marina, Mlini beach, Jerolim or in front of Carpe Diem.
To be perfectly honest this would have to be our least favourite way to explore The Paklinski Islands as it is the most limiting and least flexible. And, at least for us, the real appeal of the Pakleni Islands was spending some time out on the boat.
If you do decide to take the water taxi then it's best to take the one to Palmizana (Sveti Klement island) as you'll have the most options on this island.
Book: just rock up at Hvar's riva
Price: 60 kuna return
Insiders Tip: Bring good shoes as you'll have to explore the islands by foot.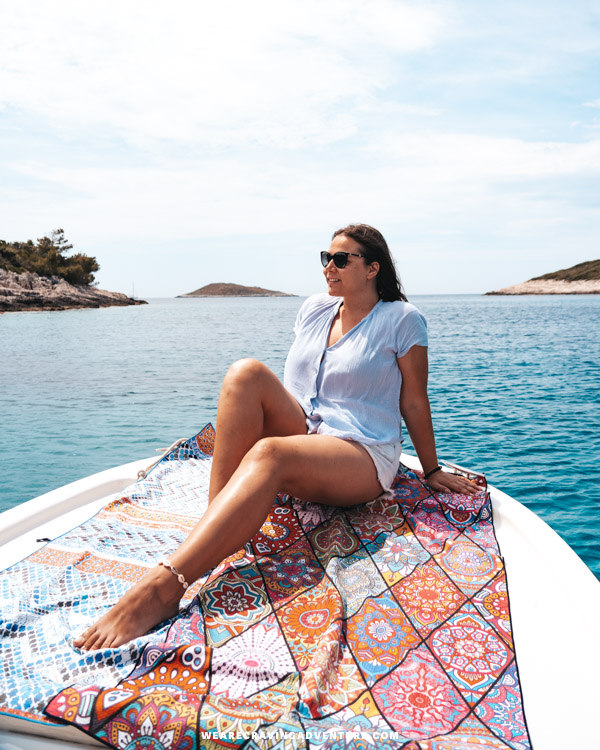 Which Pakleni Island to visit?
The Pakleni islands archipelago is about 10 km (6.2 mi) long and consists of 14 islands or islets but only 3 of them are actually interesting to visit – Sveti Klement, Marinkovac and Jerolim.
We are sure that the other islands on the Pakleni archipelago boost some beautiful bays as well, they're just that tiny bit further and harder to reach with a slow and tiny boat, and don't offer any facilities.
The name Paklinski Otoci is often translated as Hell or Hells' islands but it is actually derived from paklina, an archaic name for a kind of a pine resin used to waterproof boats that was once harvested on the Pakleni archipelago.
Sveti Klement Island
The biggest and most popular of the islands is Sveti Klement which is home to some of our favourite bays, three settlements, and Palmizana beach, one of the most famous Pakleni Islands beaches (on the southern side in Vinogradisce Bay) with several bars and restaurants.
If you can only visit one island then Sveti Klement is the one you should pick as it offers the biggest variety of quiet bays, restaurants, sandy or rocky beaches and beach bars.
Marinkovac Island
Marinkovac is the second biggest island of the archipelago and an island of contrasts. This island is home to the beautiful and family friendly Mlini and Zdrilica beaches on one side, and the most famous Hvar beach club, Carpe Diem, on the other side of Stipanska Bay. After dark, Marinkovac Island is especially popular as a clubbing destination and it's here that you'll find the best parties Hvar has to offer.
Jerolim Island
Jerolim Island is the closest Island to Hvar and home to a popular nudist beach. Kordovon beach is one of the oldest Adriatic FKK beaches established in the 1950s and voted by CNN as the most beautiful naturist beach in Europe.
Things to do on Pakleni Islands, Hvar
1. Snorkel at Tarsce beach
Never have we ever seen this many fish in one place! Tarsce bay can almost be compared to a tropical reef (minus the colourful reef and tropical fish). While you obviously won't find Nemo in the Adriatic sea, Tarsce is about as good as it gets in Croatia. Here you'll find an abundance of fish, sea urchins, crabs, shellfish and if you're lucky, even octopus!
Location: Tarsce Bay, Sveti Klement
Safety tip: When snorkelling keep close to the coast and avoid the points as well as crossing the bay due to boat traffic.
2. Swim at Stari Stani
One bay over from Palmizana you'll find a much quieter bay where you can go for a swim without the fear of a boat approaching too fast. This is also a fabulous spot to dock your boat when Vinogradisce Bay is full as you can easily walk over to Palmizana beach.
Location: Stari Stani Bay, Sveti Klement
3. Chill at Laganini
Laganini is a cool beach club and restaurant in the most popular bay on Pakleni Islands, Palmizana. Laganini means to take it easy, to chill, and that's exactly the vibe you get here on the big loungers and private pergolas with lounge music in the background.
Location: Laganini, Palmizana, Sveti Klement
Opening times: 1PM – 10 PM
4. Have a Mud Bath at Soline Beach
Soline Beach near Vlaka isn't just another pretty bay. Centuries ago here stood an ancient roman spa! At Soline beach you can find roman ruins but what we really care about is the healing mud which will make your skin feel soft and smooth.
If you took the water taxi to Palmizana then you can walk to Vlaka by following a rocky trail. The walk takes 30-45 minutes and it passes along some private properties at first. Just follow the signs to Vlaka and you'll be sweet. There's also a restaurant in Vlaka where you can grab some drinks and food.
Location: Soline Beach, Sveti Klement
Insider tip: Avoid wearing white bikinis for the mud bath.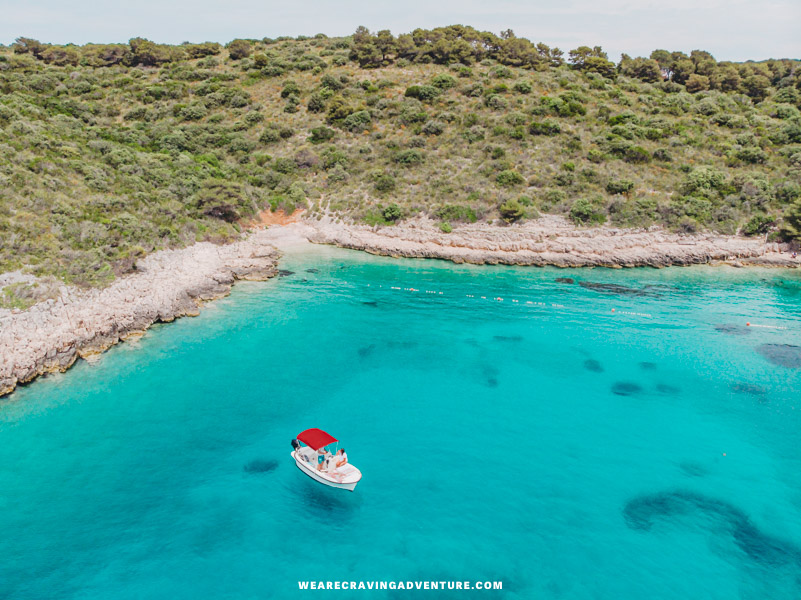 5. Find the sandy beach at Perna Bay
Sandy beaches in Croatia are hard to come by but Pakleni Islands boost one of their own! It might be tiny but the sand is white and silky smooth! And to our surprise, there was hardly anyone here! This bay is perfect also if you forgot your water shoes since there's no sea urchins on a sandy sea bed.
Location: Perna Bay, Sveti Klement
6. Grab Drinks at Carpe Diem
Carpe Diem is an institution you can not ignore and by far the most famous beach club on Hvar. The beach club takes up a big chunk of the Marinkovac island with sun beds, loungers, tables in the shade under trees, a massive stage and dance floor, a swimming pool, boat docks on either side, the large Carpe Diem beach … the list goes on. It turns out we could easily spend the day (and night!) here and we highly recommend you check it out too.
We only saw it in shoulder season on a fairly quiet day but we heard stories of the legendary parties held here at night in the peak of summer when they fly in some big names.
Location: Carpe Diem, Marinkovac
Opening times: 10 AM – 5:15 AM
7. Drop the anchor in a secluded bay
By far the best thing to do on Pakleni Islands (well technically not on the islands, just besides them) is to drop your anchor in whatever bay calls your name, let the boat gently sway with the waves while you work on your tan, jump into the crystal clear blue waters or swim with the fish. Simplicity at its finest.
Location: Wherever you desire!
Insider tip: Make sure the anchor holds before leaving the vessel. A shot of reverse gear will help the anchor hook and hold the boat in place.
Where to stay in Hvar
While there are a few accommodation options on Pakleni Islands we highly recommend staying in Hvar town.
From there it's just a short boat ride over to Paklinski otoci. Hvar town is small and walkable, and almost every house has at least a room for rent so there is plenty of choice!
We've written a whole article on Hvar accommodation which will help you choose the best town (and area) to base yourself on Hvar island.
If you do choose to stay in the centre of town we recommend Hektorovic house just off the main square.
We stayed at Apartments Ivanovic and loved it, it was clean, spacious and quiet. What we didn't necessarily love is the walk up the hill, but this was a necessary evil in order to have secure parking in front of the house.
If you prefer to stay in a hotel rather than an apartment then Adriana Hvar Spa Hotel is the perfect choice smack in the middle of town.
AFFORDABLE & CENTRAL
Just off the main square these stylish rooms are perfectly located to explore Hvar.
BLUE & GREEN OASIS
Sleek, modern design, stunning ocean views, and exceptional service.
CENTRAL AND LUXURIOUS
With gorgeous views, excellent service, and fabulous amenities.
Best time to visit Pakleni Islands
As for Hvar in general, the best time to visit Pakleni Islands is in the shoulder season (April till mid-June or in September and October) when the crowds are manageable, the weather is warm and pleasant, and the prices more affordable. If you visit in Autumn you'll also have the benefit of the warmer sea.
If you're visiting in the peak of summer make sure to start as early as possible to beat the crowds and get some quiet moments in before the taxi boats start rushing in.
As a rule of thumb we would advise you to avoid Croatia in the peak of summer. It just get too hot, too crowded and too expensive and we believe you'll have a much better experience visiting in late spring or early Autumn.
Planning a trip to Hvar?
Hvar is a beautiful island and we're sure you'll love it! To help you plan your trip to Hvar Island we've prepared a series of travel guides for you and for an easy plug and play solution, feel free to swipe our Hvar itinerary!
Hvar travel insurance
Good travel insurance is an absolute must when travelling abroad, and we've learned that the hard way!
Now we always get insured before we leave and Travel Insurance Masters is our go to platform to find the best insurance options for the specific trip.
The TIM platform works as a search engine and suggests the best insurance company and insurance plan for your criteria so you don't end up paying more for things you don't need! It also takes into account your age, nationality, destination etc. which can greatly impact the final price.
You can get your quote & provider recommendations here.
---
Are you planning a trip to Hvar?
Let us know if you have any questions in the comments below. We'd love to help!